Fans of the theater may find themselves facing an existential dilemma Friday when trying to decide which of three stage shows to attend on opening night.
The choices are: a drama about loss set in the future when memories can be stored, recalled and altered; a creepy whodunit, just in time for Halloween; and a romantic comedy where a boy and girl may, or may not, join in matrimony.
All three directors make convincing cases to spend an enjoyable evening with them and their cast of characters who will spin a tale designed to transport the audience to another time and place.
To help theatergoers decide, we've offered the directors a chance to state their case.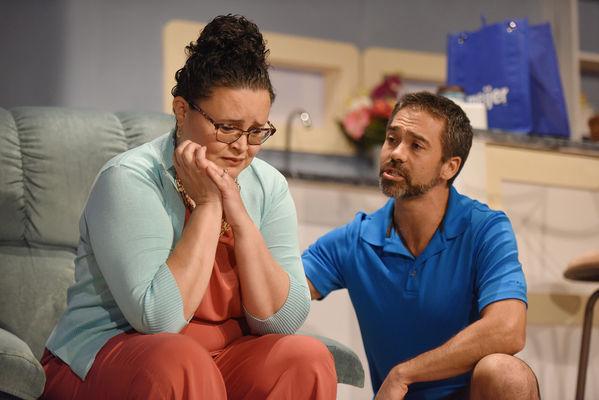 'Marjorie Prime'
A penetrating look into the importance of memories, particularly as we grow older, and whether we should deliberately alter them is the backdrop of "Marjorie Prime," a Twin City Players production opening this weekend in St. Joseph.
Director Peggy Harrington said she became aware of the futuristic drama written by Jordan Harrison during the theater's script reading session.
"As soon as I read this play, I laughed, I cried, I said I had to do this play," she said.
The play is set in the age of artificial intelligence, and tells the story of Tess and her 85-year-old mother, Marjorie, whose mental acuity, including memories, are fading quickly as Alzheimer's disease takes hold.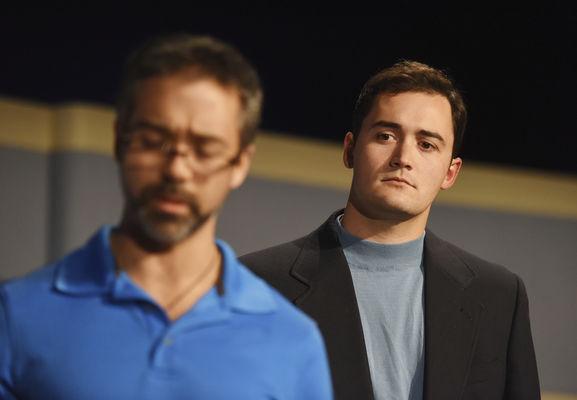 Marjorie is relating her memories to Walter, an exact image of her late husband when he was 30 years old. Walter is a Prime, an artificial intelligence whose task is to retain Marjorie's memories for replay when hers are gone.
"The central theme is about love (and) it's about loss. It's about what people might do to try to either retain something that there're losing or regain something they have already lost," Harrington said. "But it's also memories. If you were losing your memory, what would you do to potentially distort a story to make it more pleasant or easier to deal with."
Harrington said she can relate to the script because she has intimate experience with the elderly as their mental and physical abilities declined. She was a caretaker for her mother and mother-in-law at the end of their lives.
"My mom was mentally sharp, but her body failed her," she said. "My mother-in-law, however, was physically OK, but her mind was failing. She feared losing control of her life and, I think, she decided when to die, on her terms.
"I spent a lot of time wondering which way I would rather go when it was time," Harrington said. "This play resonated with me because Tess believed that Marjorie may have hung on only for her sake. Tess decided to go on her terms. It brought up the same question for me in my mind."
Meanwhile, Harrington said, her talented actors are hard at work rehearsing to bring the play to life.
"It's not a feel-good story, but you will feel better about the potential for the future if this is one possibility," she said.
She is approaching opening night with excitement, in part because this is her second foray into directing. She knows all the hard work that went into the show will pay-off, although in the end she will lose control of her creation.
"You are helpless. It's your baby right up to that opening night, then all you can do is hope that the actors understand your vision enough to put it on stage for the people to enjoy," she said. "The audience is what we're doing this for."
'The Bad Seed'
Tin Shop Theatre Director Dawn Hagerty invites her audience to experience the thrill of gnawing dread inherent in "The Bad Seed," just in time for the season of the dead.
"I've always loved this show," said Hagerty, who is directing her first community theater production. "I always thought it would be perfect for a Halloween show."
She saw the original movie version when she was 10 or 11 as she watched old TV programs and movies with her grandmother.
"I have never been into horror, but I love a good thriller. And this is one of the first thrillers I ever saw as a young girl," Hagerty said.
The play is based on William March's novel of the same name set in the 1950s in a small southern city suburb. A key character is Rhoda Penmark, a polite, intelligent, charming little girl from a seemingly perfect family. All appears well until a classmate goes missing during a school outing and later is found drowned near a pier.
Tension mounts as each character's hidden nature is revealed, including Rhonda's mom, Christine, who learns she was adopted and her biological mother was a serial killer.
But who was the killer, if indeed there was a killer? Rhoda? Christine? The landlady? The handyman who is not who he seems to be?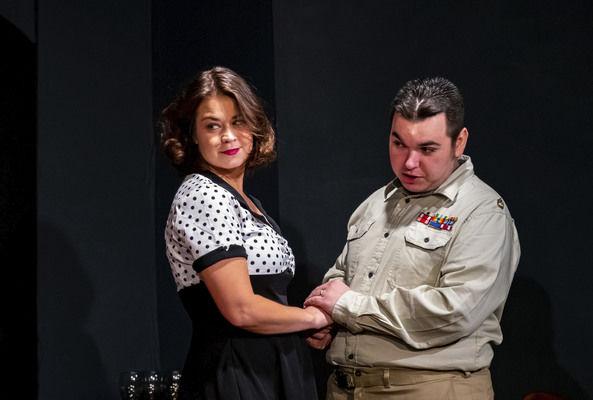 To prepare her actors for their roles, Hagerty asked them to journey deep inside themselves.
"I'm asking my actors to go to some really dark places, seeing if they can really pull up that emotion when they are going through it on stage, because we really want it to look authentic," she said. "We've had a lot of discussion on how to go to those places, and then how to decompress after the rehearsals and after the shows."
That journey will come to fruition on opening night as Hagerty hopes the audience will shiver in uneasy delight. But for those who attend the show, she asks that they don't spread spoilers.
The play's final scenes reflect the book's version. The early movie version was altered to comply with Hollywood Production Code of the 1950s.
"I hope people come out and enjoy the show, but don't tell the ending," she said. "It's not the same as the movie. It's very different."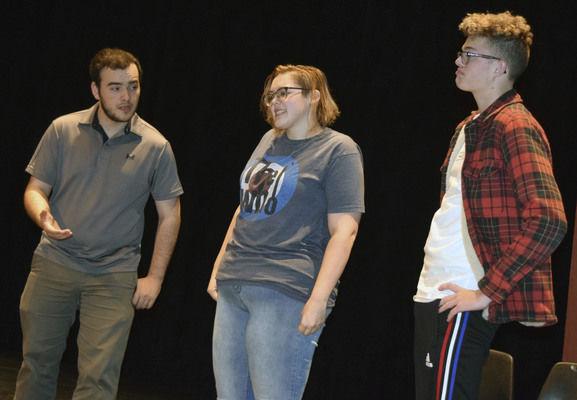 'The Siegel'
When "The Siegel" actors utter their last lines and take their final bows, Director Tucker Curtis hopes the audience will leave with smiles on their faces.
"There's no real hard-hitting issues. There's no real hard-hitting statements being made," Curtis said. "I just want it to be an entertaining hour and a half. It's fast moving, it's funny. I'd say definitely it's original. Just an evening of entertainment of fun."
The romantic comedy presented by Southwestern Michigan College tells the story of Ethan Siegel, whose smoldering love leads him to ask the parents of his supposed girlfriend, Alice, for her hand in marriage. The only problem is Ethan and Alice broke up two years earlier, and she's now in a serious relationship with Nelson.
But Ethan is undaunted in his quixotic quest to win back Alice.
Curtis said "The Siegel" is a new play that he had read with a few friends.
"I liked it a lot and it had really good characters," he said. "It's sort of a teaching opportunity. The best way to start is with good characters."
Nearly all the actors are SMC students, who Curtis described as a talented bunch.
The audience can expect to have a good time, he said.
"First and foremost, just sit back and enjoy," Curtis said. "Anything beyond that is sort of gravy."
And if audience members enjoy the play, he asks them to tell a friend. That is the ultimate review when they say, "Yeah, I told my friends and they are coming out tomorrow night."