Every fall, Eau Claire residents Betty Timmreck and her husband, Dave, usually accompanied by Carole and Dick Skibbe, take a road trip to Frankenmuth, Mich.
Betty competes in the annual Zehnder's of Frankenmuth Squashtoberfest cooking contest – a fall celebration of all things squash, including pumpkins.
Contestants submit their favorite squash recipes, and test their cooking skills against others for cash and prizes.
Though Carole didn't compete this year, Betty submitted her recipe for Creamy Zucchini-Sausage Soup. It was accepted, which is the first step in the contest process.
Then, loading up her car with all the ingredients and cooking supplies she would need, she made her dish on-site. The result was a second-place finish in the Soup category.
If you're wondering what qualifies as squash, according to the contest rules, it's any member of the gourd family. That includes summer varieties with thin skins and edible seeds like zucchini and yellow crookneck squash as well as winter squash varieties with hard skins and hard shell seeds. Included in the winter category is butternut, Hubbard, buttercup, spaghetti and patty pan.
Creamy Zucchini-Sausage Soup
2 medium zucchini, sliced and halved (6 cups)
3 tablespoons butter, unsalted
14 ounces Eckrich Kielbasa sausage, sliced
2 (14.5-ounce) cans chicken broth
12 ounces processed cheese food, cubed
In a large saucepan, saute the onion, garlic, celery and zucchini in butter until tender. Transfer to a large kettle.
In a skillet, brown the sausage. Drain the grease, and set aside.
Add the carrots, corn, broth, flour and spices to the kettle. Bring to a boil, reduce the heat, then add the half and half. Stir until thickened. Add sausage.
Simmer uncovered for 20-30 minutes, or until the vegetables are tender. Add the cubed processed cheese, and stir until it's melted.
Ladle into bowls, and garnish with parsley. Serve.
---
Now, I don't have any zucchini left in my refrigerator, but I did buy a bushel of hard squash right before the farm stands closed for the winter – always a sad time for me.
So while on the subject of squash, I thought I'd share a recipe I've tried a few times and really like.
Now if I could just find an easy way to peel uncooked squash ... If anyone has a suggestion, let me know.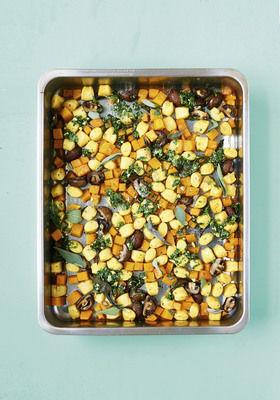 Crispy Gnocchi with Mushrooms, Squash and Sage
1 pound butternut squash, peeled and cut into 1/2-inch cubes
2/3 pound baby brown mushrooms
1/2 cup fresh sage leaves
Freshly ground black pepper
2/3 cup fresh basil, very finely chopped
1/4 cup pine nuts, finely chopped (can substitute other nuts)
1 clove garlic, finely grated
1/2 tablespoon lemon juice
Heat an oven to 425 degrees.
Put the gnocchi in a bowl, and pour over with boiling water. Let stand for 2 minutes, then drain well.
Mix the gnocchi with the squash, mushrooms, oil and sage leaves in a roasting pan large enough to hold everything in one layer.
Season well with the sea salt and freshly ground black pepper, then transfer to the oven to roast for 35 minutes.
Meanwhile, for the dressing, mix the basil, pine nuts, oil, garlic, sea salt and lemon juice together. Then taste and adjust the seasoning as needed.
Serve the crispy gnocchi with the dressing alongside.
– Recipe from "Vegetarian Dinner's in the Oven: One-Pan Vegetarian and Vegan Recipes" by Rukmini Iyer
Jane Ammeson can be contacted via email at janeammeson@gmail.com or by writing to Focus, The Herald-Palladium, P.O. Box 128, St. Joseph, MI 49085.