ST. JOSEPH — Three sharp peals of a bell sounded from the radiation oncology waiting room at Lakeland Medical Center, St. Joseph on Feb. 4, 2019.
It signified for staff and patients the joyous news that Bob Walker had completed his 37th radiation treatment, and likely was free of prostate cancer.
Walker was the first to ring the bell after his final treatment, in part because he and his wife, Karen, had purchased the bell to show their appreciation for cancer caregivers.
"They are the most compassionate people I have ever worked with or been around," he said. "Especially the oncology group at Lakeland. They are some great young people."
Walker learned of the tradition of ringing a bell once cancer treatment is over through research and online prostate cancer support groups.
The widespread tradition was started in 1996, by U.S. Navy Rear Adm. Irve Le Moyne, who was treated for head and neck cancer at the University of Texas MD Anderson Cancer Center. Ringing bells is common in the Navy to mark important times and events.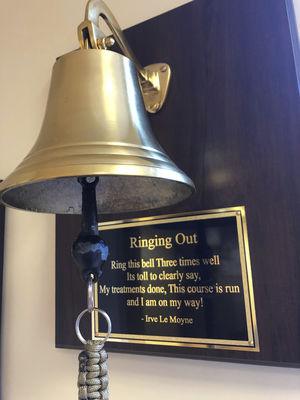 The admiral even wrote a poem, "Ringing Out," to accompany the bell's peal:
While describing the moment he rang the bell, Walker was overcome with emotion.
When he presented the bell to the staff, he told them: "This is for you more than for me. You guys did your job. You sent me on my way. You did well."