Following a tradition that's almost 1,000 years old, more than 200,000 pilgrims travel each year along the old routes known as the Way of St. James to the Cathedral of Santiago de Compostela, a Romanesque-style church in Santiago de Compostela, Spain.
Dating to the late 9th century – when it was reported St. James, the patron saint of Spain, was said to be buried in the cathedral – the poor, the sick and the infirm arrived from across Europe, having traveled on foot or by mule vast miles to pray to the saint. They were seeking respite for their woes.
Many who make the journey still do so for religious reasons, but more are doing it for the hiking, scenery and a way to see the best of Northern Spain.
The routes retrace history. The two most traveled run through Northern Spain and Southern France. No matter which route you take, or why you choose to go, all roads, so to speak, lead to the Cathedral of Santiago de Compostela.
Ground was broken in 1075 to build the current cathedral, which wasn't finished until 1211. It took so long that families worked for generations on the massive, intricately designed granite building with its Gothic and Byzantine aspects.
As more pilgrims arrived, many in dire need, Queen Isabelle ordered a hostel be built. Opening its doors in 1499, the hostel provided shelter, food and care for those who were sick, hungry and weary.
In a fortuitous outcome, all this medical on-the-job training resulted in the opening of a prestigious medical school in the city. As for the hostel, it still continues to provide shelter and food, albeit in a slightly different way.
Now called the Parador de Santiago de Compostela, it is considered the oldest hotel in the world. Located next to the cathedral on the Praza do Obradoiro – a vast expanse of open space that serves as a gathering place – the Parador has two restaurants.
Wanting to try the traditional fare, I opted for Enxebre Parador whose entrance was down a cobblestone street. Pulpo was on the menu, but I passed, ordering scallops instead.
Usually expensive in the U.S., they were cheap because they're harvested just a few miles away. I was trying to figure out the tip and must have looked overwhelmed by the math because the man sitting at the next table with his wife advised me not to worry.
This isn't America, he said, obviously figuring out my nationality quite easily. Here in Spain, you don't have to tip at all because that's not how the wait staff makes their money. But if you do, I'm sure he wouldn't mind.
Thus, I met my first pilgrims – she was French but lives in Scotland and he's from Australia. They met three months ago while hiking the Camino de Santiago, and now are married.
"We're together 24 hours a day," she said. "So really three months is like dating someone for a year if you only see them a few days a week."
They made the pilgrimage not for religious reasons but because they both like hiking and eating, and the Camino de Santiago is being more recognized as a culinary journey.
We compared notes on where we'd been, and while I was traveling by bus along the roads that wind through the mountains known as the Picos de Europa and through the coastal cities and villages of Northern Spain and they were on foot, we both had followed a similar trail. We also had sampled many of the same popular dishes of the region.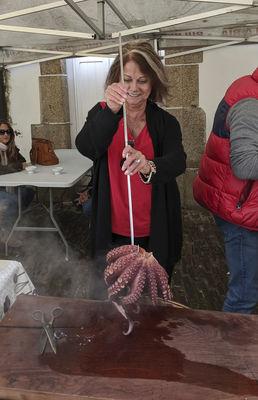 That included the pulpo, giant octopuses found in the estuaries along the coastline. While they had just dined on it, I actually learned to cook them (a skill that most likely will never come in handy) under a tent near the Font Vella, a Roman drinking fountain in the village of Mondonedo.
For those who want to know the secret to making tender octopus tentacles, the most important factor is to constantly dip the creatures in and out of boiling water, something that needs to be done at least six times while cooking. Fortunately, I didn't have to worry about hurting them as they were already dead, beheaded sometime before being placed over ice in a cooler.
Dipping was important, the fisherman/cook told me. He should know, he was the one who had scooped a mass of the octopus out of the sea that morning and was now overseeing my dipping abilities. If you don't, the meat tends to be tough and chewy.
When the octopus was ready – and I don't know how to tell as we didn't get that far in the cooking lesson – the fisherman quickly chopped the tentacles into bite size pieces, sprinkled salt and pimento rojo, a type of paprika, over the meat. Then, with a flourish worthy of any TV chef, drizzled olive oil on top.
Cutting a thick slice of bread out of a large round loaf, he placed it on a plate with the octopus, and served it to the next person in what was becoming a long line of hungry customers.
As an added plus, any pilgrims waiting in line who had signed up for a card identifying them as such, would get a discount on the meal. I asked the recently married pilgrim couple how many miles you have to walk to be considered a pilgrim.
As many or as few as you want was their response, noting they had walked something like 250 kilometers (about 155 miles). I wondered if I could sign up and just walk from restaurant to restaurant to get discounts, but didn't mention that as it somehow seemed wrong given that it was a supposed to be a holy journey.
Fabada Asturiana is another traditional dish of the region that I had on my list to try. Similar to a French cassoulet (and France is right across the water), it consists of beans – usually fava, but any big white bean would do – and an assortment of sausages.
It's common to use blood sausages, but don't worry, it's not a necessary ingredient and can be replaced with some other type of pork, such as a ham hock.
Spanish chorizo, a semi-hard cured sausage (think salami) also is a common ingredient. Different from the Mexican chorizo we eat here, it can be mail ordered and is also sold in bigger cities.
Mexican chorizo isn't a good substitute, but Polish kielbasa, Portuguese sausage or andouille, all of which are available in most local grocery stores, will work well, too.
The perfect finish to any pilgrimage meal is Tarta de Hostal, also known as Tarta De Santiago or St. James Cake.
Made of ground almonds, sugar, lemon and orange zests, and almond extract, this small cake is served in individual portions and often has a cross made of powdered sugar on its top.
Fabada Asturiana
1 pound dried fava, cannellini or other large white beans – picked over, rinsed and soaked overnight
1 tablespoon pimentón (smoked paprika)
1 large pinch saffron threads, crushed
1 meaty fresh ham hock (1 pound)
1/2 pound slab bacon, in 1 piece
1/2 pound semi-dry Spanish-style chorizos (can substitute Polish kielbasa or other firm sausage)
Salt and freshly ground pepper
Drain the beans, and transfer them to a large enameled cast-iron casserole. Add the onion, garlic, pimentón, crushed saffron, ham hock, bacon and 12 cups cold water, and bring to a boil.
Reduce the heat to moderate, and simmer the stew, tucking the ham hock under the cooking liquid as necessary, until the beans are almost tender, about 90 minutes.
Add the chorizos to the bean stew, and cook until the meat and beans are tender, and the cooking liquid is thick and slightly reduced, about 45 minutes longer.
Discard the onion and garlic, and transfer the meat to a bowl. Pull the meat from the ham hock and cut it into large pieces. Cut the bacon and chorizos into pieces. Add the meat to the beans and season lightly with salt and pepper.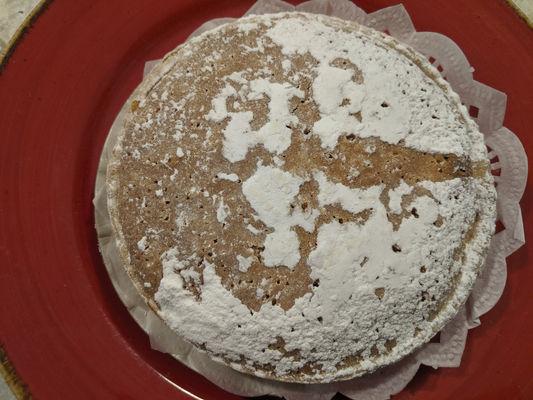 Tarta de Hostal
1/2 pound (1 3/4 cups) blanched whole almonds
1 1/4 cups superfine sugar
Powdered sugar, for dusting
Finely grind the almonds in a food processor.
With an electric mixer, beat the egg yolks with the sugar to a smooth pale cream. Beat in the zests and almond extract. Add the ground almonds and mix very well.
With clean beaters, beat the egg whites in a large bowl until stiff peaks form. Fold them into the egg-and-almond mixture (the mixture is thick, so that you will need to turn it over quite a bit into the egg whites).
Grease an 11-inch springform pan, preferably nonstick, with butter and dust it with flour. Pour in the cake batter, and bake in a 350-degree oven for 40 minutes, or until it feels firm to the touch. Let cool before turning out.
Just before serving, dust the top of the cake with powdered sugar. Or, if you like, cut a St. James cross out of paper. Place it in the middle of the cake, and dust the cake with powdered sugar, then remove the paper.
Variations: Add 1 teaspoon cinnamon to the egg yolk and almond mixture. Spread apricot jam over the top.