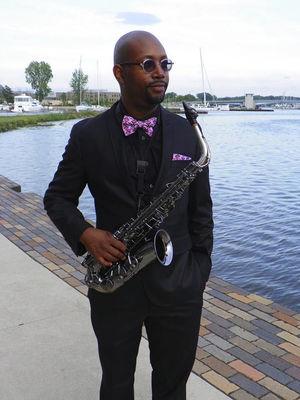 BH saxophonist to perform with friends at The Box
ST. JOSEPH — Friday is set to be a night full of music and friends at The Box Factory for the Arts, 1101 Broad St..
Erick Fisher, a Benton Harbor native, will take the stage at 7 p.m. with Sankofa, Kecia Deroly and Sarah Giramia.
Fisher, a self-taught saxophonist, started perfecting his sound more than 20 years ago while playing in local venues, churches and at weddings. Since then, he has performed at some of the most popular events in Southwest Michigan and around the Midwest. He's known for his ability to blend gospel, jazz and R&B music.
He'll be joined by Sankofa, an eclectic soul band, whose members are passionate about creating and performing good music. In addition to Fisher, the high energy ensemble includes Beth Haire-Lewis, Steve Parker, Audrey S. Peeples, Tamika Seawood, Falconetti Petty and Anthony Alexander.
Deroly is a theater veteran and world-traveled concert performer. Besides performing on Broadway, cruise ships and solo concerts, she's performed with Brandy Norwood, and for Queen Latifah, Idina Menzel, Sean "Puffy" Combs, Jim Carrey and B.B. King.
Giramia is a singer-songwriter who is currently a student at Western Michigan University pursuing a degree in education. She is a lover of all types of music who plays a combination of acoustic alternative sounds with elements of R&B.
Tickets are $8 in advance and $10 at the door. Doors open at 6:30 p.m.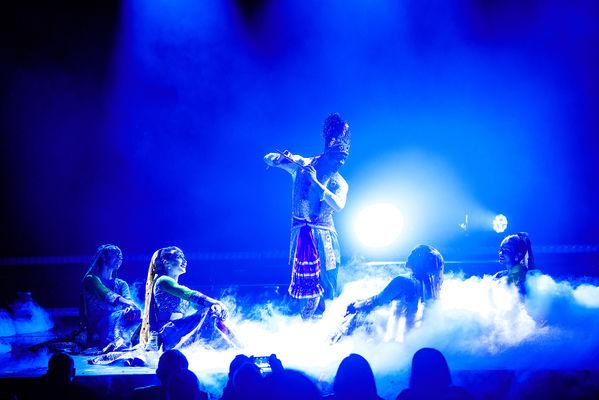 Bollywood dance company stops by the Mainstage
BENTON HARBOR — Tickets are still available for the internationally recognized Bollywood dance company Mystic India.
"Mystic India: The World Tour" will perform at 8 p.m. Friday in Lake Michigan College's Mendel Center Mainstage Theatre, 2755 E. Napier Ave.
The performance, based on the concept of ancient India's transition into modern India, will include dancers, music, acrobats, costumes and visual effects exploring Rajasthan, Maharashtra, Punjab, and Gujarat, and even through the progression of Bollywood films.
People around the world have seen Mystic India's performances since its inception in 2011, including tours in the U.S., South Africa, Switzerland, Canada, Bahrain and China.
Lest We Forget, Southshore Concert Band present annual concert
BENTON HARBOR — For 13 years, Lest We Forget and the Southshore Concert Band have entertained audiences with a Veterans Day concert.
The concert returns at 2 p.m. Sunday to the Lake Michigan College Mendel Center, 2755 E. Napier Ave.
The 90-member Southshore Concert Band, led by Dale Reuss, will feature traditional patriotic songs and salutes for the branches of the service. The theme for the concert, "America: Land of the Free; Home of the Brave," will include instrumental, vocal and visual selections.
U.S. military members will be remembered and honored throughout the program.
Before the program, starting at 1 p.m., Lest We Forget will honor all veterans by taking their photo. Photos will be mailed to the veterans.
Additionally, Lest We Forget members who have died will be paid a tribute, with their photograph being shown during the singing of "The Mansions of the Lord."
The concert will recognize veterans of all conflicts, along with a "Tribute to Missing Comrades."
Tickets are available for $10 at Stevensville and St. Joseph Martin's Super Markets or from Lest We Forget members.
Tickets are $12 at the LMC Mendel Center Box Office or by calling 927-8700. Children 17 and younger are free.