Beckwith Theatre opens 'The Revenants' on Friday
DOWAGIAC — The Beckwith Theatre Company will open its latest production, "The Revenants," a zombie drama by Scott T. Barsotti, on Friday night.
A violent uprising of the undead forces two couples into hiding as their infected spouses take a turn for the worse.
Gary (played by Jay Southworth) and Karen (Tara Schaefer) tether their turning partners, Molly (Kathryn Hein) and Joe (Curt Goodrich), for the safety of all. But as Molly and Joe fall deeper into sickness, the question of whether or not they are still themselves becomes harder to answer as they become more threatening.
As Gary and Karen come face to face with the true meaning of commitment, they must ask of each other: when does love die?
The show is directed by Schaefer and David Prouty.
Shows will be at 7:30 p.m. Friday-Saturday and Oct. 25-26; and 2 p.m. Sunday and Oct. 27 at Beckwith Theatre, 100 New York Ave.
To make reservations, call 782-7653. Tickets also will be available at the box office the day of shows.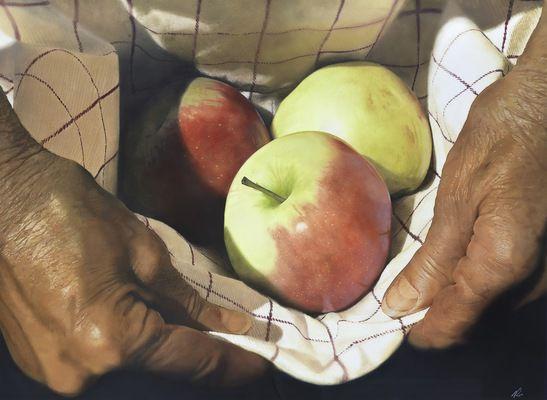 'Series 7 Art Exhibition' opens this weekend at the Box
ST. JOSEPH — The Box Factory for the Arts, 1101 Broad St., will hold an opening reception for "Series 7 Art Exhibition" from 5-7 p.m. Saturday.
The free reception will be followed by a concert featuring Kecia Deroly at 7 p.m.
The exhibition, which features the artwork of Alan Larkin, Ron Doyle, Tom Cernius and Southwest Michigan Printmakers, will be on display from Friday through Dec. 7.
Larkin will present "Still Lives, Plein Air Paintings and Small Etchings" in the Robert Williams Gallery.
"I like to take my time on some paintings, perfecting the designs, focusing on meaning and polishing details," he said in a news release. "Time slows down, and as details resolve, it slows down again. The challenge is about surface, atmosphere and emotional drama. It's about thoroughness. These projects last somewhere between three weeks and three months.
"To counter this," he said, "I then work on plein air paintings. This is incredibly fast painting that requires intense focus and generally takes from three to nine hours of work, most of it on site. Really good paintings happen occasionally this way, but there are also quite a few that don't work that viewers never get to see. It's about design and color."
The Heartha Whitlow Gallery will be home to Doyle's exhibit, "Still Life." Doyle uses watercolors and pastels to capture subjects, with an attention to details.
His work includes an old-fashioned pay phone depicted in "269-983-3688," the weathered "Old Trunk," and "Mom's Hands" depicting three perfect apples in the hem of an apron.
Doyle will share the gallery with Cernius, who brings "Ceramic Raku Sculptures and Vessels" to the Box.
Cernius' first exposure to ceramics was at the Indianapolis Art Center in 2007, when he took a wheel-throwing class for fun. He spent many years there as a student/monitor and artist. He also has sculpted at Lillstreet Art Center in Chicago, and is the host of Monday Night Ceramics at the Chesterton Art Center in Indiana.
"I work in clay because of its endless possibilities, and I prefer its inexpensive cost of experimentation," he said. "Although often functional, my art is usually more abstract, as function is not an overriding trait. Vivid colors, shiny metallic glazes or nice contrast are other appealing qualities I strive for."
Southwest Michigan Printmakers will show "Miniatures and More" in the Riverwalk Gallery.
The informal group of regional artists/printmakers is dedicated to the creation of handmade and fine art prints.
"Miniatures and More" includes two print exchanges from members along with their individual prints of choice.
Small prints for "The H20 Show" were created specifically for the exhibit. The images are based on the simple, yet complex concepts associated with water.
The group's first print exchange was "Head-to-Toe & In-Between." The idea grew from the surrealist parlor game "exquisite corpse," where a compilation of words or images are collectively assembled.
A gallery walk with the artists is planned from noon-2 p.m. Nov. 9.
ESS hosting Upcycle Fest during Fall Art Hop in BH
BENTON HARBOR — ESS Resale Store and Emergency Shelter Services will host Upcycle Fest from 6-10 p.m. Friday at The Oak Room at the Citadel, 91 Hinkley St.
Upcycling is the process of converting old or discarded materials into something useful, and often beautiful. Six area artists will create art live during New Territory Arts Association's Fall Art Hop.
Attendees can nibble on Silver Beach Pizza and sip on wine and cider as they watch something old become new again.
Each artist will design and pick their materials beforehand at ESS Resale Store (formerly 6 Degrees Resale Store), and will create their works on site.
The pieces will be auctioned to the public on Nov. 14 at the ESS Livery Pint Night.
ESS Resale Store funds go directly to Emergency Shelter Services' mission to eradicate homelessness in Berrien County. This event seeks to shine a light on how the different aspects of the organization work together to help the homeless families of Berrien County.
The sale of these art pieces will help raise funds for a $20,000 matching grant from the Frederick S. Upton Foundation.
Among the artists participating are David Smykal, Thomas Freier, Elizabeth Crowley O'Leary and Matt Clancy.