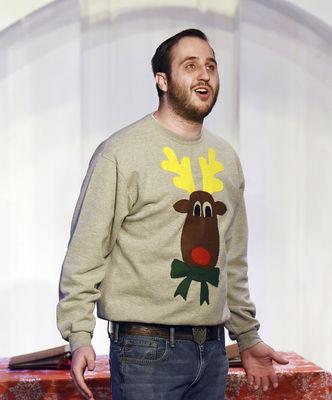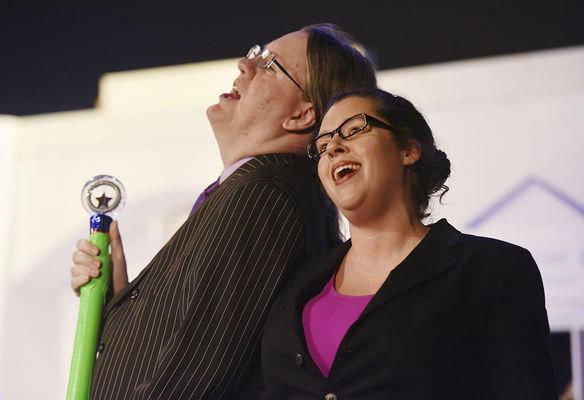 Twin City Players opens 'Kris Kringle the Musical'
ST. JOSEPH — A Christmas musical that is just barely two years old opens tomorrow night in St. Joseph.
The Twin City Players will present "Kris Kringle the Musical" the next two weeks at The Playhouse, 600 W. Glenlord Road.
The holiday musical reveals the untold story of young Kris Kringle. From the North Pole, Kris Kringle teams up with Santa and Mrs. Claus, Evelyn Noel, a band of apprentices and elves, and magical toys to remind us what Christmas is really all about: hope, family and forgiveness.
Performances are at 7:30 p.m. Friday, Saturday and Dec. 12-14; as well as at 2 p.m. Saturday, Sunday and Dec. 14-15.
The show will be directed by Faith Schroeder-Smith along with assistant director Bill Klein.
Cast members are Allen Pille, Gemma Michelini, Mike Neuenschwander, Fran Michelini, Renee Wright, John Rogers, Jodie Wilson, Zach Puplis, Tabitha Nelson, Emery A., Sydney Johnson, Grant W., Robert Foster, Beth La Fleur, Christopher Hamlett, Jessica Lewis, Naomi W., Robert Foster, Carol E. Orlaske, Julieann D., Deaglan D., Madison C., Marie W., Jonah W., Helena L., Caelyn C., Emma S., Whittaker L., and Josie Dejong.
Tickets are $16 for adults and $8 for ages 12 and younger.
Resiliency theme continues at Krasl members' show
ST. JOSEPH — This year's theme at the Krasl Art Center has been resiliency: adapting well in the face of adversity, trauma, tragedy, threats and even stress.
That theme continues this weekend, with the opening of KAC's "2019 Members' Show."
Resiliency, was inspired by dialogue between KAC and Spectrum Health Lakeland. In 2016 and 2019, Lakeland completed Community Health Needs Assessments in which mental health emerged as the most urgent need throughout Berrien County.
Combining KAC's expertise in art, and Lakeland's expertise in wellness, the exhibitions represent the collaborative efforts to improve quality of life.
Members were invited to submit one new artwork of their making addressing resiliency. The exhibition will be on view Friday through Jan. 20.
The Krasl will hold an opening party from 5:30-8 p.m. Friday with live music by Motown Machine, artmaking for all ages with art therapist Holly Garces, a VIP lounge, a cash bar featuring Lake Michigan Vintners and The Livery, and small bites by Bistro on the Boulevard.
The event is free and open to the public.
For more information, visit krasl.org or call 983-0271.
Orchestra, chorus to present Handel's 'Messiah'
BENTON TOWNSHIP — An orchestra, a chorus and a cast of soloists will take the Mendel Center Mainstage, 2775 E. Napier Ave., on Saturday for a holiday celebration.
The Southwest Michigan Symphony Orchestra and the Southwest Michigan Symphony Chorus, plus a group of soloists, will perform the Christmas portion of George Frideric Handel's "Messiah."
The 7:30 p.m. show will feature soloists: soprano Carrie VanDenburgh, mezzo-soprano Rebecca Russcher, mezzo-soprano Lorie Kraus, tenor Andrew Fisher, bass Armando Linares and bass Gary Cooper.
In 1950, "Messiah" was the very first show performed by the newly formed St. Joseph and Benton Harbor symphony orchestra, now known as the SMSO.
Handel's Baroque-era oratorio was originally an Easter offering, but it is now a fixture during Christmastime.
Tickets are $20-$35, and $5 for students. It's expected to sell out.
For more information, or tickets, visit smso.org or call 982-4030.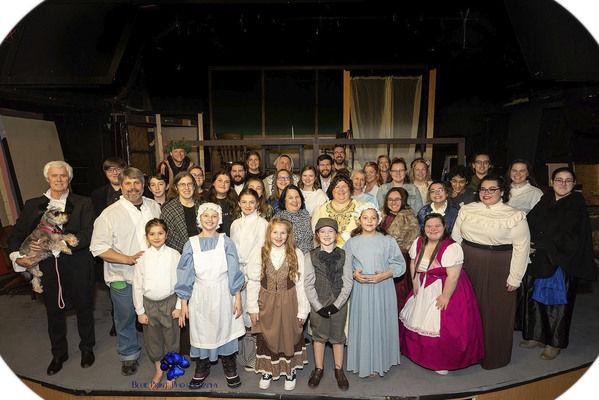 Beckwith Theatre opens holiday classic tonight
DOWAGIAC — A holiday story that's been loved by readers and audiences for 175 years will open tonight in Dowagiac.
The Beckwith Theatre Co. will present "A Christmas Carol," based on the story by Charles Dickens, the next two weekends at the theater, 100 New York Ave.
The show is set for 7:30 p.m. tonight, Saturday and Dec. 13-14. There will be 2 p.m. showings on Sunday and Dec. 15. There is no show Friday, as the cast will be part of the Candlelight Christmas Parade in downtown Dowagiac at 7 p.m.
Tickets for the show are $15, and can be reserved by calling 782-7653.
The show about Ebenezer Scrooge, who is forced to face his selfish ways, is directed by Ryan Murray along with assistant director Ravan Bakeman.
As three ghosts on Christmas Eve lead Scrooge through his past, present and future, he begins to reconsider the life he has led.
The cast includes Jack Gannon as Scrooge and Rob Babler as Bob Cratchit.
Other cast members are Collin Mattiford, Sam Blevins, Olivia Schafer, Jeff Gunn, Jessica Shaffer, Curt Goodrich, Peggy Gannon, Christianna Schommer, Clayton Miller, Anthony Potter, Joyce Dudley, Emily Gonzalez, Hannah Christner, Calvin Diamond, Kenley Weston, Elias Babler, Jay Henry, Texas Brooks, Elizabeth Babler, Mallory Bakeman, Audrey Babler, Donna Babler, Lily Babler, Annie Babler, Owen Babler, Pennie Hammond, Alexis Janes, Jon Brooks, Avery Lyons, Erin Schultz, Charlie Retherford, Madison Stout and Leslie Burkett.