New Buffalo hosts annual harvest fest
NEW BUFFALO — A harvest festival full of food, wine and entertainment will take over New Buffalo this weekend.
The New Buffalo Business Association is hosting its 14th Annual New Buffalo Harvest & Wine Fest from noon to 9 p.m. Saturday.
The festival will take place in Lions Pavilion Park adjacent to the boat launch and beach parking lot in downtown New Buffalo.
The Harvest & Wine Fest boasts family-friendly activities including nonstop live music under a big top tent, horse-drawn wagon rides through town, unique art and craft vendors, farm market vendors, wines from all over Michigan, local beer and hard cider, fare from area restaurants, pumpkin painting, inflatables and demonstrations from Harbor Country's "Sand Pirate" Janet Moore Schrader.
The Rebecca Anne Band will go on at 1 p.m.; Top Secret Band will perform at 3 p.m.; The Andrew Fisher Quartet is at 5:30 p.m.; and The Black Lillies will close out the night at 7:30 p.m.
The Sawyer Dance Troupe will perform between bands.
Admission at the gate is $5 per person and children 12 and under are free.
May Erlewine makes tour stop at The Livery
BENTON HARBOR — A Michigan songwriter known for her strength and love running through her music has Benton Harbor as one of her stops on her fall tour.
May Erlewine will play at 8:30 p.m. Saturday at The Livery, 190 Fifth St.
She will celebrate her new album "Second Sight," coming out this fall. Joining her are musicans Phil Barry, Eric Kuhn, Joe Hettinga, Max Lockwood and Michael Shimmin.
Attendees can expect to hear songs off the new album. These songs are about existing, connecting and moving forward through very turbulent times as a country. Erlewine wants the lyrics to deepen our awareness and emotional connection while drawing on our intuition and vision as a people.
With a long list of full-length albums, two EPs, and numerous collaborations, Erlewine's catalog is proof of her creative power. Her work has been spotlighted by Rolling Stone and NBC's "The Voice."
The new album is self produced and recorded with Tyler Duncan. The work includes a long list of featured musicians.
Tickets are $14 in advance and $20 at the door. Doors open at 7:30 p.m. Tickets and more information can be found at liverybrew.com.
Silver Songs to perform at the Box
ST. JOSEPH — A group of singers, hailed as "pretty great listening," will come together Saturday in St. Joseph.
Riversong Music Society of Southwest Michigan will present Silver Songs at 7 p.m. at the Box Factory for the Arts, 1101 Broad St., St. Joseph.
Silver Songs is comprised of four friends who came together to perform songs they all loved with four-part harmony and plenty of back-up for each singer's solos. This performance will feature Joe Foster, Ron Van Lente and Mary Czarnecki.
Foster is a folk singer/song stylist known for his pleasant voice, sense of humor and renditions of folk tunes, ranging from the 1940s to the 1970s, from a variety of our best classic folk artists. He has performed for the past 30-plus years at various venues throughout the Midwest and always leaves his audiences with a few smiles, some good laughs and humming some of the memorable folk songs of the last 50 years.
Van Lente is known for his rich tenor, his harmonies and harmonica playing and his steady rhythm guitar, performing in various combinations with other local musicians. His main gig is with "inharmony," a duet he formed with David Veenstra. They perform regularly in Harbor Country, singing originals and covers of songs from the '50s to the present.
Mary Czarnecki, with her guitar and warm alto voice, has played venues in Southwest Michigan for years, including cafes, festivals, church services, art galleries, open mics and on the Box Factory stage many times, both solo and with friends. She is vocalist, songwriter, backup harmonizer, bringing music to audiences that also include covers of many artists, from Malvina Reynolds and Tom Paxton to Patti Griffin, Lyle Lovett and Randy Newman, as well as classic folk, pop and old hymns.
General admission is $10 to this performance.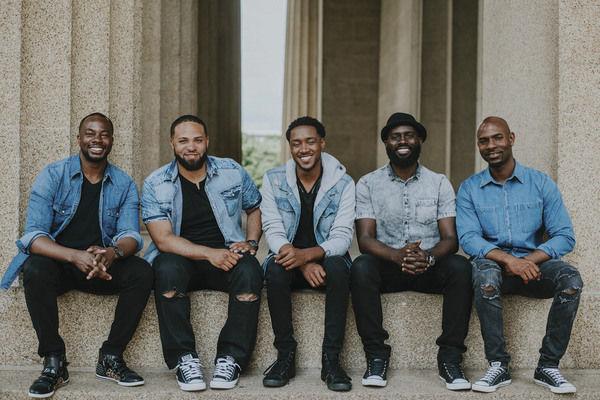 A cappella group takes HPAC stage
BERRIEN SPRINGS — An a cappella singing group comprised of five young men who love creativity, music and God will take the Howard Performing Arts Center stage Sunday.
Committed, founded in 2003, solidified their sound while at school together at Oakwood University in Huntsville, Ala.
Group members Robbie Pressley, Theron "Therry" Thomas, Maurice Staple, Dennis "DJ" Baptiste and Geston Pierre have been compared to groups like Take 6 and Boyz II Men.
Some of the members are instrumentalists and all of them are able to sing various styles of music such as gospel, pop, R&B, contemporary worship and jazz. Their versatility and goal to inspire all they encounter has placed them on major stages such as NBC's "The Sing Off," where they emerged as the season two champions.
The show starts at 7 p.m. at 4160 E. Campus Circle Drive, Berrien Springs.