The results – and the recipes – are in from this year's 32nd Cherry Baking Contest at the Eau Claire Cherry Festival.
There were six categories – Cake, Bread, Pie, Dessert, Miscellaneous, and Quick-and-Easy Mixes.
After the judges chose three winners for each category, Grand Prize and Most Eye Appealing winners were selected from the six first-place winners.
This year, Debra Lollar's Cherry Pastry Puffs took first place in the Miscellaneous category and won the Grand Prize.
Celena Cantrell won first place in the Pie category and Most Eye Appealing for her Dark Sweet Cherry Cheesecake Pie.
• Cake: First – Barb Adams, Fourth of July Cherry Cake; second – Lollar, Luscious Cherry Cake; third – Stephenie Kuhl, Fresh Cherry Cake.
• Pie: First – Cantrell, Dark Sweet Cherry Cheesecake Pie; second – Sara Disterhelf, Sweet Cherry Pie; third – Adams, Cherry Pie.
• Bread: First – Cantrell, Sweet Cherry Pizza; second – Kuhl, Cherry Bread; third – Jessica Ratter, Cherry Sweet Rolls.
• Dessert: First – Kelly Blankenship, Chocolate Cherry Tart; second – Joyel Timmreck, Cherry White Chocolate Mousse Tart; third – Carol Skibbe, Cherry Brownie Delight.
• Miscellaneous: First – Lollar, Cherry Pastry Puffs; second – Aiye Akhiab, Cherub Jam; third – Kuhl, Cherry Almond Cinnamon Rolls.
• Quick-and-Easy Mixes: First – Timmreck, Cherry Chewables; second – Lollar, Easy Pineapple Cherry Crisp; third – Kuhl, Chocolate Cherry Cake.
Debra Lollar's Cherry Pastry Puffs
1 box instant vanilla pudding
Whisk together the milk and pudding. Fold in the Cool Whip.
Unfold the pastry puffs on a lined baking sheet. Cut on lines into squares. Brush on cherry juice.
Bake at 400 degrees for 10-15 minutes.
In a saucepan on low heat, cook pitted cherries, sugar, lemon juice and 1/4 cup water.
In small bowl, mix cornstarch and remaining 1/4 cup water. Then add to cherry mixture. Cook until thick.
Cut open pastry puffs, spread pudding mixture on bottom.
Spoon on cherry mixture. Put top layer on.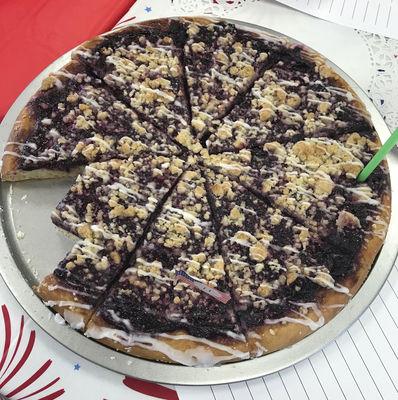 Celena Cantrell's Sweet Cherry Pizza
1 envelope instant dry yeast
2 tablespoons olive oil plus oil for rising bowl
1 pound sweet cherries, pitted
1 teaspoon almond extract
1/2 tablespoon brown sugar
2 tablespoons soft butter
1/2 teaspoon almond extract
To make the dough: Combine the flour, sugar, yeast and salt in a stand mixer bowl. While mixer is running, add water and the 2 tablespoons oil. Add more flour if dough is too sticky. Add a spoonful at a time.
Grease a large bowl with olive oil. Cover with plastic wrap and let it sit in a warm place until doubled in size, about one hour
To make the filling: In a saucepan over medium heat, stir cherries, sugar and extract until heated and sugar is melted.
In a separate bowl combine water and corn starch until smooth. Add to cherry mixture. Remove from heat.
To make the topping: Mix the ingredients together with a fork to make crumbles.
Spread the cherry mixture over the pizza like the sauce. Top with the crumbles.
Bake at 400 degrees for 25 minutes. Let cool completely.
To make the icing: Mix the ingredients together with a fork and drizzle over the cold pizza.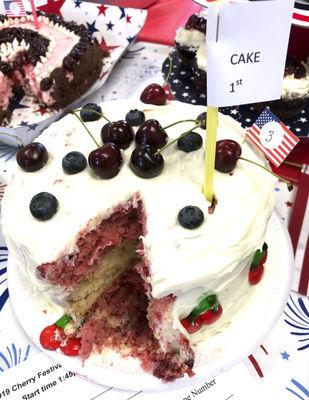 Barb Adams' Fourth of July Cherry Cake
20 ounces cherry pie filling
1 cup fresh almonds, chopped
1 (24-ounce) can cream cheese frosting
Toppings: Sweet cherries, blueberries, coconut
Grease three 8-inch cake pans. Set aside.
Mix first six ingredients.
Bake at 350 degrees for 25-30 minutes.
Let cool and frost. Then top with sweet cherries, blueberries and coconut.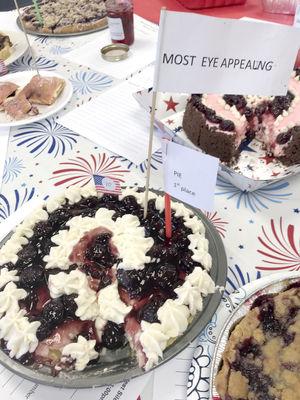 Celena Cantrell's Dark Sweet Cherry Cheesecake Pie
2 cans dark sweet cherries
3 teaspoons vanilla extract
1 teaspoon vanilla extract
Heat cherries and 2 teaspoons vanilla extract in a saucepan and let cool.
Crumble 30 Golden Oreo Cookies in a food processor. Melt 1/3 cup butter. Stir butter into cookie crumbs, and press into a pie pan. Place in freezer.
Whip together cream cheese, powdered sugar and 1 teaspoon vanilla extract until smooth.
In a separate bowl, whip the heavy cream. Fold into the cream cheese mixture.
Fill cookie crumb pie crust. Top with the cooled cherries. Then top with remaining cream cheese filling.
Kelly Blankenship's Chocolate Cherry Tart
1 1/2 cups all-purpose flour
1/2 cup unsalted butter, at room temperature
3 cups cherries, cut in half and pitted
For the pastry: Whisk the flour and salt in a small bowl.
Beat the butter in a stand mixer fitted with a paddle attachment until light and fluffy. Add sugar, then egg yolks one at a time while the mixer is running.
Dump the flour mixture in, and run mixer just until dough forms a ball. Shape into a disk, and chill for about 30 minutes.
Roll to a thickness of about 1/4 inch, and press into tart pan. Pierce the bottom with a fork to prevent puffing during baking.
Bake at 400 degrees for about 5 minutes, then reduce to 350 degrees, and bake an additional 15 minutes. Allow to cool.
For the filling: Melt the chocolate and allow to cool. Scald the milk and cream in a small pot, and set aside to cool to warm.
Whisk together the yolks, sugar, flour and vanilla. Set on low heat, and begin whisking.
Slowly pour in the warm milk mixture, and continue whisking on low heat until mixture thickens. Transfer to a glass bowl, and whisk in the melted chocolate.
Cover with plastic wrap, pressing down onto the surface, and allow to chill for a few hours.
Fill tart shell with chocolate pastry cream, and arrange cherries.
If not serving immediately, brush with a strained and diluted jam to preserve the surface.
Joyel Timmreck's Cherry Chewables
1/2 cup packed brown sugar
2 (8-ounce) packages cream cheese
1 teaspoon almond extract
21 ounces cherry pie filling
In a bowl, combine flour and brown sugar; cut in shortening and butter until fine crumbs form.
Stir together 1/2 cup pecans and coconut.
Reserve 1/2 cup crumb mixture for topping, and press the remaining mixture into the bottom of a greased 13-by-9-by-2-inch baking pan.
Bake at 350 degrees for 12-15 minutes, or until lightly browned.
For the filling, beat the cream cheese, sugar, eggs and almond extract in a mixing bowl until smooth. Spread over the hot crust. Bake for 15 minutes more. Spread pie filling on top.
Combine the remaining nuts and reserved crumbs, and sprinkle over the cherries.
Bake 15 minutes more. Cool.
Refrigerate until ready to serve.
Jane Ammeson can be contacted via email at janeammeson@gmail.com or by writing to Focus, The Herald-Palladium, P.O. Box 128, St. Joseph, MI 49085.