The news was shocking, although Bob Walker knew the possibility existed after his family doctor discovered something amiss during a routine physical.
On advice of his family physician, Dr. James Gendernalik, he consulted specialists. After a battery of tests, they confirmed for the St. Joseph resident and his wife, Karen, that an aggressive cancer had invaded his prostate. That was in March 2018.
"It hit me. I couldn't talk after that. I didn't hear what (the doctor) was saying. My wife did. If she hadn't been with me, I would have missed half the things he told me," Walker, 71, said during a recent interview. "For awhile, we stumbled around not knowing what to do, where to go."
He had just become a part of the 1-in-9 American men who are diagnosed with prostate cancer in their lifetimes, according to the American Cancer Society. Other than skin cancer, prostate cancer is the most common cancer in American men, according to ACS.
September is National Prostate Cancer Awareness Month, when health experts emphasize the importance of prostate health. By year's end, there will be an estimated 174,650 new cases of prostate cancer, and about 31,620 deaths from the disease, according to ACS.
Walker's diagnosis was followed by 12 months of anxiety and hope competing for dominance, and near endless research to help them make hard decisions as Spectrum Health Lakeland doctors discussed treatment options for the disease that could spread throughout his body and end his life prematurely.
Urologist Dr. David M. Kraklau at Lakeland Urology broke the news to the Walkers, and recommended they meet with surgeon Dr. Benjamin R. Stockton, also at Lakeland Urology.
"(Stockton) made his recommendation, being a surgeon, (saying) I should get it out of there," Walker recalled. "But he said, 'Don't just take my word for it. Do some follow-up with other people and find out.'"
Walker met with Dr. Peter Paximadis, a radiation oncologist with Spectrum Health Lakeland.
"His first reaction was, 'We can radiate it. You don't need to take it out,'" Walker said.
Paximadis also encouraged Walker to learn as much as he could about the treatment options before making a decision. Both treatment options have potential side effects, and it was a matter of deciding which one the Walkers felt had the best chance of curing his cancer.
"I was like everybody else," he said. "I kind of thought prostate cancer was not good to have, but if you are going to have one (cancer) it's probably better to have that one. A lot of people feel that way."
He also felt that way, but his attitude changed.
"No cancer is good, for one thing, and if you let it go, it metastasizes elsewhere in other organs or bones or wherever," he said. "That's what gets you in the end. That little prostate by itself probably won't kill you, but the other stuff will."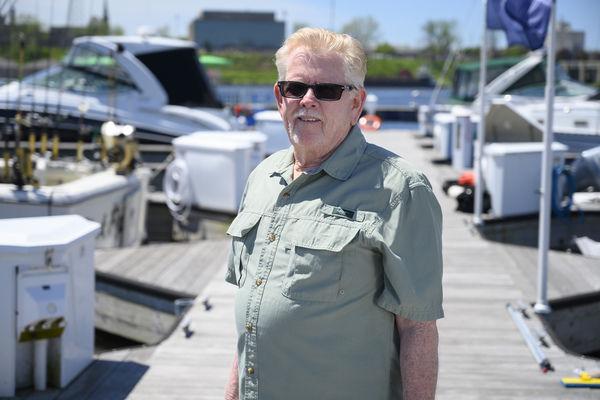 Treatment options
In an interview at Lakeland Medical Center, St. Joseph, Paximadis said many cases of prostate cancer do not require surgery or radiation.
"The primary option is usually active surveillance if it is a low-grade prostate cancer," he said.
That's because cancer in the prostate is often slow-growing and unlikely to spread and cause havoc throughout the body. Active surveillance means undergoing PSA tests – blood tests that measure a prostate specific antigen that may indicate the presence of cancer – every three to six months, and biopsies every year or two, Paximadis said.
But if the PSA score is high and subsequent tests confirm the presence of virulent cancer, the treatment options are surgery or radiation.
"It's important to remember both are equal in treating cancer," Paximadis said.
He stressed the importance of having a "balanced" discussion with the surgeon and radiation oncologist about the treatment and potential side effects of each option.
The possible side effects of surgery are urinary incontinence and erectile dysfunction, although the effects could be temporary, according to the American Cancer Society.
The most common side effect with surgery or radiation therapy is erectile dysfunction. Less common side effects include irritation or damage to the bladder and rectum, he said.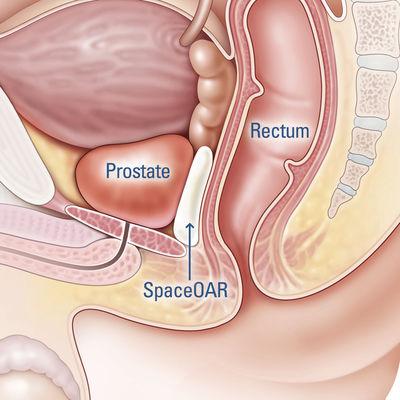 Paximadis said advances in medical science and techniques continues to shorten treatment time and lessen the chance of long-term side effects.
For example, for the past two years, he has placed a protective spacer called SpaceOAR hydrogel between the prostate and the rectum to protect the rectum from radiation exposure during treatment, thereby greatly reducing the chance of long-term side effects.
Lakeland reported that in a U.S. clinical trial, patients who used the protective spacer treatment during radiation treatment were much less likely to experience a decline in bowel, urinary and sexual quality of life.
"Our treatment is so targeted that even if you are only gaining a centimeter of distance (between the prostate and rectum), to us with our targeted treatment that is like a mile," Paximadis said.
The key to radiation treatment is precise targeting of the cancer cells, bombarding them with intense X-rays and sterilizing them.
"This is completely noninvasive because it's the same principle as getting a CT scan or X-ray. You are lying on the table and the X-rays are going where you are targeting them. Nothing is touching you," Paximadis said.
Daily treatments generally can have a patient in and out of the clinic in 20 minutes, he said.
"You are not leaving here dizzy, sick, throwing up, losing hair, that sort of thing," he said.
Early detection controversy
Early detection is crucial for treatment of any cancer, but the use of blood tests to check PSA levels is cloaked in controversy.
The U.S. Preventive Services Task Force, an agency independent of the U.S. government, has recommended that men 55-69 years old should undergo PSA tests only if they specifically ask for it. It also recommends that men older than 70 not bother with the test.
The reasoning is that men older than 70 will die of something else before prostate cancer becomes a problem.
The concern, Paximadis said, is historically there has been too much unneeded treatment, such as surgery, for low-risk prostate cancer. But most doctors now know that in most cases the wisest treatment is active surveillance.
"It's controversial because while the majority of prostate cancers that are detected are low risk, and don't necessarily require treatment, you also detect the ones that are very aggressive and do need treatment," he said. "I think it's an important discussion to have with your primary care doctor, but I think a checkup with PSA makes perfect sense."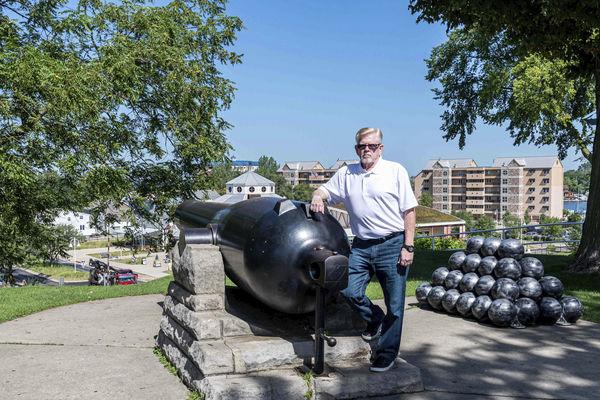 Cancer free
Walker decided to have his prostate surgically removed after the results of a genomic test, which predicts the likelihood of reoccurrence of cancer. In his case, test results indicated there was a strong chance cancer would return.
"That kind of helped make my decision," he said. "I decided to get rid of it."
The surgery on April 9, 2018, was a success, and there was no indication that it had spread to his bones or other organs, but some remained in his seminal vesicle – two small glands that store and produce much of the fluid that makes up semen.
As a result, he underwent 37 radiation treatments – five days a week for nearly eight weeks. Recovery went quicker than he expected after initial pain and discomfort.
"I was lucky, knock on wood. I had hardly any side effects," Walker said.
He has returned to playing golf two times a week – he said his game hasn't improved – and he and his wife walk 2 to 3 miles every day.
Four PSA tests have come back negative, and if they continue to show undetectable results he can cut back on the tests.
Walker offers this advice to anyone who has been diagnosed with a serious disease: "I think the biggest thing is to educate yourself, learn all you can, learn all your options, make your decision. It's your decision. Don't be talked out of it. Once you've made that decision, stick with it. And that's what we've done."
The experience also has left him deeply appreciative of life.
"It made me realize life is precious," he said. "I didn't spend enough time probably talking with my kids, getting together with grandkids. So in July we rented a house in Las Vegas, and we had all 19 of us in one house for a week. It was chaos and I loved every minute of it."