The lines were long and voters remained patient for Tuesday's general election, according to several clerks across Berrien County.
In one of the most divisive presidential elections in modern times, polling locations saw a steady stream of registered voters, with high turnout numbers expected.
Lincoln Township Clerk Stacy Loar-Porter said voters had been nice and understanding throughout the day. With six polling locations, Loar-Porter was stationed at township hall while the deputy clerk and other election officials repeatedly checked on precincts Tuesday.
Loar-Porter said there is a good chance Lincoln Township surpasses its 79 percent turnout rate among registered voters, a mark that was set in 2016.
Her hope is for the township to hit 90 percent.
With a 95 percent return rate on the township's absentee ballots, Loar-Porter said there's a good chance for that figure.
"We do all the same things whether two people show up to vote or 2,000 people show up to vote," she said. "To have 12,000 to vote is remarkable."
Loar-Porter said their absentee vote counting board has seen more than 5,300 absentee ballots turned in – 95 percent of how many were requested – which makes up nearly half of the 12,490 registered voters for the township.
While this is an unusual amount of absentee ballots, Lincoln Township had previously received an additional tabulator, which has helped process them.
"Almost half have been absentee (ballots)," Loar-Porter said. "We've only gotten maybe 100 absentee ballots today. The fact that the rest were already in and are being processed has been a big help."
An hour before the polls closed, St. Joseph City Clerk Denise Westfall said the turnout for the city was comparable to the previous presidential election.
"We've gotten about 500 voters at each precinct, so we're doing well," Westfall said.
She said it was the busiest in the morning when the polls opened at 7 a.m., with long lines continuing for the next two hours.
"People just kept coming and coming," Westfall said. "A lot of times that is the busiest."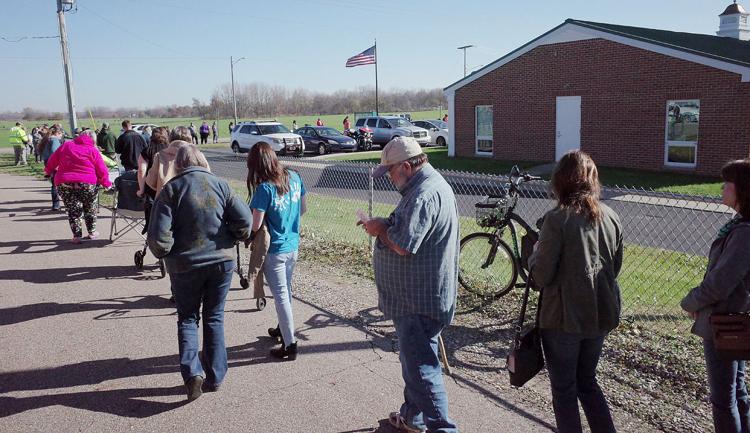 Busy precincts
Many municipalities saw lines stretching out the door, though social distancing certainly added to the length.
Benton Township, comprised of six precincts, condensed three of its precincts to its township hall.
The move came after township officials consolidated two polling places – the township hall and police station – into one location in 2018. On Tuesday, the lines were longer after the township moved Precinct 4 from the fire station on Enterprise Drive to the township hall to join voters from Precincts 1 and 2.
One voter emailed The Herald-Palladium, pointing out that township officials split the precincts into three lines and called for Precinct 4 voters to navigate the other lines, making it difficult to maintain any kind of social distance.
Similar to Lincoln Township, St. Joseph saw the majority of its absentee ballots arrive well before Election Day.
Prior to Tuesday, about 85 percent of St. Joseph's absentee ballots were ready to be counted as soon as the polls opened. By the end of the day, Westfall said the city had seen 97 percent of the requested absentee ballots turned in.
"It was busy four years ago too, but I think that we're seeing our numbers increase going forward," she said.
Both Westfall and Loar-Porter said all voters wore masks to their respective precincts.
"No one has made a big deal out of it," Loar-Porter said.
As Lincoln Township's clerk, Loar-Porter spent the majority of her day helping voters find the correct polling location.
"There's been lots of calls," Loar-Porter said Tuesday afternoon. "There's been a few people who requested absentee ballots, but chose to vote in person. We fielded calls to ensure we haven't received their absentee ballots."
Lincoln Township also saw its largest number of same-day registrations.
Loar-Porter said the township had more than 50 same-day registrations Tuesday, a side effect of many residents showing up to vote in person without having changed their address.
"It's the most we've had in one day," Loar-Porter said. "We saw an uptick in August and knew it would come again. Everyone's been extremely patient and nice."
The story was similar in South Haven, where city Clerk Travis Sullivan said that 1,600 people had requested absentee ballots. As of Monday, 93 percent of the ballots had been returned. That's about double the amount of absentee ballots from 2016.