In the midst of a global pandemic and on the cusp of a presidential election, Lincoln Township Clerk Stacy Loar-Porter is anticipating a large voter turnout on Aug. 4.
She, along with several other clerks, attributes a good portion of that to the growing number of absentee ballots that have been requested and sent in leading up to the primary vote.
"We've gotten a big response. We have one of the higher AV return rates," Loar-Porter said in reference to absentee voter ballots. "Our residents tend to vote absentee, but this year is different."
In August 2016, Lincoln Township processed 1,529 absentee ballots. For this year's primary, as of last week, Loar-Porter said they already have received 3,152 absentee ballot requests.
One of the biggest reasons behind this surge can be traced back to a move made by the state in the spring.
Two months into the COVID-19 pandemic, Michigan Secretary of State Jocelyn Benson announced that all registered voters in the state would receive an application to vote absentee in the August primary and November general elections.
The change made Michigan one of a handful of states to ease voting practices due to the coronavirus pandemic, which has complicated in-person voting and raised concerns nationwide over how to ensure safe access to polling stations during the crisis.
"By mailing applications, we have ensured that no Michigander has to choose between their health and their right to vote," Benson said in a news release. "Voting by mail is easy, convenient, safe and secure, and every voter in Michigan has the right to do it."
In Benton Township, more than 12,000 applications were sent out. So far, the township has received about 2,100 applications in return.
"The busiest part has been getting the apps out because the state did allow clerks to send them out to every registered voter," said Tammy Taylor, the township's election administrator. "We had the option to send it out ourselves or have the state do it. We chose to do it ourselves so we could send a detailed letter as to why they are coming out."
By doing this, Taylor said the township was encouraging people to vote from home for safety reasons.
Berrien County Clerk Sharon Tyler said they're also seeing an increase in absentee ballots across the county.
"They are increasing a lot. A lot of them aren't just due to the secretary of state mailing them out," Tyler said. "Some people don't want to get out there with the pandemic going on."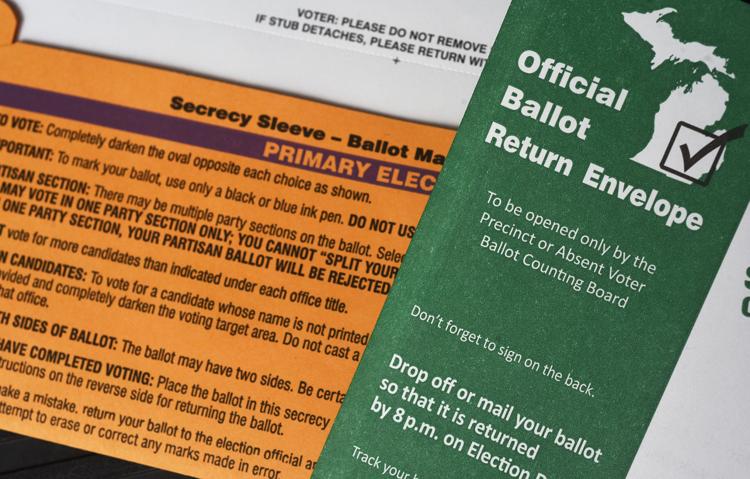 A lot of postage
The move was criticized by some Republicans, whose party at the national level has pushed back against plans by Democrats to expand mail-in voting.
State Rep. Pauline Wendzel, R-Watervliet, introduced legislation alongside her colleagues in response to the mailing of absentee ballot applications.
Wendzel said the legislation was meant to deter voter fraud by making it a felony for an individual to knowingly submit an absentee application using another person's name or information.
"This legislation sends a clear message that no matter what party an individual may be affiliated with, voter fraud will not be tolerated in the state of Michigan," said Wendzel said in a news release. "I know how hard our local clerks work, and I will do everything I can to help them run smooth and fair elections."
Overall, Benson's plan will cost $4.5 million, which will be drawn from the state's allocation of money from the federal CARES Act.
Some local and state officials have said that money would have been better used for personal protection equipment for election workers, to keep polling places safe and sanitized, and on machines for quickly processing ballots.
"I know a lot of clerks that have had to use money that was not available to them while putting up PPE and paying for postage," Tyler said.
Loar-Porter said Lincoln Township has received PPE from the state in anticipation of the primary.
However, the township incurred expenses due to mailing applications, and later ballots to voters.
"We had to buy more envelopes and more stamps. The expense is huge, which you only get during the general election, which will now be for that and the primary," Loar-Porter said. "I would expect a $3,000 postage expense normally, but it will be about $5,000 for this primary. I'm pretty much counting on everything doubling at this point. The biggest variable is, will there be bigger voter turnout in general for an August primary? We don't know how many people we will get in person."
Several clerks have complained that the move by the state was also made without consulting the Michigan Township Association or alerting clerks beforehand.
"For me, I didn't think it was fair because they told us after the fact. It's frustrating because local clerks can't send out applications to people who haven't requested it," Loar-Porter said. "If we would have done that on our side, we would have had lawsuits. The money they spent to mail those out, it would have been nice to use that money for special equipment.
"I guess I see both sides of it because it should increase voter turnout, which I'm in favor of."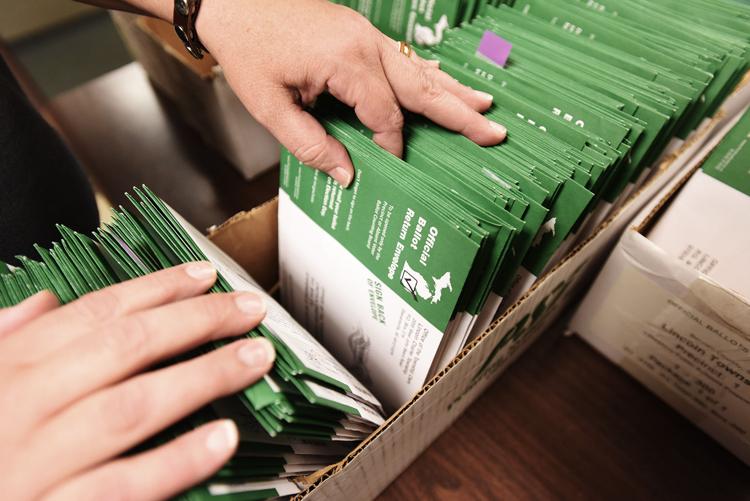 Processing time
Due to the influx of absentee ballots, area clerks anticipate election night results will take longer to announce.
On the county level, Berrien County's Tyler expects many results might not be finalized until 3 or 4 a.m. in the morning after polls close.
"The AVs always take longer. Just by the processing of the application," Tyler said. "My gut says it will take longer because a lot of my election workers have not worked on AV counting boards."
Lincoln Township keeps all absentee ballots that were turned in prior to Election Day in a vault. But because they can't begin counting the ballots until the day of the election, Loar-Porter said workers will have to start as soon as polls open.
"The biggest challenge is having enough room for the extra teams," she said. "A lot of clerks are having a hard time finding places because absentee counting boards need more room. We've had this many ballots before, but it's usually for the November election. It's never like this in August. This time, they will start first thing in the morning and work all day."
Lincoln Township will have more election workers on hand to process the influx of absentee ballots.
But Loar-Porter admitted it will still take longer because the number of absentee applications are not slowing down with two weeks to go to the primary.
"We're still seeing a really good response rate," she said. "I probably get 10 applications via email because they can take a picture with their signature on it and send a photo in. Normally they mail it or drop it off."
"The best part is voter turnout is going to be record high. We're just taking it day by day."