For generations, farmers referred to Mother Nature as a mythical being that could change her mind at will.
This winter was no different as Southwest Michigan was subject to a polar vortex that produced prolonged subzero temperatures that reached -17 degrees Fahrenheit in some areas.
While schools and businesses simply closed to ride out the cold snap that last week of January, fruit growers sat helplessly as the thermometer continued to drop. Several fruits seem to have made it through the extended freeze. However, wine grapes and peaches may not get so lucky.
Keith Hauch, viticulturist and assistant winemaker for Tabor Hill and Round Barn Wineries in Buchanan, can remember sitting inside and watching the snow blanket the acres of vines.
"At that point, there was nothing you could do to help," Hauch said. "All of our outlets closed down. You just white knuckle it and realize there was nothing you can do when you're at the hands of nature.
"I knew we were in trouble."
Hauch said the 50 acres he oversees saw two separate cold stretches this winter. On Jan. 21, the wineries were hit with a low temperature of -12 degrees. On the week that began Jan. 29, it somehow got colder, plummeting to -17 degrees.
During that second week, Hauch said there was a 48-hour period in which the temperature remained below zero.
"That extensive length of cold makes it all the worse," he said. "If you get -5 degrees you're looking at some loss of fruit for the next season. You get 10 to 15 degrees below zero – you know it's really not good. Even your hearty pinot noir."
Not much has bloomed yet because remnants of the winter remain, but Hauch said he expects most of the tender varieties that grow above the snow line – like the grapes that produce merlots and cabernets – were killed in the extreme cold.
"We'll have to take the small canes that were down near the ground and retrain those to bring them up for fruitfulness," he said. "That will take at least a year. Some of the hybrid varieties, I've got 50 percent live buds, which will have a reduced crop."
According to Mark Longstroth, a fruit educator with the MSU Extension in Paw Paw, growers won't have a good handle on the damage from the polar vortex until a month from now, when bloom and pollination takes hold.
Longstroth said he doesn't believe apples were hurt this winter.
"The only crops we're worried about are peaches and wine grapes because it got so cold at the end of January," Longstroth said. "With the other fruits, we won't have a real good handle until they get closer to bloom and we can see how many flowers they have."
However, Longstroth added that he is worried about the area's cherry population, as cherries also can be susceptible to cold weather.
At Lemon Creek Fruit Farm, it seems sweet and tart cherries will produce well. However, the same can't be said for several of the farm's wine grape varieties.
Jeff Lemon, who is a partner with his brother at Lemon Creek Fruit Farm in Oronoko Township, said last year was challenging for grape growers. However, it was because of the amount of rain that arrived early and late in the harvest season.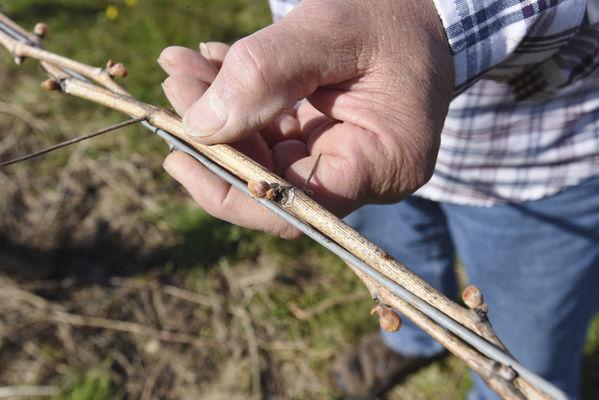 This year, Lemon Creek Winery saw its European vinifera among the varieties that were hit hard. Those wine grapes are used for cabernet sauvignon and merlots, Lemon said.
"We're now looking at a little bit of a recovery on those varieties," Lemon said. "We have a lot of those varieties pretty much taken back to the snow level or the ground. There will be a total retraining and rehabilitation of those vines."
The cold temperatures didn't impact all of the winery's grape varieties. Lemon Creek has 25 different varieties. However, it did affect about half of them, Lemon said.
He said all of the French hybrid and cold hearty varieties came through with little to no vine damage. It's still early, as Lemon said he hasn't had time to evaluate the entire property as things are just now starting to bloom.
"We just try to stay on Mother Nature's good side the best we can," Lemon said. "I can't help but think she's trying to tell us to wake up and deal with what we can do that affects climate change. It doesn't just affect farmers."
A new trend?
For the most part, Southwest Michigan is normally protected from the harshest aspects of winter due to its proximity to Lake Michigan.
Combined with rich soil, the lake effect is the primary reason why the region is able to grow fruit so well – earning its "fruit belt" moniker.
However, the direction of the winds eliminated the lake effect, and the polar vortex's frigid temperatures brought the region to its knees this winter. Strong winds bypassed Lake Michigan and arrived from the south.
The region also was hit with a radiation freeze that seemed to exacerbate the incoming polar vortex.
Radiation freezes often follow the passage of a cold front. During the night, the ground cools by radiating heat to the sky and the cold chills the air close to the ground.
Normally, warmer air is located near the ground and the air temperature decreases the higher one goes in the atmosphere. In a radiation freeze, this is reversed and cold air is located close to the ground with a warm layer above it.
The extreme winter cold in 2014 and 2015 produced low temperatures of -20 degrees because of radiation freezes.
This past winter, Longstroth referred to the radiation freeze and polar vortex occurring within a week of one another as a disastrous occurrence for fruit growers.
"We have this beautiful area with rolling hills and good air drainage," Longstroth said. "But this was a double whammy."
What has troubled growers and Longstroth is the frequency of such cold winters.
Polar vortexes were thought to be uncommon, only popping up every 20 years or so. However, the Midwest has seen three in the past six years.
"I'm concerned about that. When you talk about climate change, we get these pockets of colder air that move into North America or Europe or Asia that are extremely unusual. This would normally only happen once every two decades.
"The weather has become less predictable."
Southwest Michigan growers remember the previous polar vortexes, whether it was the terrible winters that swept through in 2014 and 2015, or the one in 1994.
After 2014, Hauch said, Tabor Hill was hit hard but they began retraining some of the vines. However, when another polar vortex hit the next winter, the vines were knocked back down.
In 1994, Lemon said his property saw a low temperature of -24 degrees at one point.
"That did a lot of damage then," Lemon said. "Typically, cloud cover is a big part of it."
Thinking ahead
Lemon and his brother are fifth-generation farmers, as the fruit farm side of the operation has been a family business for 164 years. Lemon Creek Winery is now celebrating its 35th year.
The farm includes more than 200 acres that are used for production purposes. About 160 of those acres are dedicated to wine grapes.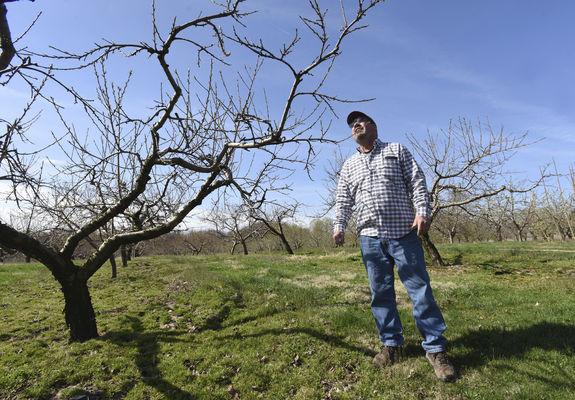 Lemon said his farm won't have any peaches this year. But Longstroth said that's the case for most farms in the area. Lemon said he expects the new growth, shoots and plants will be back to normal by the end of this growing season.
As soon as warmer weather arrives, Lemon said they hope to incorporate new methods for their vines. Before next winter, Lemon said they'll try laying down more vines and covering them with dirt or straw.
"We'll be here next year and the year after," Lemon joked. "We'll make adjustments on the farm as far as what we bring in at harvest. You have to think ahead as the growing season goes."
The MSU Extension is also attempting to help growers.
Last week, MSU fruit educators held a special meeting for grape growers at the Research and Extension Center in Benton Township.
Longstroth was in attendance and took questions. The meeting quickly turned into a workshop as educators gave a presentation and then brought growers out into the vineyard for demonstrations.
At the meeting, different strategies were discussed and advice was exchanged among growers who are tasked with regrowing and retraining their vines.
"One of our standard practices is to mound up dirt around the base of the vine," Longstroth said. "If these things are going to happen every year or every other year, people will have to plan on burying vines in the dirt or straw."
Lemon said the winery is in good shape, with a strong inventory. Wine from 2017 proved to be a very good year, which Lemon Creek Winery plans to release this summer.
At Tabor Hill and Round Barn, Hauch said they'll keep an eye on what pushes out when the buds begin to swell more.
He said he hopes one silver lining from the prolonged winter is that they can avoid a spring frost.
"I'm hoping to see things come out better than what my early estimates are," Hauch said. "Having done this for over three decades, I'm not hopeful. But I'm always wishful."