ST. JOSEPH — For someone whose job is not to speak, mime Rob Reider has a lot to say about his art form and life.
"Each one of us, you and me, have a special talent. Practice it," Reider, who performed at the St. Joseph and Lincoln Township libraries Tuesday, told his audience after some clowning. "Never give up, always try, and be kind."
But that's about as heavy as it gets for Reider, of Grand Rapids, who studied with Marcel Marceau and other great mimes.
He was drawn to mime "as a way of relieving the seriousness," he explained following the St. Joseph show. The appearances were part of the libraries' summer reading programs.
Reider immediately engages spectators as he peeks out from behind a door, appearing as shy as a 2-year-old who has to be coaxed into the room.
He first appears without makeup, and then gets his face ready to the song "Imagine" by John Lennon. It's all about imagination from here on.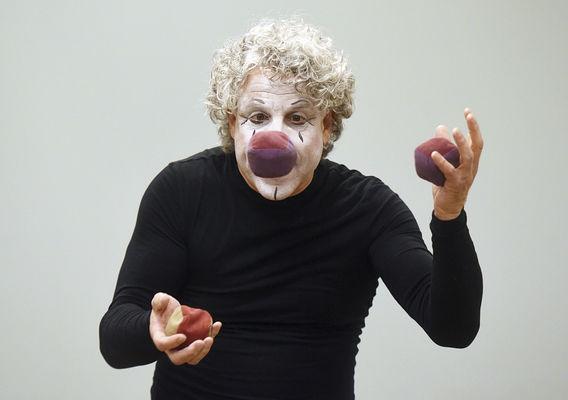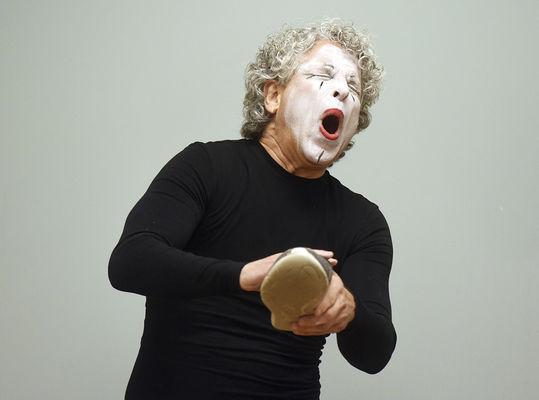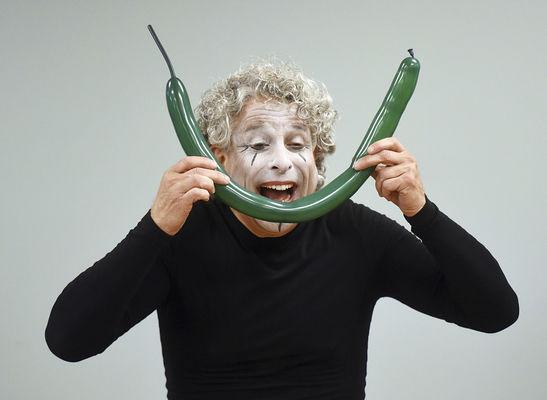 "Mime is the creation of the illusion of reality," Reider said. "It's about making something out of nothing."
He offers the classic mime motions of being trapped in a box and pulling a rope. The show includes lots of audience participation, along with juggling, balloon animals and bubbles.
One poignant segment has Reider going from a baby to a young man wounded in war to an old man – all without saying a word, of course.
For the finale he takes off his makeup to Stephen Sondheim's "Send in the Clowns." The presentation includes lessons in mime and juggling.
After the show, the highly practiced Reider creates a balloon dog for a child with his eyes closed (Reider's eyes, not the child's).
With his curly hair and mobile face, Reider is reminiscent of Harpo Marx. The Marx Brothers were early influences, along with silent comics such as Charlie Chaplin, Buster Keaton and Fatty Arbuckle, he said.
"My act has a vaudevillian bent," Reider said. "I see things in a comic way."
But mime wasn't really on his radar. He was focused on performing magic, juggling and practicing martial arts, while living in California, until someone noticed his body control.
"She said, 'You would make a great mime,'" Reider recalled.
He began performing at community festivals and then corporate events.
He studied with Tony Montanaro, who Reider called "a master illusionist," as well as the world-famous Marcel Marceau, who took him on even though Reider was 29, past the usual cut-off of 24.
"He was so kind, so generous," Reider said. "He showed me how to create something out of nothing. He showed me you could live your life in a million different ways. He gave me a permission slip to be creative."
Although intimidated by Marceau's fame, Reider decided to find his own niche. "I realized I'm going places he won't go."
Reider said his shows are for "kids of all ages," and during his St. Joseph show, he had fun with the adults as well as the kids.
In addition to his mime, Reider is a musician and teaches performers how to be present on stage and connect with their audiences. These are lessons that non-performers can learn about paying attention to the world and people around them, he said.
He also is an author. His first book was "Life Is Not What You Think," which he said urges people to look beyond their prejudices and preconceptions.
His next book, due in a few weeks, is "The Performer's Essential Handbook."
Mime has an unspoken place in his heart.
"It's an expression that allowed me to be very playful," Reider said.