SOUTH HAVEN — A decade ago retired inventor and philanthropist Mike Levine of Lakeland, Mich., envisioned a bicycle trail stretching from Lake Michigan to Lake Huron.
"My son said, 'Dad, you're trying to do the impossible,'" Levine recalled.
But Friday, Levine's dream finally came true with the official opening of Michigan's first Great Lake-to-Lake Trail.
Made possible in part with a pledge of $5 million Levine made in 2016, the 270-mile trail stretches from the Kal-Haven Trail in South Haven to the Bridge to Bay Trail in Port Huron. It travels through nine counties, 34 towns and links 16 existing trails.
"It is the state's longest destination trail," said Bob Wilson, executive director of the Michigan Trails and Greenways Alliance, who gave Levine a lot of credit for helping to bring state, regional and local governmental officials as well as trail coordinators together to create a contiguous trail across the state.
"Mike is the biggest single benefactor," Wilson said. "He's given millions to create this trail."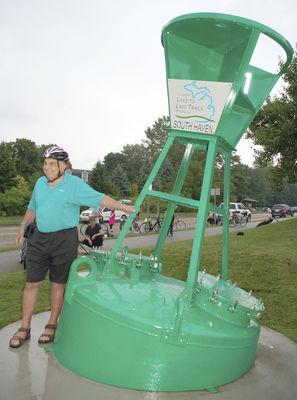 Levine, who was at the dedication ceremony for the trail on Friday in South Haven, remained modest about his contributions.
"Don't think of me as a philanthropist but rather a problem solver," he quipped. "Michigan has the largest number of trails, but they're not connected. What I contributed was to get everyone on the same page and guess what? We did it."
Levine, along with about 70 other bicyclists came to South Haven Friday for the inaugural ride and a dedication ceremony at the Kal-Haven trailhead.
First, the bicyclists went to South Beach to dip their rear tires into Lake Michigan and then biked to the nearby Kal-Haven Trail for a dedication ceremony before beginning their six-day journey to Port Huron where they will dip their wheels into Lake Huron.
During the dedication ceremony, a cast iron buoy was unveiled to mark the entrance to the trailhead, which will also be known as the Great Lake-to-Lake Trail No. 1 trailhead. An identical buoy will be placed at the trailhead in Port Huron to mark that entrance.
Don and Dee Wellwood of Whitmoor Lake, Mich., were two of the cyclists taking part in the dedication ceremony and ride. Veteran bicyclists of 14 years, the Wellwoods have ridden on trails and byways in South Dakota, Pennsylvania, New York and Washington, D.C.
"We've rode a lot of trails," Don said. "Now that there's a trail that goes across the state we wanted to ride it."
Al Lawland, a bicyclist of 30 years and member of the St. Clare County Trail Committee in Southeast Michigan, was also taking part in the inaugural ride.
"I got involved in putting the trail together," he said. "When they announced the ride, I could not help but go."
Seventy percent of Trail No. 1 consists of existing recreation trails, while the remainder of the trail travels along rural roads that are marked with signage. The hope is that one day the trail will consist of 100 percent recreational paths.
The Great Lake-to-Lake Trail between South Haven and Port Huron is the first of five Great Lake to Lake Trails envisioned for Michigan by the Michigan Trails and Greenways Alliance.
Three are located in the Lower Peninsula and the other two in the Upper Peninsula.
"The Bay City to Muskegon and Charlevoix to Mackinaw City trails are almost done," Wilson said.