ST. JOSEPH — On the cusp of leaving for college, Alicia Kusaka found a new perspective on how lucky she is to get an education.
Kusaka was among 17 students and several chaperones involved in the Interact Clubs of Southwest Michigan to spend a week on a mission trip to the Dominican Republic, in which they helped build a house, provide food and sponsor three children for school.
Having heard personal stories of the hardships that many of the Haitian adolescents had to go through just to get an eighth-grade education, Kusaka said she intends to get the most out of her time at Michigan State University this fall.
"It was a lot of learning new things about how people live and what their meaning of life really is," said Kusaka, who also served as the club's international director. "A lot of them would say that it was better than what there was in Haiti where a lot of them were from.
Interact students from Lakeshore, Lake Michigan Catholic and St. Joseph traveled to the impoverished city of La Romana, where they stayed near a sugarcane settlement – referred to as bateyes.
The batey the group was stationed at hosted a large number of Haitian refugees.
It's been three years since Kusaka joined the Interact Club and she said she's learned something new each year they've made their trek to the Caribbean. The biggest takeaway this year for Kusaka is how many children don't attend school.
As a result, Kusaka intends to become a physician's assistant after seeing the impact a PA had on some of the children from the bateyes.
"It makes me a lot more grateful for what I have, and for the education that I've had," she said. "But I hope the education I get will help me help those people. That's my goal."
As the lead chaperone, Casey Tubman said the Interact Club had planned for the trip since last year's ended.
Tubman has gone down with the club in 2014, 2015 and this year.
"Even going down there, we knew there was a need," he said. "Going down there, the idea last year was making sure the kids were getting access to school. This year, we wanted to learn more about how the school works."
By the way Tubman describes it, children attend a school located in their respective batey. The school teaches kindergarten through sixth grade.
However, students in different grades aren't necessarily the same age. Kusaka said some sixth-grade students are 10 years old, while others are 16.
Tubman recalled meeting two brothers of the same age. However, one was attending college while the other is an eighth-grader.
The majority of students not able to attend a high school – located further from the sugarcane field community – are without sponsorships. Students need $60 to cover costs for shoes, pants, shirt, a backpack, books and other supplies for school. On average per year, it also costs a couple hundred dollars to cover transportation costs since the school is so far away.
Tubman said the men who work the sugarcane fields take home about $3 a day for their family.
"Some kids who get to seventh grade don't have school anymore. They're done," Tubman said. "Because they can't afford to get on the bus to go to school."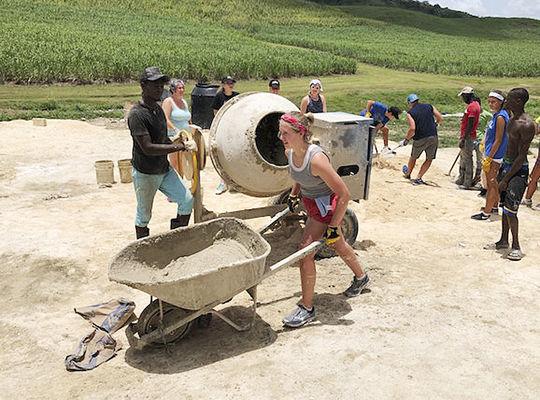 Funding an education
Interact students who will return to the Dominican Republic next yearn made the decision to focus on the educational aspect as well as building two houses – instead of one.
With about 120 school-aged children, Tubman said they now have a lofty fundraising goal.
"After being there personally, we realized we needed to sponsor all of them," Tubman said. "We can raise the money we need to send these kids to school."
When the Interact Club helped build a house last year, there were only two such structures in the batey. Now there are 14 houses, but at least 60 families are living there.
Tubman and the students went on a tour through the batey and looked at some of the makeshift shacks that were built by the area's residents.
"There's holes everywhere. The roofs leak, the floors flood," Tubman said. "There were two families living in one of the houses we stopped at. Four adults and 12 kids. A bed was nothing more than something you can lay on."
Heading into the 2019-20 school year, the Interact Club will explore fundraising opportunities.
Students have previously raked leaves or sold candy to raise money for their trip that would lead to a new house in the Dominican Republic. Now they dream about increasing those efforts.
Tubman's daughter, Caroline, who will be a sophomore at St. Joseph High School, is taking over as International Director for Kusaka. The Interact Club is still in its planning stages for next year's campaign, however, members plan to announce ways in which the community can help in the near future. 
"Something that we take for granted in the U.S., is we have a government that provides benefits for those less fortunate. That is not the case there," Tubman said. "These are mostly Haitians who have immigrated into the Dominican to become the lowest-level of worker for pennies of wages."