BENTON TOWNSHIP — Alex Banayan, one of the most successful young authors and entrepreneurs in the country today, launched his career on a game show.
Banayan (pronounced bah-ny-an), who addressed an audience of mostly young professionals at the Economic Club of Southwestern Michigan on Tuesday, used his winnings from "The Price is Right" to finance the research that resulted in his book "The Third Door: The Wild Quest to Uncover How the World's Most Successful People Launched Their Careers."
The book is about is Banayan's journey to track down the world's most successful people to uncover how they launched their own careers. 
He decided to write the book when he couldn't find any publications that explained how the world's most accomplished people succeeded, he informed the audience. But it took a twist of fate to get the ball rolling.
Banayan was a reluctant pre-med student at USC, trying to fulfill his Jewish immigrant family's desire for him to become a doctor. Two days before finals, he found a Facebook post offering free tickets to the game show, which he had never watched. He used his enthusiasm and savvy to get selected as a contestant, and picked the brains of those around him, including host Drew Carey, to learn how to win.
He ended up with a prize package worth $32,000 – including a billiard table, a VIP trip to Six Flags Magic Mountain, a five-day trip to Florida that included a zero-gravity flight and an 18-foot sailboat, which he sold, using the proceeds to fund his book project.
For more than five years Banayan interviewed Bill Gates, Lady Gaga, Jessica Alba, Maya Angelou, Jane Goodall, Quincy Jones, Larry King and Steve Wozniak – and had run-ins with Warren Buffett, Steven Spielberg, Mark Zuckerberg and Bill Clinton.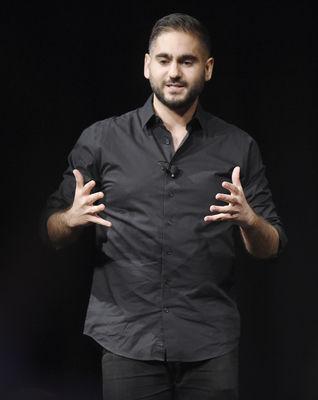 He discovered that all of these people were willing to take risks to achieve their goals, and walked through what he calls the "third door."
For Banayan, the first door to success is the one 99 percent of people wait in line to go through, and the second door is the VIP entrance for celebrities and billionaires.
"School and society make us feel as if there are only two ways in – you're born to it or you wait your turn," Banayan said.
Banayan describes the third door as "the entrance where you have to jump out of line, run down the alley, bang on the door a hundred times, crack open the window, sneak through the kitchen – there's always a way." Banayan is a venture associate at Alsop Louie Partners, a high-tech venture capital firm based in San Francisco. Fortune magazine reported that Banayan was "the world's youngest venture capitalist" and Business Insider named him one of the "Most Powerful People Under 30."
He said that the interview that had the most impact for him was with musician and producer Quincy Jones.
Jones taught him that "99 percent of people hate their mistakes," Banayan said. "You have to treat your mistakes like your best friend. You have to cherish your mistakes. That way you learn and grow."
Banayan has contributed to FastCompany, The Washington Post, VentureBeat, Entrepreneur magazine, The Huffington Post and TechCrunch. He's been featured in Businessweek, Forbes magazine, Fortune magazine, Fox News, Bloomberg TV and CBS News.
He said most people don't take risks to make their dreams come true because they don't believe the third door exists.
Banayan faced deep resistance from his family about giving up his pursuit of a medical career. His grandmother, with tears in her eyes, told him, "We didn't come to this country and sacrifice everything for you to throw it away."
But Banayan knew he had to follow his own path.
Becoming your own person "is at heart an act of betrayal, a betrayal of the values you grew up with," he said. "But that doesn't mean you're doing something wrong. It's just going against what other people think is right."