ST. JOSEPH — Residents along the shore at Lions Park Drive in St. Joseph are caught between the devil and the deep blue sea.
The sea, of course, is Lake Michigan, which remains near record-high levels, with waves slamming the shore and wearing away the shoreline and bluff.
The devil might be in the details of how to fight against further erosion, which isn't expected to abate any time soon.
On Tuesday city commissioners gave approval for lakeside property owners along Lions Park Drive to seek permits for temporary shore protections from state and federal authorities.
The initial request came from Jack Sanderson, of 804 Lake Lane, on behalf of himself and a neighbor, to place rocks on public property to slow erosion.
Last month Sanderson appeared before the commission with a similar proposal for the length of the beach from Park Street to Lions Park Beach, which he said was in line with the recommendations of two coastal studies completed for the city.
With strong winds and waves battering the shoreline several times over the past couple of weeks, things have deteriorated much more quickly than anticipated. Sanderson brought city officials to the beach last week to show them the damage.
The urgency led commissioners to call a special meeting, rather than wait until next week to consider it.
"The house is burning and we need to put out the fire," Mayor Mike Garey said.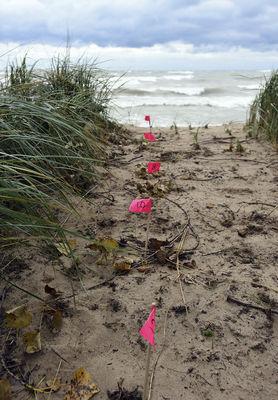 It can't be soon enough, Sanderson said. When he spoke with commissioners last month, he said an average of 22 feet of bluff remained west of his property line. Since then weather and waves have removed another seven feet.
"I don't know if it will be there tomorrow," said Sanderson before the meeting. He has planted flags at two-foot intervals from the edge of the bluff to mark the progression of the erosion.
Sanderson showed that the so-called public property between Silver Beach and Lions Beach didn't always exist, and for a long time it was under water. Shore protections were put in to fight erosion, and not attract beachgoers, he said.
"It was not planned to be a public park or a public place," he told commissioners.
The culprit, he said, is the piers, which keep sand from accumulating to the south.
Some of Sanderson's neighbors have started installing sheet metal walls to hold off the lake, but he and his wife, Mary, chose not to go that route right now.
He has been working with Mike Morphey and Anne Smith, with Abonmarche, on shoreline plans, and they suggested seeking immediate protection by stockpiling rocks along the existing high water mark.
Smith told commissioners that the rocks, placed on a slope, "is the best choice for the least amount of impact" on adjacent properties. The rocks would be removed and could be part of a permanent wall.
As for the permitting process with the Michigan Department of Environment, Great Lakes and Energy, and the U.S. Army Corps of Engineers, Smith said getting an agreement for a full, permanent shore protection takes from three to six months.
City Attorney Laurie Schmidt was directed to begin drafting a license agreement for homeowners to place protections on city property.
"From my perspective, it's still public property," Schmidt said.
Sanderson said they had hoped to avoid this expensive step, but they don't have much choice.
Other residents urged the city to work toward a permanent solution.