BRIDGMAN — Swimming is prohibited at three Berrien County beaches due to high levels of E. coli, health department officials said Tuesday.
The affected beaches are Cherry Beach, Warren Dunes and Weko Beach.
Gillian Conrad, communications manager with the health department, said the E. coli contaminations were discovered through beach testing that the county conducts each week.
"When the levels get this high, we post water advisories to the owners of the beach," Conrad said. "We coordinated with the municipalities and there will be no swimming until the levels are within acceptable levels."
Conrad said they have resampled water from all three beaches Tuesday. Each beach was above the acceptable E. coli level of 300 parts per milliliter of water.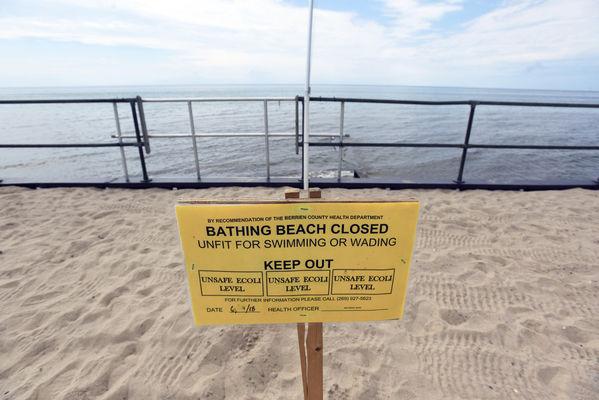 Health department staff check the water at 14 Berrien County beaches on a weekly basis. It typically takes 18 to 24 hours to receive lab results.
E. coli levels generally fall quickly due to currents in the lake, depending on the source of the contamination.
Cherry Beach in Chikaming Township was closed down last week because of high levels of E. coli contamination, which was caused by a sewer line break that found its way into the lake.
When asked whether the sewer line break had any correlation with the current E. coli contaminations, Conrad said "it's possible."
"Our environment is constantly changing," Conrad said. "We've had a lot of storms recently and wave patterns are a factor in regard to what sediments are turning over in the lake. The readings are just a snapshot in time."
According to health department records, the three beaches vary as to the frequency of E. coli outbreaks.
Warren Dunes' last high-contamination advisory occurred this year on May 29.
Prior to last week's advisory, Cherry Beach was last issued a bacteria advisory in 2014. Weko Beach saw its last one in 2016.
"Warren Dunes is one of our most popular beaches," Conrad said. "We hope people are still able to enjoy the beach. If this continues to be a problem and the levels persist, there might be a different issue we have to look into."
E. coli is a bacteria that is found in human and animal waste and can cause illness if ingested, including abdominal cramps, diarrhea and vomiting.
Young children and older adults are at higher risk of experiencing illness caused by E. coli and more serious complications from the infection.
"The rule of thumb is they can enjoy the sun and the sand," Conrad said. "If you are going into the water, be sure not to swallow the water. We also recommend washing your hands before eating."
Before heading to the beach, the health department encourages residents and visitors to check out the Michigan Beach Guard system at www.deq.state.mi.us/beach, where updates regarding beach closures around the state are posted.