SOUTH HAVEN — The next time you walk by the South Haven Lightkeeper's House, you may want to cross the street or perhaps, if you're brave enough, peek inside one of its windows – but only if you dare.
Turns out the two-story house at 91 Michigan St. is haunted – at least that's what author Dianna Stampfler recounts in a new book that tells the stories of lighthouse dwellings, such as the one in South Haven, rumored to be haunted.
Released a week ago, "Michigan's Haunted Lighthouses" is a 144-page book that is part of The History Press's "Haunted America" series. Stampfler, who has been researching, writing and presenting programs about Michigan's lighthouses and their keepers for 20 years, was asked by the publishing house to write the book. Founded in 2004, The History Press publishes local and regional history and culture from throughout the United States.
"I am honored that The History Press contacted me asking if I was interested in writing a book for them," Stampfler said. "I know many of these stories intimately, but I've been digging in even more to find photos, historical records, newspaper clippings and other details that shed light on the history of these beacons. I have even uncovered some facts that contradict what I previously believed about some of the keepers, which is exciting to me and hopefully to my readers."
Michigan is home to more lighthouses than any other state and some 30 of those are rumored to be haunted by the spirits of former keepers, mariners and others with ties to these historic beacons, according to Stampfler.
The South Haven Lightkeepers home is one of them.
The ghostly story about the South Haven Lightkeepers House involves Civil War Capt. James Donahue, who manned the lighthouse for 35 years before retiring in 1910.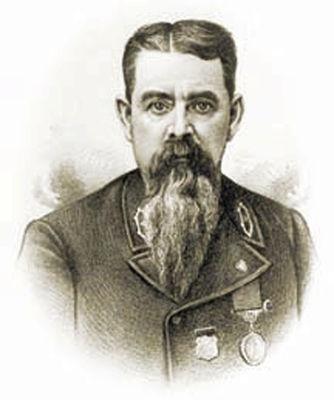 "South Haven and Keeper James S. Donahue are featured in the first chapter (of 'Haunted Lighthouses')," Stampfler said. "Patti (Reinert) and her team at the Michigan Maritime Museum were most helpful in digging up information, news clips and photographs for that chapter."
Donahue was arguably the most well-known lighthouse keeper South Haven has had. He served as keeper from 1874-1909. Prior to becoming a lighthouse keeper, Donahue served in the U.S. Army during the Civil War, rising to the rank of captain. During the Battle of the Wilderness he was wounded and his leg was amputated at the thigh, forcing him to use crutches for the rest of his life.
Even though he only had use of one leg, Donahue saved 15 lives as South Haven's lighthouse keeper, according to Lighthouse Digest. His actions earned him a silver life-saving medal from the U.S. government.
After he died, rumors developed that his ghost still lingered in the lightkeepers dwelling, which is now used as the Maritime Museum's Marialyce Canonie Research Library.
"Staff, researchers and volunteers have long shared accounts of mysterious goings-on inside the home, from the creaking of floor boards upstairs when no one was there to opening and closing of doors," Stampfler said. "However, the ghost is more of a presence than a nuisance. Donahue, like many of the other spirits that linger at Michigan lights, simply feels more comfortable inside the protective walls of his one-time home."
Stampfler has been professionally writing and broadcasting since high school. She holds a bachelor's degree in English with emphasis in community journalism, and communications with emphasis in radio broadcasting from Western Michigan University. She is a member of the Great Lakes Lighthouse Keepers Association, Great Lakes Maritime Museum, Great Lakes Shipwreck Historical Society, Historical Society of Michigan, Michigan Maritime Museum, National Museum of the Great Lakes and West Michigan Tourist Association. Stampfler was born and raised in Plainwell but currently lives in Walloon Lake, near Traverse City.