BENTON TOWNSHIP — Volunteering is to do something without compensation.
"The compensation I received was in my soul," Anna Abdelnour said.
Abdelnour was named this year's winner of the Margaret B. Upton Volunteer Leadership Award on Thursday at United Way of Southwest Michigan's annual Volunteer Recognition Event.
"It's volunteering that keeps the world going," she said. "It's because of (other volunteers) that we can do marvelous things."
Abdelnour, nominated by the Berrien Community Foundation, is best known for her work over the 27 years she has spent with the Blossomtime Festival. Over the years, she has volunteered in every capacity within the organization and now serves as its president.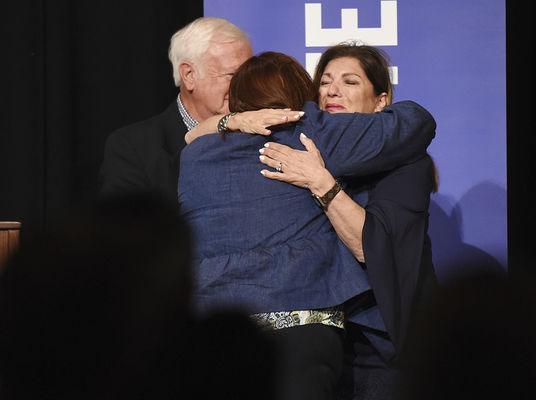 Abdelnour said she is shocked and humbled to receive the award.
"I met the best people volunteering and that's why I've continued the 28 years," she said. "There's no I in teamwork and the volunteering I've done has nothing to do with being by myself. It's about being with everybody."
Abdelnour has volunteered for Women's Service League, Habitat for Humanity, Boys and Girls Club of Benton Harbor and St. Joseph Public Schools. Most recently she joined the board of Bark Angels Therapy Dogs, and also began volunteering for the Win for Isaac Charity against Multiple Sclerosis.
Abdelnour started volunteering after she moved to Southwest Michigan 28 years ago with her husband and three small children, the youngest of which was 3 months old.
"I decided at that point to get involved because I felt like the only way to be part of a community is to be able to do something, so I chose volunteering because I couldn't work with a baby and not having family around to help me," she said.
In addition, Abdelnour volunteers for the Senior PGA Championship, and after having served as co-chairperson for the last four tournaments, will serve as chairperson for player registration and hospitality for the 2020 event.
"I'm grateful for everything I've ever done," she said. 
Fred Upton, Margaret B. Upton's grandson and congressman for Michigan's 6th Congressional District, spoke about his grandmother and the legacy she left through volunteering.
The theme of this year's event was "Leaving a Legacy." 
Upton told a story about when Eleanor Roosevelt spoke at the Economic Club of Southwestern Michigan, which Margaret's husband and brother-in-law helped found.
"The event was at the Whitcomb and only men were invited to hear her speak," Upton said. "That was not going to stand with my grandmother. So she and a few other prominent women in the Twin Cities went out and rented waitress outfits."
The women served the meal to the men at the event, including to a very surprised husband.
"They wanted to hear their very special person speak," Upton said. "I think this is the story that really captures her spirit."
The other finalists for the Margaret B. Upton Volunteer Leadership Award were Gloria Ender, nominated by Cooper Hayes LLC, and Larry Sehy, nominated by YMCA of Southwest Michigan.
Other awards given out Thursday night were the Sustaining Volunteer Award, the Emerging Volunteer Award and the Live United Youth Scholarships.
Two winners were chosen for the Sustaining Volunteer Award. They are Gokul Nair, nominated by Whirlpool Corp., and Sandy Fergus, nominated by Gast Manufacturing. The other nominees were Beth Christy, Dick Conrad, Allen Edlefson and Shani Zinn.
The Emerging Volunteer Award was given to Margo Howley, nominated by Caring Circle. The other nominees were Patricia Conroy and Kevan Truman. 
The winners of the Live United Youth Scholarships are Bailey Anson, Cass County, and Caleigh Dahn, Berrien County.
United Way of Southwest Michigan President Anna Murphy said the monetary value of United Way's volunteers is about $438,000.
"Volunteers are the heart of what we do," she said.