Getting through tough times shouldn't mean going destitute to get the help in the first place.
Richard Glista has reached that conclusion, after working in food banks since 2002 – and 10 years with low-income housing rehabilitation before that.
Glista oversees around 130 food distribution sites for Feeding America in Berrien, Van Buren and Cass counties that draw about 1,200 to 1,500 people a month, he said.
The branch runs on a $360,000 annual budget, and relies on 500 volunteers to staff its sites.
"I tell that to people, too: 'It could be me or you tomorrow,'" said Glista, branch manager for Feeding America West Michigan. "We could lose our job – or not even lose our job. It might be, your furnace is out at your house, and you're just out of money."
Or, to put it another way, everybody's situation is different, Glista said.
"Let's say that my car broke down, my roof was leaking – and all of a sudden, I got all these bills, and it's way more than I've got coming in," Glista said. "People just might find themselves in a situation where they can't come up with the food. I've come to find, there's really just as many reasons as there are people."
That feeling has struck a chord with policymakers like Gov. Gretchen Whitmer, in announcing new rules last month that make it easier to get public assistance.
The changes, which took effect Nov. 1, involve raising asset limits for food assistance, emergency relief and welfare, to $15,000 across the board.
Previous limits were $5,000 for food stamps, $3,000 for cash assistance, and $500 for emergency payments.
Countable assets include checking and savings accounts, and, in some cases, cars – which will also be treated differently under the revised rules, according to the Michigan Department of Health and Human Services.
DHS will no longer count cars toward the asset threshold for food assistance, nor require applicants to show documents to prove their assets, like bank statements, for example.
Instead, applicants will now be able to self-report, the agency states.
'It's so integrated'
For advocates like the Michigan League for Public Policy's President and CEO, Gilda Z. Jacobs, the changes provide an overdue corrective to policymakers "perpetuating stereotypes and creating unnecessary barriers to services and basic needs for struggling residents," she said, in a statement issued last month.
"Michigan's asset test has significantly undercut the actual 'assistance' in the state's cash, food and heating assistance programs, making it harder for residents and families to utilize benefits and outright punishing families for sound financial management and savings-building," she said.
The league estimates that one in seven Michiganders go hungry, and 1.8 million residents live in areas with few affordable healthy food options.
Myrna McNitt, a social worker and part-time sociology instructor at Lake Michigan College, counts herself among those supporting the changes.
"By allowing the greater asset amount, people that were struggling, but not eligible – because their assets were too much – will now be able to get critical assistance for (items like) food and utilities," she said.
McNitt expects the changes to make themselves felt locally, since poverty often carries a multiplier effect, she said.
"It's going to improve quality of life. When you've got kids that are hungry, they don't perform well in school. Adolescents become early school leavers. Oftentimes, they become teen parents," McNitt said.
Families that don't constantly confront issues like hunger are less likely to break up from other pressures – such as homelessness, she added.
"If we have people stable in their homes, that's very important," McNitt said. "We don't want them to live without heat, without light. It's so integrated, you can't say one area is affected."
Not having to count cars as an asset "is going to be huge," McNitt predicts.
"Much of Michigan is rural and has limited public transportation. People should be able to get to work, or doctors' appointments. Those things are important, as we support families to be more self-sufficient," she said.
'Million dollar recipients?'
States have been setting their own asset limits for food assistance since 2002, when the federal government let them do it, according to the league's senior policy analyst, Peter Ruark.
However, the Trump administration is pushing to reconsider the policy, he added.
Michigan was among the first of 34 states – and the District of Columbia – to scrap its limits, only to reinstate them in 2012.
That push came during Gov. Rick Snyder's administration, under his former Department of Human Services Director, Maura Corrigan – after seeing a food stamp applicant driving a Hummer to a state office.
Corrigan also initiated new rules to prevent lottery winners from collecting assistance.
The changes should significantly ease paperwork for recipients and DHHS workers, who may be dealing with 600 to 800 cases at a time, Ruark said.
"Reducing useless paperwork will ultimately benefit the department very much. That doesn't give a lot of time to look at the needs of recipients," he said.
Gaming the system?
Those assurances aren't enough for Republican lawmakers like State Rep. Matt Maddock.
Maddock, a former bail bondsman, is preparing a bill that would add photographs to Bridge cards, used to access food stamps – so they couldn't be sold or traded illegally.
Ruark thinks the changes will give workers more time to fight such abuses, "because they'll still have the option to require paperwork if they believe that somebody is acting fraudulently," he said.
But Ruark doesn't expect to see a "stampede of people who don't otherwise qualify to get assistance," he said.
Even with the changes, "you still have to show your wages, your family size – all of that gets checked out," Ruark said. "There are other eligibility guidelines that people need to fall under, to get assistance."
Historically speaking, concerns about welfare fraud have often been misused politically, in McNitt's view.
"This notion of the 'welfare queen,' that goes back to (late President) Ronald Reagan, is a politicized perception, and not the reality," she said.
'It's also survival'
People should also look more closely at the issues behind fraud schemes like "a social network of people who sell their food stamps, so they can pay their rent," McNitt said.
"People shouldn't have to make that choice, if they're going to go hungry or going to be homeless," McNitt said. "Technically, that's welfare fraud. It's also survival. Raising that asset volume's really going to provide opportunities for people that live on the edge."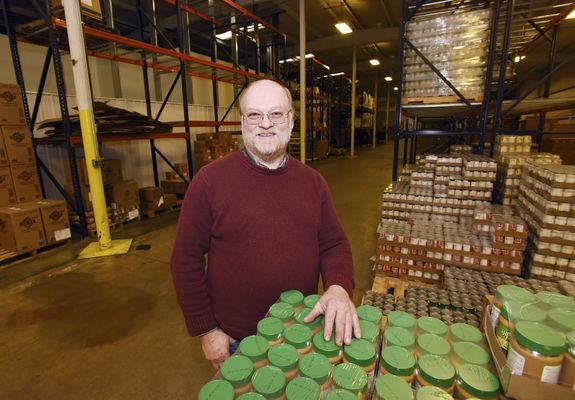 Time will tell how the new rules actually play out, Glista agrees.
"What she (Whitmer) did is mostly going to affect retired people, who may have a $500,000 house, but their income is Social Security," Glista said. "So even though they've got all their bills paid, their income isn't very high, because Social Security doesn't pay very much."
Overall attendance at Feeding America's tri-county area sites has declined by roughly 5 percent in the last couple of years, Glista said.
"There are a lot more people working now – there's a lot of factors involved. It seemed like it was growing for a long time, and then it leveled off," he said.
That leveling off followed a decade of growing demand that also put greater pressure on the agency – since it relies on donations to stock its sites, Glista said.
Unlike government programs, Feeding America only requires recipients to give basic information about themselves, including their reason for seeking the food, he said.
However, Feeding America doesn't second-guess why people show up, Glista said.
"People do have to sign in to get food from us," Glista said. "But we don't write down their income, and they self-declare. We don't require proof of anything."
As far as the fraud concerns go, Glista doesn't see a major problem.
"There are going to be scammers out there, but they are, by far, the exception, not the rule," Glista said. "So we're willing to err on the side of a couple people who shouldn't have gotten the food, getting it, rather than somebody not getting it because they didn't want to deal with the problems of having to come up with the income (proof), or showing their pay stubs."
For more detailed information about eligibility requirements, visit www.michigan.gov/MDHHS, and click on the Assistance Programs tab near the top of the page.