ST. JOSEPH — Silver Beach County Park in St. Joseph, which was already closed to swimmers because of high waves Tuesday, has another reason to ban bathers because of high levels of E. coli bacteria.
Those waves, and the risk of rip currents, would delay retesting the water, according to Gillian Conrad, communications director for the Berrien County Health Department.
Red flags warning of high waves were also posted at Rocky Gap Park.
Conrad said they are hoping to retest the water today and have the beach back open by the Labor Day weekend.
This is the first closure at Silver Beach due to E. coli since 2014, according to Michigan's Beach Guard website, that lists all test results and closings.
Health department sanitarians test water at 14 beaches each Monday, wading in up to their waists to collect samples. Those samples are sent to a state lab. If a level of E. coli is found higher than 300 parts per milliliter of water, it is retested the next day.
Conrad said that the official lab results had not been received as of Tuesday afternoon. Berrien County Parks Director Brian Bailey said he heard that the level was around 600.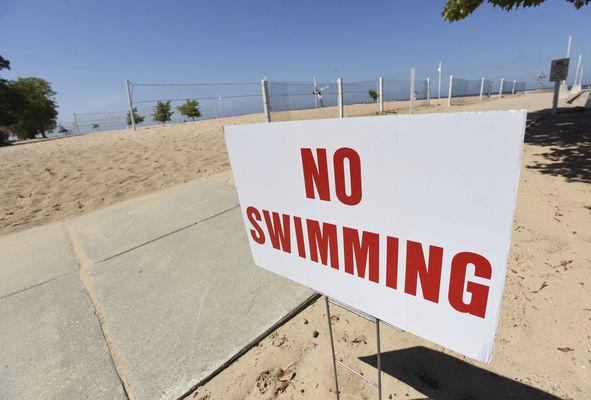 Higher levels of E. coli, which comes from animal waste, are usually detected after rains and strong currents, as occurred on Monday. Swallowing water tainted with E. coli can cause stomach cramps, vomiting and diarrhea.
Cherry Beach, Warren Dunes and Weko Beach were closed due to E. coli the last week in June, but were reopened the next day. Cherry Beach had been restricted earlier because a broken sewer line sent contamination into Lake Michigan.
Beaches can be closed to swimmers when high waves create hazardous conditions such as rip currents, which can pull people into deep water. No lifeguards are on duty at Silver Beach at this point in the season.