WATERVLIET — Dan Soard paces back and forth behind a line of monitors as the steady drum of mouse clicks resonate in the computer room at Watervliet High School.
Five students are stationed beside one another, with large headphones and small microphones strapped to their heads. Everyone's eyes are locked on the computer screens where the video game League of Legends is on display.
It's about an hour after school let out for the day, but the students are taking part in a virtual scrimmage against Buchanan students in preparation for an inaugural esports league that nearly two dozen schools in Southwest Michigan are trying out this fall.
"Esports is not a new thing – but it's a new thing for schools and administrators," said Ian Haight, the former applications specialist at Berrien RESA who played a central role in getting the league up and running.
Haight describes esports as a team sport through competitive video gaming. Several professional video game live stream tournaments have garnered more views than the Super Bowl.
Over the past five years, esports has grown into an estimated $906 million industry, that has since expanded to include recruiters, coaches and dedicated arenas.
Not every state has made esports an officially recognized sport, but more schools have been opting into the idea each year.
According to a Wired Magazine article, nearly 200 U.S. colleges are offering around $15 million per year in scholarships for the best esports players as university teams can earn millions in tournament prizes.
According to the National Association of Collegiate Esports, the average esports scholarship student receives $4,800 in tuition awards a year.
With this in mind, Haight reached out to several district technology directors about starting the league this fall. With hundreds of local students set for league play – which begins Tuesday for several districts – the question is whether this will become the norm in not only Michigan, but the rest of the country.
"I'm a bit of gamer myself, but not by an insane amount," Haight said. "Berrien County needs to be at the forefront for this. We need to be on top of this and not be looking back on it."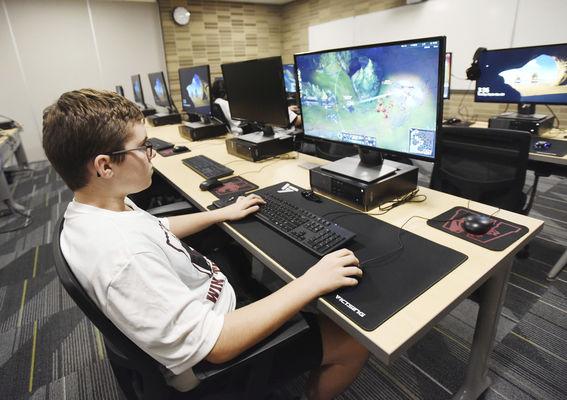 An interesting spot
The esports league that Berrien RESA helped start is mostly comprised of Berrien County school districts, along with one from Cass and one from Van Buren.
The league allows any high school student to play. Teams are made up of five students with a few alternates. Some districts have more than one team if they have enough students.
Haight initially reached out to all of his tech contacts throughout the region and got an overwhelming response. Once enough districts were on board, Berrien RESA stepped in and handled the logistics.
While professionals usually play matches with best of three or best of five series, the school league will include just one match.
The Michigan High School Athletic Association is considering whether to make it a varsity sport because of the rising popularity and scholarship availability for esports.
"Several states have made this a varsity sport," Haight said. "My guess is Michigan is going to punt on that for another year or two."
The matches are played virtually, eliminating any busing costs. Students meet in their media center or computer lab, log in and play a different school.
Lake Michigan College has gotten involved, having signed up to host the league championship where the top two teams will play head to head.
Haight said one thing the organizers wanted to hammer home in the league's rules concerned grades.
"We wanted to focus on enforcing eligibility," Haight said. "You have to have the attendance and the grades. This will be a school sport and treated the same."
Teams will have eight matches throughout the year, leading up to Thanksgiving break. Afterward, the two champions from the two divisions will be invited to take part in a championship match at LMC.
Kyle Kelly, LMC professor for computer information systems, said the college chose to get involved after it created a few esports teams of its own.
With the National Junior College Athletic Association creating an esports association in September, Kelly said he anticipates LMC offering scholarship money to winners of the local championship in the near future.
"Esports is in an interesting spot right now," Kelly said.
The esports championship game at LMC will be open to the public. Kelly envisions it getting a big event treatment with the Mendel Center as the venue.
"We are hoping to attract some local attention," Kelly said. "It would be nice to get some professional commenters and stream it on Twitch."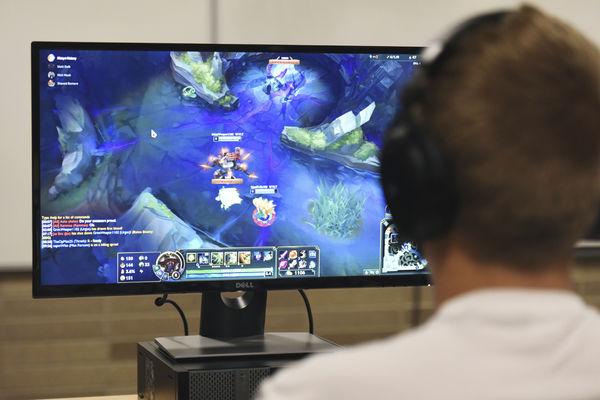 Picking a game
Soard, who coaches the Watervliet team, has always had an interest in esports. But he was surprised by the amount of schools that elected to take part in the inaugural video gaming league.
Watervliet's esports team began meeting once a week online for virtual practice toward the end of June.
"Those were six-hour days," Soard said. "We had a couple people come into the school themselves if they didn't have a monitor."
When school returned, they held matches on Tuesdays and practiced on Wednesdays.
The game League of Legends involves two teams of five competing to push into each other's base and destroy their opponent's "nexus." Players have certain roles and positions they play, and practice with characters in order to master that role.
The game was chosen for the league due to its popularity and because the violence wasn't too gratuitous.
Soard was introduced to League of Legends in college.
"It's like anyone learning a sport for the first time," he said. "Not only did they have to understand the game and the characters and how they interact, they need to understand how their opponents play."
He said the biggest leaning curve are the micro-actions.
Players are responsible for their role on the team and how they interact with others on their team.
"It would be like how a wide receiver needs to understand what a quarterback does in order to do his job correctly," Soard said. "They all had to learn the game on an individual basis, but also how to do this as a team."
According to league play, once the match begins, a coach is not allowed to talk to the team.
The role as a coach is to teach students how to play, help come up with a strategy beforehand and ensure they are coordinated leading up to a match.
At Watervliet, the team holds open practices in the hopes of bringing in other students to watch and learn before joining the team next year.
The matches can be as short as 15 minutes to as long as an hour.
"There's a lot more work to this than meets the eye," said Masyn Hotovy, a Watervliet senior who is the caption of the school's esports team. "I like that it's a team game. I prefer to play with others."
Hotovy anticipates a rough start to the season, but hopes to see a learning curve as the season moves on.
"Everyone's pretty new to the game," he said. "Me knowing the most, I've been playing for maybe nine months."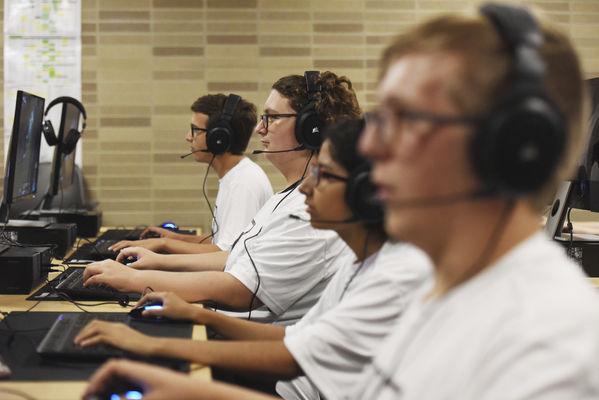 A reason to play
Watervliet's team name is Scorched Earth, a moniker also used to describe a critical Russian tactic in World War II.
Soard said their team uses the same type of tactic in game play.
Heading into next year, Soard said he wants there to be more interest from the school like any other sport would.
"I'd like to see the staff and students take an interest. So often we hear about our varsity sports," he said. "But something like this isn't as well known. These kids are putting in as much of an effort as any athlete on a team."
Cameron Furney, technology director and coach of the esports team at Countryside Academy, said their biggest worry heading into this year was how it would be adopted by the non-gaming community.
"Not a lot of people understand this is a competitive thing," Furney said. "They don't understand why this is called a sport, but it's a billion dollar industry."
When the Countryside Academy came together last week for its scrimmage, Furney said it was the team's first time playing together. The team has been limited with an ongoing construction project at Countryside.
To make up for this, students have been playing with one another from home.
Furney said he favored the idea of the league from the start based on its inclusiveness.
"There are so many people who want to be part of a team but have been neglected by schools historically," he said. "I think this really fills a need that all schools have."
With this year's focus centered on getting organized and building up the teams, Furney said this is also about exposing students to new career paths.
"We're in a new era. Kids want to grow up to be YouTubers and gamers now. It's a different generation that has different wants and needs," Furney said. "Everything is so new right now. I know these (leagues) exist in other places. But for our area, we hope it will take off the way we think it will."