Stacy Loar-Porter wants more people to vote.
That's why the Lincoln Township clerk was happy with the passage of Proposal 3 last November, which allows citizens to register to vote by mail until 15 days before an election and in person on Election Day, with proof of residency.
One of the biggest aspects of the amendment – which is expected to boost voter participation – is the ability for registered voters to vote absentee without providing a reason.
"I would love to have more people vote," Loar-Porter said. "We already had one of the highest turnouts in the county during the last presidential election. I expect (participation) to go up again in 2020."
Referred to as the Promote the Vote constitutional amendment, Proposal 3 was supported by a lot of government officials because it will allow people to vote from home.
Across Michigan, 67 percent of voters cast ballots for the proposal, with 33 percent against. In Berrien County, 63 percent of voters favored the measure vs. 37 percent against.
So far only a handful of cities are now seeing the effects of the amendment, like Benton Harbor, St. Joseph and South Haven, which have municipal elections on Tuesday. The majority of municipalities are waiting for the upcoming primary in March as a first big test.
With it being a presidential primary, clerks around Southwest Michigan are hoping to gauge what will be store for them for the November 2020 general election.
"From our standpoint, it's the primary that we'll have to look at," said Royalton Township Clerk William Foust, who favors no restrictions on absentee ballot voting. "This is when people are going to find out how tough it will be. We're trying to get our voters to sign up for absentee voting. It makes it easier for them and it's easier for us."
For the upcoming primary, Royalton created an absentee ballot board and bought a new tabulator.
"If it takes 30 seconds to run an absentee ballot, it will hopefully be a shorter day for them," Foust said. "We're getting ready to put a letter out telling people about the availability of the AB and how they can sign up for it."
Some municipalities are sending out post cards to get the word out, while others are posting information online.
In Lincoln Township, municipal employees are spreading information by word of mouth and through its newsletter.
"We've seen a lot of people signing up for the permanent AB list," Loar-Porter said. "We're lucky because our residents have used the permanent list before. All the clerks share ideas."
Prior to the amendment's passage, Lincoln Township had 1,900 voters on its permanent AB list. That number has since grown to 2,300 people.
The township has had an absentee ballot board for more than two decades to handle all the extra votes that come in early.
"We've always had one, it's just now expanded to everyone," Loar-Porter said in reference to absentee voting. "The criteria used to only apply for people who were 60 or older, or civilians living overseas. We've always had a large number of absentee ballot voters since it's been the older residents who took advantage of it."
Going through changes
One of the byproducts to the amendment has been the amount of training clerks and municipal workers have had to take.
The Berrien County Clerk's Office has attended numerous Proposal 3 training sessions from the Michigan Secretary of State, Bureau of Elections, and the Michigan Association of County Clerks.
In turn, the clerk's office then focused its efforts in disseminating the information by educating local clerks, election workers and the public.
"We recently held a town hall meeting on Proposal 3 that was well attended with great conversation," Berrien County Clerk Sharon Tyler wrote in an email to The Herald-Palladium. "We will continue our town hall meetings on Proposal 3 in 2020. Our local elections in May and August ran smoothly with no issues regarding these changes. … We will make sure every vote counts."
Loar-Porter said they took part in mandatory Proposal 3 training sessions through the Bureau of Elections.
City clerks throughout Michigan are also preparing for the first election after new laws took effect, allowing for same-day voter registration. Voters used to have to register to vote at least 30 days prior to an election.
One of the misconceptions regarding same-day registration that Loar-Porter has been trying to quell is the perception that maybe people could then vote twice.
When residents come in for same-day registration, clerks access a qualified voter file that is available through the state and look up the voter after viewing their ID. It's one of the reasons why a clerk or deputy clerk has to be available on Election Day.
"Somebody can't just walk into a precinct and say I want to vote. You have to look them up and double check," Loar-Porter said. "If they are registered somewhere else and haven't voted yet, they can move it here. But it sends an alert to the other municipality's clerk so they can't vote twice.
"I was a little leery of it at first, but since we've seen it in action, I feel better about it now."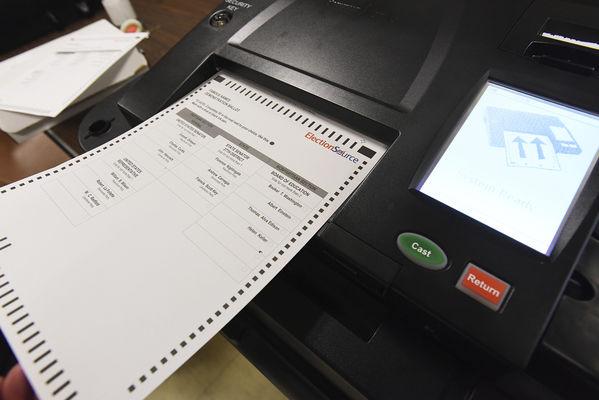 More hands means less work
Some officials believe the streamlined process will lead to a higher voter participation rate. A higher participation rate would mean more ballots, which would translate to a need for more volunteers on Election Day for municipalities.
Royalton Township normally has six people working at each precinct polling station.
However, the township expects to add another three people for its AB board. One will be tasked with opening envelopes, the second will control the electronic poll book to enter in that a voter participated, and a third person who will run the absentee ballot through the tabulator.
Royalton pays its workers $10 an hour, plus $12 for food on Election Day. That doesn't account for what they're paid during training sessions. Foust estimated the additional workers will cost the township another $400-500.
However, the township bought another tabulator ($5,500) and laptop ($1,200) to account for the absentee ballots. Foust said those are one-time purchases. But it's the additional worker fees that will add up, when considering several elections a year.
St. Joseph City Clerk Denise Westfall said they've only experienced small elections since the amendment passed last fall, with a school millage for non-homestead election taking place in May.
Westfall said they have put less people in polling locations and more on the AB counting board so they could learn the system. Westfall said she's counting on there being more absentee voters over time.
But that's only for smaller elections. During presidential elections, Westfall said they'll have about eight people stationed at each precinct.
St. Joseph's AB counting board currently has eight people, but Westfall anticipates the city increasing that total to 12 or more.
"It has been challenging, but since the last presidential election, we've had a lot of interest," Westfall said, with regard to finding volunteers to work polling stations. "We have a March primary and that will stir up a lot of interest. We appreciate every vote we can get."
Lincoln Township bought another tabulator this past year to account for the influx of absentee ballots. The township has eight tabulators in total, with two being dedicated to absentee ballots.
Loar-Porter justified the additional tabulator because of how it will help workers count absentee ballots faster.
"You can't begin to process them until 7 a.m. on Election Day," she said.
Still, Loar-Porter's biggest worry isn't about having enough time to process the extra absentee ballots. Her biggest task is educating the public.
"It's more about education and helping people understand," she said. "A lot of people think they don't get counted. It's about getting the word out and getting rid of the misnomer of absentee voting. Every absentee ballot gets counted."