Jasmine Bibbs finds solace when the sparks fly.
The 21-year-old Benton Harbor resident discovered she has a knack for welding and chose to pursue it as a career by enrolling in Lake Michigan College's welding program.
Having gone through the Bridge Academy and the YouthBuild program, Bibbs was convinced to further her welding training after her cousin also got into the profession.
"It's exciting," Bibbs said. "I like to build new things. It's something people don't really do. I just want to be different."
Bibbs joining the welding workforce is not as common as it once was. Businesses, both nationally and in Southwest Michigan, are seeing a shortage of capable welders due to the large number of welders reaching retirement age and fewer young men and women signing up for welding classes.
Bibbs took classes at the Welding Action Lab at the Hanson Technology Center at LMC's Benton Harbor campus. She was one of five people in her class.
Industry News reported that in 1988, there were 570,000 welders, compared to the 360,000 in 2012.
Considering that the manufacturing and construction sectors have boomed in recent years, the growing shortage of welders has been referred to as "troublesome" by market researchers.
Even worse, the American Welding Society estimates there will be a 290,000-job deficit by 2020.
According to EMSI, a labor market analytics firm, there is an average of 20 welding positions open at any given time in Southwest Michigan.
However, this figure only takes into account the online job metrics – it doesn't include companies that don't advertise online.
There are currently around 300 employed welders – workers who specialize in welding, soldering and brazing – in the tri-county area.
According to Kinexus Group, a business development agency based in Benton Harbor, the three companies in Berrien, Cass and Van Buren counties that employ the largest number of welders are Pratt Industries, K&M Machine Fabricating and Modineer.
Laura Richards is the human resources director at Pratt Industries and has noticed how difficult it has become to find a trained welder.
Pratt Industries makes and welds a variety of trailers, sometimes shipping them all over the world. Pratt has plants in Bridgman and Niles, with the Niles facility handling the the large orders that come in from other companies.
In total, Pratt employs about 60 welders, with a little over half of them based in the larger Niles facility.
Richards said they're lucky to have employees who stay for a long period of time. However, attrition does come into play once in a while.
"We do have some turnover," she said. "Our biggest concern is when our older welders retire. How do you replace them?"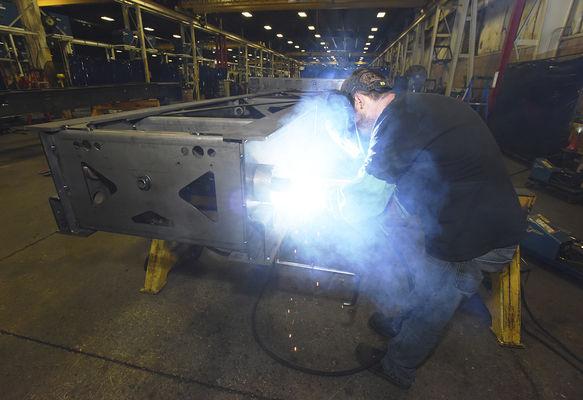 Soldering the next generation
Training the next generation is the problem that Nate Kramb is tasked with every semester.
As one of LMC's two full-time welding instructors, Kramb leads courses that focus on the basics and fundamentals of welding.
Kramb's curriculum moves into fabrication and includes courses designed to test students to industrial standards and certification. Kramb said they want students to be "well-rounded."
Last semester, one of his students was a maintenance director from a local company looking for custom training.
"It's something else we offer here," he said. "If a company needs training on big welding or working on stainless steel, we try to help."
It's tougher to fit those sessions in during the school year. Especially for the two-man show between Kramb and another full-time instructor.
It takes 60 credit hours for students to earn their associates degree in welding.
"Welding is great. But you may hit a point where you are tired of being under the hood," Kramb said. "You might want to get to a point where you go toward inspection or supervision. And that's where the degree really does help."
LMC caps its class sizes to 16 students. They normally run six to seven classes a semester, Kramb said.
He said they average 90 to 100 students. But among those students are maybe 12 dedicated students who want to be welders.
Kramb has been at LMC for four years. He said welding wasn't it's own program at LMC until five years ago. Before that, it was treated as a supplementary part of the industrial program.
"We work a lot with the machining companies in the area, but welding is hot right now," Kramb said. "It's tough to find people who are willing to show up to work every day."
The majority of Kramb's students are those who were only told they could get a job by going to college.
"When you're a 17-year-old kid and you're under all this pressure to make a decision on what to do with your life, sometimes you don't think things through," he said. "I've seen some young people either drink away their money, or it's harder than they thought it was going to be. Sometimes being away from home, racking up debt isn't practical."
Kramb said he can't produce enough welders to satisfy the industry's needs. He regularly gets calls and emails from companies looking for welders with any experience.
He compares the need for welders to the shortage in nursing a decade ago.
Kramb thinks a big reason for this is the lack of attention in school that the profession receives. According to Kramb, the only two school districts in Berrien that offer welding classes are Coloma and Lakeshore.
"If you're not in one of those districts, then you're not thinking about this stuff. That exposure would go a long way," he said.
What would it take to better the recruitment effort?
"That's the ultimate question, isn't it?" Kramb said. "If we can incorporate this industry at an early age and give them an early opportunity, that would help in getting students interested."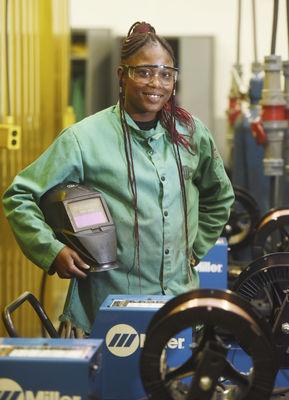 Show me the money
The lack of those interested in welding doesn't stem from a small paycheck.
A welder with basic skills can start making $40,000 a year with good benefits. Those who complete further training and get job experience can earn in excess of $100,000 annually.
Welders with special skills working on pipelines, with exotic metals, and on underwater projects command even greater wages. Bibbs said the salary that comes with the job was one of the main perks that drew her to the profession.
Richards, with Pratt, said they struggle to find welders and have often discussed training in-house.
With unemployment being so low, companies like Pratt must sometimes resort to recruiting employees from other jobs.
Richards said they've attended school events, handed out flyers and posted signs along the highway saying that they're hiring, and created advertisements to play in theaters before a movie begins.
"I'd like to think we will see a resurgence," Richards said when asked about where the industry will be in another decade. "There always seems to be a drive to go to college, to have a good living. In all honesty, that's never been the case. It's been my drive for 25 years to get people to understand that there isn't only one way to make a good living.
"I think we have to continue to change that mentality of starting at a high school level – maybe sooner."
Bibbs is now certified, having finished the program. She now works at YouthBuild and is putting in the hours.
When Bibbs begins her search for a job in welding, she knows she'll have a lot of options to choose from. Bibbs said she might start out in the area, but she would want to branch out eventually.
"I'm trying to travel more," she said. "I see myself somewhere big."