STEVENSVILLE — Lakeshore Lion "Doc" Rademacher believes that, when it comes to the annual Newsie sale for the Good Fellow Fund, every penny counts.
That's why he was down on his knees in downtown Stevensville Friday, picking up change that had fallen through a hole in his apron.
"We thought he was praying for more donations," joked Lucy Gernot, another volunteer Newsie salesperson at the John Beers Road intersection.
Since 1920, community members have sent up those heavenly requests to help those less fortunate in the Twin Cities area.
Rademacher, a retired physician, has been at it for 25 years. He started his shift at 9 a.m. and was still smiling at 1 in the afternoon.
He remembers back in the 1980s when four inches or more of snow fell as they solicited donations for special editions of The Herald-Palladium. So Friday's mild temperatures and sunshine felt pretty good, although a strong wind was making things a bit nippy.
As a veteran Newsie, Rademacher knows how to handle the elements. He was wearing a hoodie with a built-in heater, along with longjohns and other cold-weather apparel.
Getting people to stop and chip in a few dollars proved to be the best way to beat the cold.
"It's for the kids," one woman said as she handed Rademacher a $5 bill.
"It warms your heart, it really does," said Larry Ward, another Lakeshore Lion. He has participated in the sale for four years.
A self-described outdoor, cold-weather enthusiast, Ward declared the weather "gorgeous," and said he even had to put on his sunglasses.
They were joined throughout the area by members of the Exchange Club of Southwest Michigan, along with Lions Club members in St. Joseph and St. Joseph Township.
The goal this Christmas season is to bring in $35,000, which will be used for Meijer gift cards for needy families and individuals identified by the Department of Health and Human Services. They expect to help around 800 people.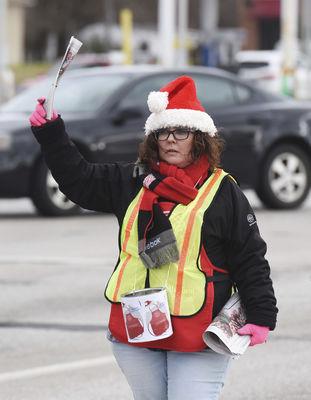 Last year the goal was exceeded, with almost $38,000 collected. In 2017, record donations were brought in for month of December, at almost $45,000.
The fundraising drive, as of 7 p.m. Friday, had brought in $23,197.91.
The Good Fellow effort was introduced in 1920 by Stanley Banyon, publisher of The News-Palladium, predecessor to The Herald-Palladium, after The News-Palladium had initially started Good Fellow efforts in 1909. That was the same year the Chicago Tribune started the Good Fellow movement with publication of an anonymous letter imploring all "good fellows" to join him in helping needy children at Christmas.
The Benton Harbor Exchange Club got on board in 1930 with the start of the Newsie sale, and local Lions Clubs became involved in the 1950s. It is one of the oldest one-day charities in the country.
The Herald-Palladium handles all administrative duties, allowing 100 percent of the proceeds to go to residents.
Any size contribution is appreciated, Rademacher said. He recalled getting a $100 check from the wife of boxing great (and Berrien Springs resident) Muhammad Ali.
Newsie lore says that, the worse the weather, the higher the donations, as salespeople garner the sympathy of passersby.
Darrin Drollinger, a St. Joseph Lion working the intersection of Broad and State streets downtown, said that can be a mixed bag. If conditions are too bad, people don't want to stop and roll down their car windows, he said.
Those who had come Friday were showing a lot of generosity, said Drollinger, participating in his seventh Newsie sale.
He said he was "optimistic" that they would surpass their goal this year.