BENTON HARBOR — Ten years ago, legendary golfer Jack Nicklaus planted his flag on the Golf Club at Harbor Shores, designing the course and inaugurating it as part of a storied foursome and sinking an unbelievable 102-foot putt.
On Friday, Nicklaus returned to the resort to see how it has continued to grow and support the community, including a new college scholarship sponsored by Whirlpool Corp. and PGA of America and named for Nicklaus and his wife, Barbara.
At a news conference during the KitchenAid Senior PGA Championship, which Harbor Shores is hosting for the fourth time this weekend, Jeff Fettig, chairman of the board of Whirlpool Corp., and Paul Levy, president of PGA of America, announced the establishment of the Jack and Barbara Nicklaus KitchenAid Senior PGA Champions for Change Scholarship.
The $25,000 annual scholarship will be granted each year through 2024 to one member of the Benton Harbor community who has graduated with an associate degree from the Lake Michigan College's "Start to Finish Program," and who seeks to continue his or her college education. Recipients may use the new scholarship to pursue a bachelor's degree or to further advance a technical degree.
"Jack and Barbara Nicklaus are among a select few in the world of sports whose lives are predicated on giving back to others," Levy said. "The PGA of America is extremely excited to partner with Whirlpool Corporation and golf's premier couple to help fulfill the dreams of young leaders of tomorrow from Benton Harbor."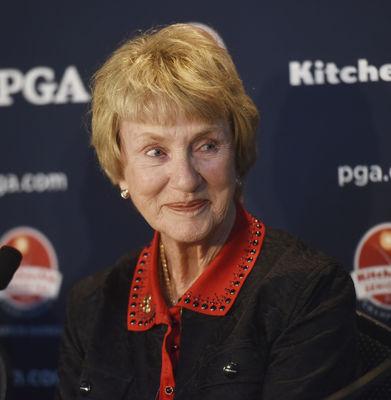 Nicklaus said he and his wife are honored to have their names attached to the scholarship, which he noted is different because it is awarded to those who have already attended a community college and have shown their willingness to achieve a higher education.
Nicklaus said he was pleased to see the economic development along Benton Harbor's Main Street that has been spurred by Harbor Shores.
He said he was also proud that Harbor Shores had gained a great deal of recognition "in a short period of time." The course hosted the Senior PGA Championship for the first time just two years after first teeing off.
Fettig recalled that the former industrial property along the Paw Paw River was being "wasted" when the idea for a golf resort first emerged.
Nicklaus commented that it was probably the most diverse site he had encountered for a golf course, extending from the dunes of Lake Michigan to a toxic Superfund site.
When he first saw the land, Nicklaus laconically asked "Where do you want me to build this thing?" Fettig recalled.
The developers had a vision "and I guess we successfully corralled it," Nicklaus said, giving a lot of the credit to his design team. "I was just a small part of it."
Fettig noted that Harbor Shores has become "a must-see destination in the Midwest" and has attracted $400 million in development.
In August 2010, the golf course was christened by what Fettig called "the greatest foursome every to play a game of golf" – Nicklaus, Arnold Palmer, Tom Watson and Johnny Miller. Fettig said that the group accounted for 234 PGA titles and 54 major championships, including the record 18 major wins collected by Nicklaus.
Jack and Barbara Nicklaus have a long history of championing causes that benefit children, including the Nicklaus Children's Health Care Foundation, founded in 2004 to provide families with world-class pediatric care.
Barbara Nicklaus, the inaugural recipient of the PGA First Lady of Golf honor, said that desire came when their 11-month-old daughter was hospitalized after swallowing a piece of crayon that ended up in her lung.
"We said to ourselves, if we're ever in a position to help anyone, we wanted it to be children," she said.
They also support the Barbara and Jack Nicklaus Junior Golf Endowment Fund, which provides young people with the opportunity to learn the game.
It was announced earlier this week that the PGA Reach charitable program will offer six PGA Jr. League teams for youth 13 and under that will compete against each other at Harbor Shores, Point O'Woods, Lost Dunes and The Dunes, with 72 students receiving scholarships to play.
People often ask Nicklaus which of the courses he designed is his favorite, and he has a standard answer: "Do you have a favorite child?" he responds. "They're all my favorites."
When asked for advice on how to play the Harbor Shores course, Nicklaus offered suggestions that could be applied to life, as well as golf.
"Prepare yourself for the event. Be disciplined. Be smart. Know when to be aggressive, and know when not to be aggressive," he said. "Play to your strong suit and play against your weak suit. There is no formula. You have to figure out your own way."