BENTON HARBOR — Golf aficionados will have plenty of opportunities to whet their whistle this Memorial Day weekend.
As the Senior PGA Championship returns to the Twin Cities area for six days of league play and exhibition rounds, The Golf Course at Harbor Shores is adding a 19th Hole to the course – sort of.
As a way to promote Southwest Michigan businesses, the Makers Trail 19th Hole was created to allow nine various breweries, distilleries and wineries to showcase their top concoction in a tented pavilion that will be next to the 16th and 17th holes.
Championship Director Ryan Ogle said the Senior PGA chose to partner with the Makers Trail to introduce a more unique private bar.
"Although the championship is one week long, it's bigger than one week. Our goal is to bring people back to the area," Ogle said. "We think highlighting the Makers Trail is one way we can do that because there are a lot of great establishments to come to."
The 19th Hole was a part of the tournament two years ago. However, it never had the local angle that drink connoisseurs were accustomed to.
As people make their way toward the back nine of the Jack Nicklaus-designed gold course, the nine makers will be pouring a bevy of options.
The nine participating makers chosen by the Makers Trail are Domaine Berrien Cellars, Hickory Creek Winery, Journeyman Distillery, Lemon Creek Winery, The Livery, North Pier Brewing Co., Round Barn Winery, Distillery & Brewery, Silver Harbor Brewing Co. and Watermark Brewing Co.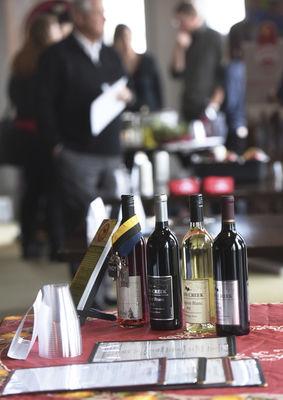 The venue will be larger than 2016's in order to accommodate the increased number of drinking options. Ogle said when people enter the pavilion, they will be given $20 in vouchers.
"We want to make sure our guests get these products in their hands because these makers want people tasting their product," Ogle said. "It's one thing to put a logo on something, it's another to have people interacting with a local product."
Meeting the makers
As part of a tasting event Tuesday at the Harbor Shores clubhouse, the nine makers had representatives on hand to talk about what will be showcased during the six days of the Senior PGA.
• Domaine Berrien Cellars in Berrien Springs will have its 2016 Cabernet Franc. Wally Maurer, winemaker and president of Domaine Berrien, said they chose this dry red for attendees to get a taste of what makes the region's wine stand out.
"Nobody makes Cab Franc like the Midwest," he said. 
• Hickory Creek Winery in Buchanan will have its white wine, Unplugged Chardonnay. The name stems from owner Adam McBride's first batch of wine grapes he ordered after buying the winery in September.
"The press was broken. But as a new winemaker without a ton of resources, I needed every drop I could get out of this. So, I jumped in the press and stomped it by foot," McBride said. "We call it Unplugged Chardonnay because the press was unplugged during that first batch."
• Journeyman Distillery in Three Oaks will serve an Old Fashioned made with the distillery's rye whiskey. Journeyman Founder Bill Welter said the business chose this as the main drink because it tends to be its best seller.
"The rye works really well in the Old Fashioned. It's a lighter, softer, more approachable rye whiskey – but it still has some of that spice and pepper of the rye," Welter said. "It works well with an orange cinnamon simple syrup we make in house."
• Lemon Creek Winery in Berrien Springs will include its Compass Rosé. Scott Soethe, the winery's marketing representative, said the rosé includes three different grapes to make an "excellent wine."
"It's got some strawberry aromas with a nice flavor to it," Soethe said. "People who ordinarily expect a rosé to be sweeter will be happily surprised by this."
• The Livery in Benton Harbor will have the Harbor Shores Amber Ale on display. Simon Rusk, owner and head brewer, said the amber ale was made eight years ago to commemorate the golf course when it opened in 2010.
"The beer's evolved some over time, but it is still a very nice balanced amber ale. It's got some real familiar hop flavors," Rusk said. "The most important thing is it is a very easy beer to drink. It's a gateway beer for craft beer."
• North Pier Brewing Co. in Benton Township will have a dry hop pilsner called Happy Guy, which recently became the official craft beer of the Senior PGA. Their second beer that will be available is a Belgian IPA called Buckrider. Zach Rose, taproom manager at North Pier, had a limited-release can for Happy Guy that showcases the Senior PGA logo on the back.
"It's just a temporary run of this season during the PGA," Rose said. "It only makes sense since we're located between holes 13 and 14. It's a unique location."
• Round Barn Winery, Distillery & Brewery in Baroda will showcase its popular vodka made from the distillery side of the business. Known as DiVine Vodka, distiller John Bogucki said the vodka would beat a blind taste test any day of the week.
"We started with brandies, but from there we moved on to vodka, white rum and bourbon," Bogucki said. "DiVine Vodka is unique in that it was one of the original state-produced vodkas. We grow the grapes, ferment the grapes and then distill it."
• Silver Harbor Brewing Co. in St. Joseph will have a German-style beer called So Heffen Good. Christian Cook, head brewer and part owner of Silver Harbor, said they chose it because it is a 100 percent wheat-based beer.
"It's kind of our staple light beer. It's only 4 percent (alcohol) and very drinkable," he said. "That will be great in mid May when watching golf."
• Watermark Brewing Co. in Stevensville will have two beers on tap for the tournament. Chris Mason, one of three owners, said they chose two approachable beers: Citrus Ugly Face, an IPA, and Kwan-Tsu, a passion fruit witbier.
"They're two of our best sellers," Mason said. "It's two fun beers we think anyone will enjoy."