BENTON TOWNSHIP — Nineteen years ago, Bob Deaton and a couple of friends went out on a Thursday to volunteer some time with Harbor Habitat for Humanity. 
They went back the following Thursday and a few other folks joined them. Today, Deaton is still going strong at age 79 and is the longest serving member of the group of local retirees that calls itself "The Thursday Crew."
Joining him at a house in Benton Township Thursday were Nick Weingart, 81, and Earl Becher, 75, along with several others. Weingart and Deaton joked that their Thursday Crew membership gives their wives a day off from them. Becher said his wife volunteers in the community as well.
"I've been doing this every week for 14 years," said Becher, of St. Joseph. "It's a good opportunity to serve the community, and there's a need for reasonable housing. And this is a fun group. That's one of the reasons I keep coming back."
The Thursday Crew pre-built all the walls and porches for houses that were put up during the Jimmy Carter Work Project in Benton Harbor in 2005. They said they met former President Carter but once hammer was in hand he said, "Don't bother me. I came to work."
Deaton, who retired from Whirlpool Corp. 20 years ago, said that over the years with the Harbor Habitat Thursday Crew, he's had a hand in working on 117 homes. 
"Today we're refinishing the kitchen and we renovated a bedroom into a handicapped-accessible bathroom," he said. 
Members of the crew pack along various skills and can rattle off a long list of what they do. But the easier question to answer is what do they NOT do.
"We try to avoid getting up on roofs," Deaton said.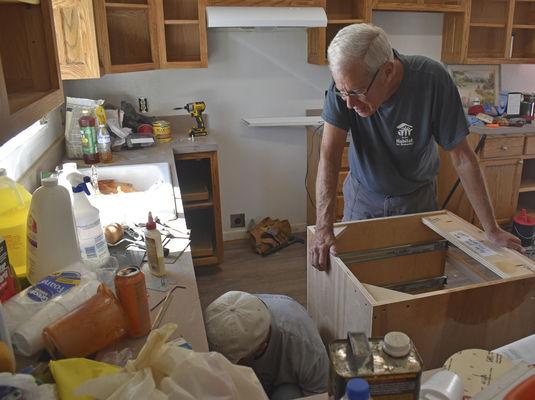 The Thursday crew is composed of about 25 people, including two women. Some of the crew members meet at 7 a.m. for breakfast at Sophia's, where a waitress named Christina has all their "usuals" memorized. They typically arrive at their work sites by 8 a.m. and, depending on the weather, work until around 3 p.m.
This Thursday, volunteer coordinator Brenda Butler showed up at the work site with lunch.
"I like to check in on them, bring them whatever they need," she said. "I love these guys. We get a lot done. They're very efficient and great helping hands for Habitat."
Erin Hudson, executive director and CEO of Harbor Habitat for Humanity, said the organization has come to rely heavily upon the Thursday Crew. 
"They are dedicated to helping us achieve our mission, which is to put God's love into action to transform lives by bringing people together to build homes," she said. "As their name implies, they come out every Thursday to build and enjoy each other's company. Some of them have been with us for well over a decade."