BUCHANAN — The Americans had a top secret weapon during World War II that was vital to winning the war against the Japanese.
It wasn't the atomic bomb. 
"The Navajo code talkers saved hundreds of thousands of lives and helped win the war in the Pacific," Peter MacDonald Sr., one of the five surviving members of that elite unit, told a standing-room-only audience Monday as part of the Buchanan American Legion post's Veterans Day events.
MacDonald, 91, enlisted in the U.S. Marine Corps in 1944, when he was only 15. He was enticed by the "beautiful blue uniform" worn by a cousin who was home on furlough, so he told the recruiter he was 17.
What MacDonald and other Navajo tribesmen did not know was that the military had started a project in February 1942 using their native language as a way to keep the enemy in the dark about what the Americans were planning in the Pacific.
The idea of utilizing the Navajo language was first suggested by Philip Johnston, whose parents had been missionaries to the tribe. He met with reluctance from military leaders who only knew about Indians from the flying arrows and wagon train attacks they had seen in the movies, MacDonald said. But Japanese advances and their success in breaking other codes made the Americans desperate to find a more secure way to communicate.
The Marines recruited 30 young Navajo men (one later dropped out) who were put through boot camp, where they were rated the top squad. They then went through combat training and communications school before they were told the real reason they had been enlisted, to develop a code using their language. It had to be memorized, so the enemy couldn't find any written evidence. No one outside the outfit was to know what was being planned.
The problem was that Navajo is an oral language with no written alphabet, MacDonald said. So they assigned Navajo words for common, easy-to-remember objects to each letter, such as bilasáana, which means apple, for A. There was a lot of discussion about the letter "J," which was eventually assigned the familiar word "jackass," said MacDonald, drawing laughs – but it did not refer to the human kind, and instead to the animals used to haul supplies, he explained.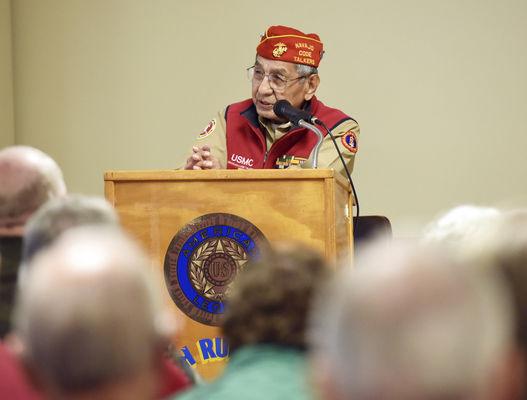 Under fire
In all, the original group came up with 260 code words – along with coded punctuation – that passed the first stateside test with flying colors. Then it was time to test it under the pressure of combat, which came with the invasion of Guadalcanal. After three weeks the commander relayed "the enemy never understood it. We didn't understand it, either, but it works. Send more Navajos!"
MacDonald and others were recruited under the same veil of secrecy, with more than 400 certified code talkers eventually trained and put into action from Tarawa to Tinian, Iwo Jima to Okinawa. On Iwo Jima, 800 Navajo messages were sent in the first 48 hours of the invasion, and the commander said the island wouldn't have been taken without the code talkers.
MacDonald, who served on Guam and later in north China, said one of the other advantages was that Navajo messages could be sent and received in 30 seconds. Messages in English had to be scrambled letter by letter, sent and descrambled, taking 30 minutes. The speed of the Navajo system made a difference for a Marine unit pinned down on Iwo Jima, MacDonald said.
They eventually developed more than 600 code words, sent in groups that even a native Navajo speaker couldn't decipher.
"It wasn't a safe job," MacDonald said, with code talkers sent in with the first wave of troops to report on conditions on the beachheads. More than a dozen were killed, including a cousin of MacDonald's hit by machine gun fire 10 seconds after stepping from a landing craft on Peleliu.
"He never made it home," said MacDonald, who returned in 1946.
The code talkers who did make it home couldn't tell their families and friends about the then still-top secret mission they had contributed to, explaining only that they had been radio men.
The military guarded the code for 23 years for possible use, until declassifying it in 1968. At last, their story could be told, and MacDonald helped found the Navajo Code Talkers Association. He was elected its president in 2012.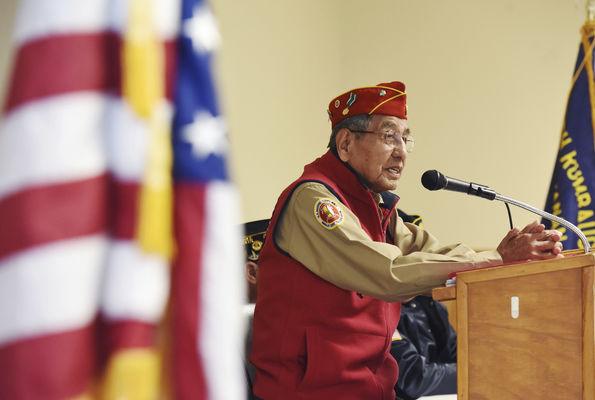 On the homefront
When MacDonald enlisted, he was a sixth-grade drop-out working on the railroad and sending money to his mother and two siblings (his father had died when MacDonald was 2). When he returned he was determined to continue his education, first earning his high school diploma, and then an associate degree in social science. He attended the University of Oklahoma, receiving a degree in engineering. He worked for the Howard Hughes Aircraft Co. and took part in the Polaris missile project. He is a member of the Engineers Hall of Fame.
He returned to his people in 1963 and was elected four times as the Navajo tribal chairman, an unprecedented run.
MacDonald said he wanted all Americans to think about what Veterans Day really means, and honor the men and women who gave themselves to their country, especially those who never came home.
When the American flag waves, it's not the wind that touches it, "but the last breath of every soldier who died defending it," MacDonald said.