SOUTH HAVEN — Nearly three years ago South Haven Public Schools and the South Haven Police Department decided to end their agreement to have a police officer assigned to the school district on a regular basis. But now, after several months of planning, a police officer will once again walk the hallways of school buildings throughout the school year.
Officer Kevin Wildey is starting his new duties this week as school resource officer (SRO) at South Haven Public Schools.
His new position was made possible Monday when South Haven City Council members voted in favor of approving a two-year agreement with South Haven Public Schools to create the SRO position. School board members approved the pact last month.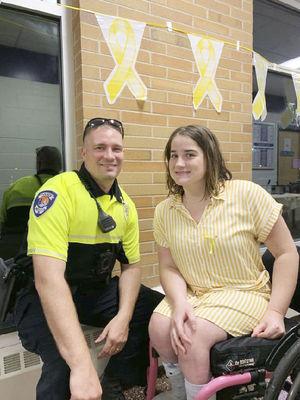 Wildey had been working night shifts for the South Haven Police Department specializing in accident reconstruction for serious and fatal accidents and processing crime scenes. But now his job and work shift will change.
"Officer Wildey will be assigned to South Haven Public Schools full-time during the school year." Police Chief Natalie Thompson said. "He will not be handling complaints outside of the school unless he is called in for one of his specialties. ... During the summer/non-school months he will fill the open night-shift position he left to go into the schools."
To gear up for his new job, Wildey received training from the National Association of School Resource Officers.
"He is anxious to serve as a positive role model within the schools," Thompson said.
Wildey's role as SRO includes duties typical of a police officer. But his job also entails counseling students in special situations, when requested by building principals, conducting classroom presentations about law enforcement and attending after-school activities from time to time.
Kevin Schooley, who is in his first year as superintendent for South Haven Public Schools, said the district is pleased to once again have an SRO.
"We have been in the planning stages of this for some time and we are ready for yet another positive addition to our school community," he said. "I think the position is important, especially at the younger level, to build positive relationships with students and staff. ... They get to realize the SRO is an additional person they can count on in a time of need. The SRO is also a bridge to law enforcement and getting resources in place for kids and assisting school personnel with school safety procedures."
To make the SRO position a reality, Schooley and Thompson sat down to hammer out an agreement that would be satisfactory to both the police department and the school district.
Although the new agreement recognizes that if a crime occurs on school premises the SRO can investigate and make an arrest if necessary, it also outlines the building principal's duties.
"Chief Thompson and I did work a great deal on outlining the parameters of the SRO position, as providing clear expectations for the SRO is key in the program's success," Schooley said. "The SRO is not a school disciplinarian and does not assume the role of what is traditionally the building principal. The SRO is an additional resource."
As part of the two-year agreement, South Haven Public Schools will pay the city $36,000 for Wildey's position. Under the previous SRO agreement, the school district was paying $56,000.
The greater expense helped to play a role in the termination of the pact, according to South Haven City Manager Brian Dissette.
"It was partially due to the funding commitment and partially due to an unclear definition of what the SRO's role was to accomplish," Dissette said. "Natalie has spent a lot of time with Superintendent Schooley to ensure that all parties know exactly what the SRO will do on a daily basis to ensure that we meet the goals of the South Haven Public Schools' leadership. The role of the SRO is now clearly defined to ensure that the SRO knows exactly what the chain of command is and how to handle sensitive situations."
Although South Haven city officials do not plan to hire an officer to take Wildey's place while he's working as an SRO, city staff may do so in the future if necessary.
"Over the next year, management will monitor the agreement and determine if an additional staff member is needed due to the increased work load, overtime, or a reduction in standard police services," Dissette said.