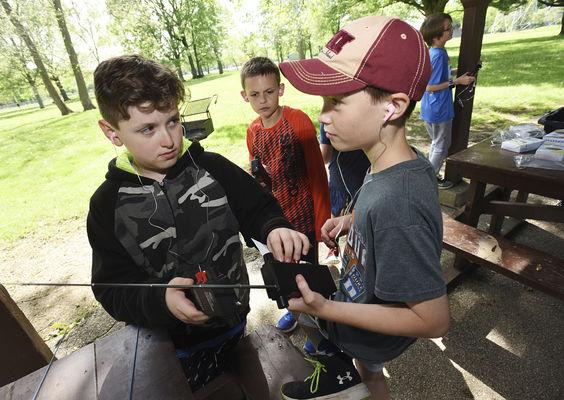 ST. JOSEPH — About a dozen E.P. Clarke Elementary School students found themselves wandering around Riverview Park in search of hidden devices this past week.
They were there Wednesday with radios in hand and using several weeks of instruction from a couple of high schoolers as part of the radio orienteering club.
"This is not very popular in the United States," said Thomas Chen, a junior at St. Joseph High School who helped start the club. Chen began doing radio orienteering in the third grade and has continued doing so for the past decade. "We have a lot of sports here, but this one involves a lot of thinking."
The radio orienteering club is centered around the sport of the same name, in which competitors find transmitters hidden in forests with the lowest amount of time.
The local club is also referred to as ARDF, which stands for Amateur Radio Direction Finding.
The equipment used includes about 20 handheld radios, which are equipped with earbuds. The radios have dials to adjust the frequency and volume. There are also three transmitters that emit a frequency for the radios.
Cameron Robertson, a fourth-grade teacher and a club adviser, said he was approached by Chen to assist with the club.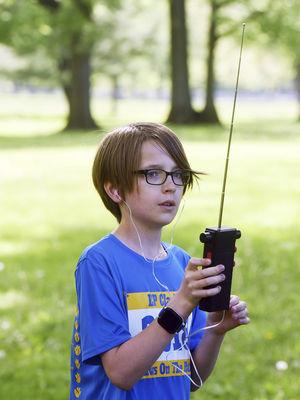 When the club was formed, it was extended to fourth- and fifth-grade students at E.P. Clarke.
"The kids have really enjoyed it, so I think we'll offer it again in the fall," Robertson said. "I anticipate we'll have more than 20, so we'll have to pick who can take part in it."
The club has been meeting every Wednesday for a month and a half. The first couple of sessions were meetings at E.P. Clarke, which involved a lot of learning.
Since then, they've been thrown out into the field to put their knowledge to use. So far, students have been tasked with radio orienteering at Knauf and Riverview parks.
"This is another fun opportunity for the kids to get outside," Robertson said. "They're learning some very important skills as well. It's not just radio frequencies, but working as a team."
Wednesday marked the last meeting for this semester's students. At least one parent stuck with each group as they tried to track down their transmitter.
As a result, they ventured out to Riverview Park and were given their biggest challenge yet. Landscapes and structures tend to affect how the transmitters' signals can be reached.
Chen said he wanted the students to physically run Wednesday. In any ARDF competition, a participant can run up to a distance equivalent to a 10K race.
Chen himself has competed in the sport's U.S. national championship event. Chen said he wanted to form a club in Southwest Michigan so other students could experience what he did growing up.
"It's like cross country, but it's better," Chen said laughing.
A learning curve
Robertson applied and was awarded a grant from the St. Joseph Public Schools Foundation to buy the equipment the club has used for the last month and a half.
"It's not something traditionally offered to elementary kids," Robertson said. "As far as I know, we're one of the first elementary (schools) in the Midwest to do this."
Robertson said the level of learning that's gone into the club has surprised him.
"The amount of information they took in and were interested in surprised me," Robertson said. "I thought it would be more like, they want to get out and run around. But learning about Morse code and radio waves, they were locked in from the start."
Chen said the biggest difference he's seen in students has been with their technique.
He said getting the feeling for the sport is the hardest thing to overcome in the beginning.
"The way that they think has changed as well," Chen said.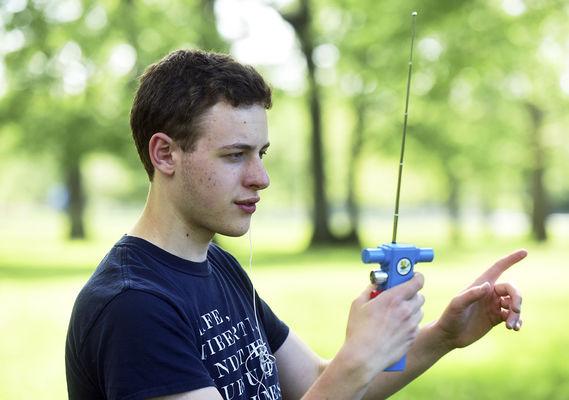 Cameron Haynes – a senior at St. Joseph High School, who also helps coordinate the club – said students who were quiet in the beginning have also become more assertive.
Haynes said he's enjoyed the enthusiasm the students have shown in the six weeks the club has been running.
"I was concerned that they might be interested because it's something their parents thought they should do," he said. "But they've all shown a genuine interest in using these radios to find the transmitters. It's a very abstract hobby."
Chen said his favorite part has been seeing the students struggle.
"It's like seeing myself when I was 10 years old and struggled a lot," he said. "Them struggling is a life lesson that needs to be learned. They have to practice. I didn't get the whole thing until I was 12."
Chen said it's his hope that clubs like these might resurrect what is considered a "dying technology."
With the club only taking on fourth- and fifth-graders each year, Robertson said they will hopefully get new students each semester.
While Haynes is gone after this year, Chen and fellow junior Zach Conybeare will continue to help run the club for the 2019-20 school year.
"We want to see it keep going (after we're gone)," Chen said.