One side says legalizing recreational marijuana in Michigan will boost tax revenue for roads and schools, keep people out of jail and allow cops to direct their attention to more serious crimes.
Opponents warn that legalization will mean more pot smoking by adults and teens, more stoned people driving and at work, and more spending on health care and law enforcement.
How much of this is smoke and mirrors, and what are the facts about marijuana legalization?
"There is an apparent public knowledge gap regarding marijuana, with some opponents of marijuana legalization evoking a fictionalized 'Reefer Madness' that will tear society asunder, while many advocates suggest that marijuana is as harmless as a lunch of quinoa and kale salad," states a report from the Citizens Research Council of Michigan on Proposal 1, which would legalize recreational marijuana use and possession for residents 21 and over.
"On a scale from harmless plant to extremely dangerous drug, the truth of marijuana lies somewhere in the middle," the report concludes.
Michiganders on Tuesday will decide whether the state will join nine others and the District of Columbia in allowing marijuana possession and use for adults.
If approved, Proposal 1 would allow adults to buy, possess and use marijuana and edibles, and grow up to 12 plants for personal consumption. Retail shops would be allowed to operate with the approval of local communities.
Adults would be allowed to carry up to 2.5 ounces of marijuana and keep up to 10 ounces in a locked container in their homes.
In addition to the state's 6 percent sales tax, marijuana would be subject to a 10 percent excise tax. Portions of that tax would be dedicated to K-12 schools, roads, and communities and counties where retail sites operate. Funding would also be set aside for research on medical marijuana, which has been legal in Michigan since 2008.
Josh Hovey, spokesman for the Coalition for Regulating Marijuana Like Alcohol, which is backing passage of Proposal 1, said this isn't a "pro-marijuana" issue.
Instead, Hovey said the legal prohibition of marijuana has been "a big failure that has caused more harm than the substance it's supposed to protect us from. ... We need to do something else."
In contrast, Healthy and Productive Michigan, the organization opposing Proposal 1, warns of dire consequences they say have been seen in states such as Colorado and Washington that have legalized recreational marijuana, without the benefits promised by proponents.
Proposal 1 is opposed by the Berrien County Health Department, the Berrien County Board of Commissioners, Prosecutor Michael Sepic and Sheriff Paul Bailey.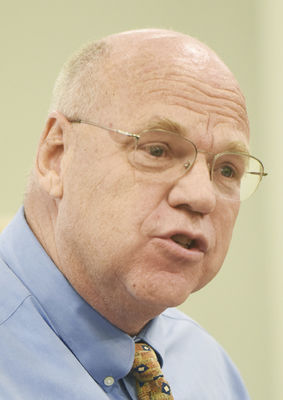 Dr. Rick Johansen, a pediatrician and medical director of the Berrien health department, said there are too many negatives to Proposal 1 as written.
"This is a really bad recreational marijuana proposal," Johansen said.
Along with the health effects, major concerns for Johansen include the amount of marijuana that would be allowed for possession in Michigan, which would be the highest among states with legalization.
"We will be a tourist destination for marijuana," he predicted.
Turned off
In April, before Proposal 1 was approved for the ballot, the Berrien County Board of Health passed a resolution warning of the risks of recreational marijuana use. The department's website further explains its opposition to the ballot issue.
"The current legislation proposed gives limited attention to the development of regulations and oversight, penalties for sale to minors and/or misuse, standardization of dosing levels, prevention education and early intervention counseling for minors, or an infrastructure for addressing industry safety issues and needs," the board determined.
Johansen and Kerri Teachout, substance abuse prevention specialist with the health department, are concerned about the potential for more adults and teens to become dependent on marijuana if it is more widely available.
According to the National Institute on Drug Abuse, about 9 percent of people who use marijuana become dependent on it, and 17 percent of those who begin using as adolescents become dependent.
Youth pot use can have especially harmful effects on the brain development, which continues into the mid-20s, Teachout said.
The Berrien County Police Services Council claims that the rate of teen use in Colorado is 50 percent higher than the national average, and that it is growing at a faster clip.
There are varying reports on teen use in states with legal marijuana.
The Center for Disease Control and Prevention's latest numbers for 2017 in Colorado, which has had legal pot available since 2014, show that 19.6 percent of the state's teens use marijuana, down from the 22 percent who reported smoking pot in 2011, the year before legalization. Colorado teens also partake a bit below the national level. Similar trends are being seen in Washington.
The Colorado Department of Health found that the percentage of teens who said they have used marijuana in their lifetime declined from 2009, when 43 percent said they had tried the substance, to 2015, when 38 said they had smoked pot.
In 2016 the Rocky Mountain High Intensity Drug Trafficking Area analyzed findings that found Colorado ranked No. 1 in the country for youth pot use. Rocky Mountain HIDTA is a federally funded grant program that's a part of the national drug control and policy of the White House. The Marijuana Policy Project disputed the conclusions.
In 2017, a report from the National Institute on Drug Abuse reported that, for 2015-16, marijuana use by Colorado teens had declined to the lowest rate in a decade. The report said that 9.08 percent of Colorado teens said they had used pot in the last month, compared to the U.S. average of 6.75 percent.
In that report, 7.98 percent of Michigan teens said they used marijuana in the last month, close to the rates for California and Washington, two states with legalized marijuana.
Colorado has seen an increase in emergency room visits by teens related to marijuana, mostly for psychiatric symptoms.
Researchers are concerned that the percentage of teens who perceive using marijuana as risky is declining. One study noted that after 2012, when marijuana was legalized in Washington state, the number of eighth-graders there that believed marijuana posed risks to their health dropped by 14 percent.
Teachout said that, since medical marijuana was legalized in Michigan, she has seen younger and younger kids who do not understand the potential harm from using marijuana.
Johansen said he has encountered older teens who are more willing to argue that marijuana is safe.
Teachout is bothered that there is no money set aside for treatment or prevention of substance abuse, as was done in other states.
"They haven't thought about the unintended consequences," Teachout said.  
Hovey said some of the money saved through reduced law enforcement, and funds received by counties, could be directed toward health programs.
Pot of gold?
Proponents of Proposal 1 foresee a windfall of tax revenue following legalization.
How much green can Michigan expect to see if recreational marijuana is legalized?
The Senate Fiscal Agency estimates that tax revenue would be $287.9 million by 2023. That's higher than the projections from the Coalition to Regulate Marijuana Like Alcohol, the group advocating for legalization. That would mean $100 million for both schools and roads, if predictions pan out.
Hovey called the projected revenue "significant" but acknowledged that "it's not going to solve all of Michigan's road funding problems, or its school funding problems. But it's not going to hurt it. It's more than we're collecting now."
Scott Greenlee, spokesman for Healthy & Productive Michigan, calls the anticipated revenue "a drop in the bucket" compared to the state's overall budget. The state in fiscal year 2017 spent $56 billion, according to the State Budget Office.
Colorado legalized recreational marijuana in 2012 and made it available in 2014. Last year the state brought in $247 million in tax revenue from $1 billion in sales of recreational marijuana and $500 million from medical marijuana. 
Michigan's Proposal 1 would set aside 35 percent of the tax revenue to the School Aid Fund; 35 percent to the Michigan Transportation Fund for roads and bridges; and 15 percent to municipalities and 15 percent to counties where a marijuana retail store or micro-business was located.
For at least two years, $20 million would be used for clinical trials on using medical marijuana by veterans and preventing their suicides.
Financial experts warn that delays in forming regulations can hold up collection of tax revenue. Michigan legalized medical marijuana in 2008, but regulations for dispensaries and grow sites are only now coming online.
Experts also warn that revenue from "sin" taxes such as the tax on marijuana aren't stable sources of income and probably should be regarded more like found money.
The Senate Fiscal Analysis cautions about hidden costs for the Department of Licensing and Regulatory Affairs and the Department of Treasury for monitoring the new businesses.
The Citizens Research Council of Michigan further noted that for every $1 collected in alcohol and tobacco tax revenue, $10 is lost in health, social, legal and regulatory costs.
Clearing the air
Legalization of recreational marijuana appears likely. The latest polls showed 57 percent of residents favored Proposal 1.
That's in contrast to local leaders. The University of Michigan Center for Local, State and Urban Policy (CLOSUP) found that only 21 percent of local officials support Proposal 1.
Local officials have vigorously opposed the proposal. Berrien County Prosecutor Michael Sepic called it "an extremely bad idea" at a news conferences with other prosecutors, including Victor Fitz of Cass County, and law enforcement officers such as Berrien Sheriff Paul Bailey.
The Coalition to Regulation Marijuana Like Alcohol gained the endorsement of the Law Enforcement Action Partnership for Proposal 1. LEAP is a national organization of current and retired law enforcement professionals who support drug policy and criminal justice reform.
"Hassling people over small amounts of marijuana is not a reasonable or effective component of crime reduction strategies or community-building efforts," retired Michigan State Police Detective Sgt. Ted Nelson said in a news release. LEAP members also pointed out the racial disparity in marijuana arrests.
The health department's Johansen said he was concerned about the proposal's opt-out provision for municipalities that do not want to welcome retail pot shops, which he said could require a ballot issue.
The St. Joseph City Commission has directed its city attorney to draft an opt-out ordinance should Proposal 1 pass, as they wait to see how state regulations are determined.
The city's attorney, Laurie Schmidt, said that it is her understanding that a community can pass an ordinance so a marijuana establishment is not allowed to operate in that community, and that it does not require a ballot proposal unless an individual files a petition to allow a certain number of establishments, or to prohibit them.
The initiative text states "a municipality may completely prohibit or limit the number of marihuana establishments allowed within its boundaries. Individuals may petition to initiate an ordinance to provide for the number of marihuana establishments allowed within a municipality or to completely prohibit marihuana establishments within a municipality, and such ordinance shall be submitted to the electors of the municipality at the next regular election when a petition is signed by qualified electors in the municipality in a number greater than 5 percent of the votes cast for governor by qualified electors it he municipality at the last gubernatorial election."
The Citizens Research Council report ends on a cautionary note and calls for "the need for marijuana policy that is grounded in a scientific, fact-based approach to public safety."
"The proposal before Michigan voters falls short of policy ideals in a great many ways," the report concludes. "Voters will have to decide if they are willing to tolerate these shortcomings to reduce marijuana arrests and have freer access to marijuana products."