SOUTH HAVEN — Two years ago a group of South Haven High School's cross-country runners got the opportunity to meet two former members of McFarland, Calif.'s cross team – a team made famous in the 2015 Disney movie, "McFarland USA," for winning a state championship in 1987.
Friday, all of South Haven High School's students, plus ones from Baseline Middle School, got the chance to hear McFarland alums Thomas Valles and Johnny Samaniego speak.
The two men visited South Haven as part of a tour of seven schools throughout Southwest Michigan, including Kalamazoo Central, Bellevue, Holland and Zeeland.
"These guys are so well received at the schools," said Rene Rodriguez of Studio One Creative, which coordinated the motivational speeches. "They came from migrant backgrounds. Many students in Southwest Michigan have migrant backgrounds. (Valles and Samaniego's) message resonates with students."
Throughout the hour-long programs South Haven students in grades 6-12 remained quiet and attentive as they heard Valles and Samaniego recount growing up in McFarland and going on to earn a state title in cross-country, something the team wasn't expected to do back then.
"We were all underdogs," Samaniego said about the McFarland Mustangs' cross team, a group of athletes made up of Hispanics.
But the two stand-out athletes didn't come to South Haven to brag about how a team of migrant athletes bucked the odds and won a state championship.
Rather, they talked about Jim White, the coach who helped them get there and the influence he had on their lives.
"Mr. White was a father figure to us," Samaniego said.
When White wasn't coaching and encouraging his young runners, he took them out to eat, bowling, the movies, even the ocean.
"For most of us, that was the first time we had ever done those things," Samaniego said. "He opened up the world to us."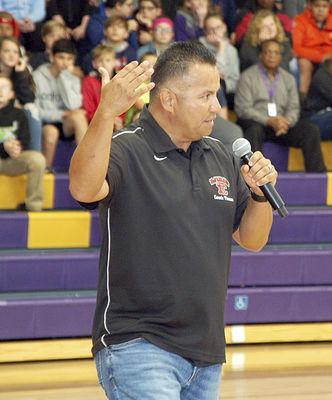 Valles, whose parents divorced when he was in junior high and the year White became his gym teacher and coach, agreed.
"I had a coach who took me in," he said. "He was my second dad, my team was my second family."
Valles and Samaniego's team practiced and competed during a very troubling time for McFarland.
During the mid and late '80s tragedy after tragedy seemed to strike the small town of 5,000.
Retired Bakersfield Californian newspaper photographer John Harte recounted those times on his blogsite.
"I don't know if any city as small as McFarland has endured as much heartbreak and despair involving their children as this town did in the mid and late 1980s," he wrote.
During that time period, farm children were dying from a cancer outbreak. A Valentine's Day crash claimed the lives of six teens. Two months prior to that tragedy, two members of the McFarland girls cross-country team lost their lives after being struck by a vehicle during a practice run.
Members of the boys cross country team felt those losses deeply, but they also dealt everyday with the harsh reality of their existence as migrants.
"We struggled," Samaniego said. "My grandparents, who lived with us, raised us. My parents worked early in the morning and did not come back home until late, ate dinner, and went to bed."
Valles grew up in a similar manner, discussing how easily he could have been drawn into gang life and how he struggled academically in school, due in part to being dyslexic.
But even though the two teens grew up in poverty, their parents wanted better life for them.
"My parents had very little education," Valles said. "They always talked about how important an education was and encouraged us to go to school."
Both Valles and Samaniego did end up not only earning high school diplomas but college degrees, as well.
Valles obtained a bachelor's degree in criminal justice and served 22 years as a corrections officer before retiring. He now serves as the varsity girls cross-country coach at McFarland.
Samaniego earned a bachelor's degree in teaching and is employed as the middle school gym teacher at McFarland, the very same job his favorite coach, Jim White, had. Samaniego also coaches the girls varsity basketball team at McFarland, a team that earlier this year earned runner-up honors at the Division 3 state finals in Sacramento.
"Hard work and setting goals will get you where you want to go," Samaniego said. "Life isn't easy ... always rowing, never drifting."