COLOMA — The former truck stop that was once home to the Jollay Market reopened Friday under the Round Barn umbrella.
Based just off Exit 39 of I-94, Round Barn Filling Station held a soft opening Friday in Coloma Township. The Filling Station offers wine, spirits, mixed drinks and slushies.
With a new look to the building's exterior and more signage, the Filling Station at 3401 Friday Road also has a beer garden for visitors to sit in, along with additional parking.
Matt Moersch, CEO of Moersch Hospitality, said he texted the owners of Jollay Orchards when he found out they would close down the market.
"We're always looking for opportunities to expand," Moersch said. "It's a cool spot. The Jollays did an exceptional job of rehabbing the Texaco gas station."
The market, which first opened in 2010, was used as an outlet to sell the farm's fruit along the highway. The Jollay Orchards farm, which has been in operation in Coloma since 1857, remains open.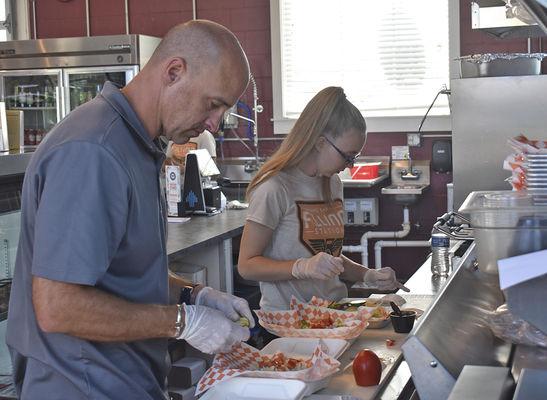 Round Barn opened in Baroda in 1997. It runs an estate and public house in Baroda and a tasting room in Union Pier. 
Round Barn Filling Station is expected to have live music – mostly acoustic – on Saturdays, with its first performer playing today.
Moersch said they are working on securing a beer license and are now selling food, including nachos, homemade brats and burritos. Filling Station will be open from noon to 8 p.m., Sunday through Thursday, and noon to 10 p.m., Friday and Saturday. 
Moersch said this is the seventh Round Barn location, which includes the Tabor Hill Winery that was bought by Moersch Hospitality a few years ago.
This is also the most northern location under the Round Barn umbrella in Berrien County.
"We had no idea we had a big customer base up here," Moersch said. "But we saw it right away."