ST. JOSEPH — If you want to see people do amazing things every day and put themselves in harm's way, you don't have to go to the movies to see "Iron Man" or "Captain America."
"There are superheroes in our neighborhoods, you just have to look," said Matt Garbarino, a St. Joseph native and Kent County sheriff's reserve deputy, who completed a 170-mile, four-day run across Michigan at the Berrien County Law Enforcement Memorial Monday afternoon.
For Garbarino, those heroes are the men and women who put on their uniforms and badges to protect the public, not knowing if they will make it home that day.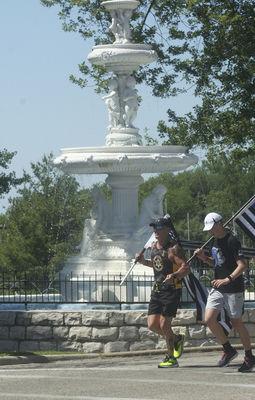 The goal of his run – the second he has undertaken – was to raise awareness of the officers who have lost their lines in the line of duty, which total around 550 in Michigan and 20 in Berrien County. He also is raising funds for the families of the slain officers.
While a community moves on after an officer dies, the families continue to live with the tragedy and its consequences, he said.
Garbarino started his run at the Detroit police headquarters, and he said it made sense to end it in his hometown. Garbarino, a 1986 graduate of St. Joseph High School, said he was flooded with memories of running cross country practices on these same streets.
"I never figured that at 51 years old I would be running those same routes," Garbarino said.
He was greeted in Lake Bluff Park by local officials and a color guard. St. Joseph Mayor Mike Garey presented Garbarino with a personalized street sign.
During his run, Garbarino carried a "thin blue line" flag signed by family members of officers who were lost.
Berrien County Judge Gordon Hosbein said the "thin blue line" is "a family crest and a badge of honor."
Berrien County Prosecutor Michael Sepic said that, even after 30 years, he is still amazed at what officers face every day and the decisions they must make "that are life-changing for all concerned."
Sepic asked that citizens understand the risks that officers face, and to not be quick to criticize.
Garbarino said he received tremendous support from residents along the route of his run, along with assistance from law enforcement agencies.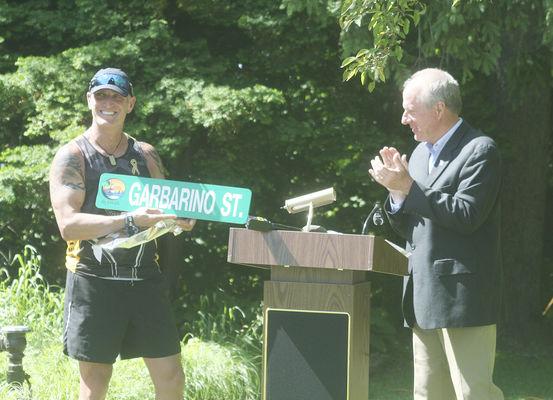 The officer said he faced "baking hot" temperatures with no breeze the first two days of the run, and on the third day encountered pouring rain and wind. His flag became soaked and was hard to carry. At one point his feet ballooned, and he had to switch to a larger shoe size.
Garbarino was accompanied on the last leg of the run by his son, Matthew, 16, who competed in a triathlon the day before.
Garbarino's parents, Fran and Marty, were at the finish line to meet him. They said they have always been proud of Matt, and now have another reason to be proud. They added that he is raising his son to dedicate himself to community service.
Garbarino said he wasn't sure about his next run, but suggested that it might be a team effort in the northern part of the state.
The fundraising effort is handled by Michigan Concerns of Police Survivors, Mi-COPS, which provides assistance to the surviving families. There also is a GoFundMe page at www.gofundme.com/2019ram. The fundraising goal is $5,000. Last year Garbarino exceeded his goal by raising $6,000.