STEVENSVILLE — As Black Friday gets closer, a majority of area stores are already prepping for what has become the biggest day for retailers each year.
Among the stores seeking to get a jump on the competition are big box retailers such as Best Buy, Meijer and Walmart.
Meijer is offering its Black Friday deals all week – which began Sunday and extends through this Saturday – and it will offer special "door busters" during a two-day sale on Thursday and Friday.
Rob Vassar, store director for the Meijer in Stevensville, said flat-screen television sets are still the biggest Black Friday draw.
"TVs have continued to surprise me," he said. "The price is coming down and I think times have changed since I was young. People have more than one TV in their households. Plus, they're getting bigger."
Among the biggest door buster deals is the Element flat-screen TV listed at $179.99 – a savings of about $270.
Vassar said clothing and apparel have also received a lot of attention from shoppers in recent years. It's why some of the baby clothing will be marked down for Thanksgiving with a buy-one-get-two-free sale.
Last year, Meijer rolled out its week-long sales pitch for the first time. Vassar said it was meant to set them apart from other big box stores. 
"We wanted to make it so Black Friday wasn't so overwhelming," Vassar said.
With how much positive feedback the store got last year, Vassar said they chose to hold the week-long sale again.
Traditionally, Thanksgiving is one of Meijer's busiest shopping days.
"It's is a huge day for us," Vassar said. "It's great for us because not a lot of merchants are open. It goes extremely fast."
It is high on the list of the store's most profitable days of the year. Vassar said Dec. 23 and 24 are just as busy, due to food for the holiday and gifts for last-minute shoppers.
Meijer's two-day Thanksgiving sale starts at 6 a.m. on Thursday and ends Friday night at 11:59 p.m. – or until quantities are no longer available.
Vassar expects foot traffic at the Stevensville store will more than double on those two days.
Vassar said he's looking forward to seeing all the people who are out shopping.
"The people are happier as you get closer to Christmas," he said. "Even though they're in a hurry, it's fun to talk to the people. Because that's what it's all about."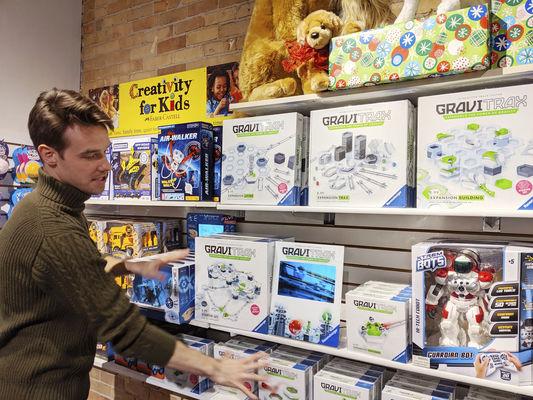 Downtown St. Joseph
Select merchants in downtown St. Joseph will begin their holiday sales on Black Friday.
That day, in addition to special sales, shoppers in St. Joseph can enjoy free, horse-drawn sleigh rides from noon to 3 p.m.
Amy Zapal, executive director of St. Joseph Today, said her organization created gift certificates that are redeemable at participating member stores, restaurants and hotels. They can be bought at the Welcome Center at 301 State St., and are good at more than 40 different locations.
Haley Bachman, store manager at Glik's in downtown St. Joseph, said they will open the store four hours early, at 6 a.m. on Friday.
She said there will be door busters from 6 a.m. to 10 a.m. and employees will hand out coupons to the first 100 customers.
"For door busters, we have some knit headbands that we're expecting to fly off the shelves," she said. "We're also having lots of sales on shoes."
Bachman said the home office has helped them prepare for this week, as they've been organizing the sales floor.
Last year was the store's first Black Friday at the St. Joseph location. However, Bachman said they had an especially large crowd because the store had just opened.
Bachman said they are also including a coupon in Wednesday's newspaper for Black Friday and Small Business Saturday.
"It's definitely a big boost as we head into the slow offseason," Bachman said of Black Friday. "That and it's a kickoff to Christmas."
Patrick Ross, an employee at The Toy Company in St. Joseph, said they began to prepare for holiday shopping in September.
"Once summer ends we get into Christmas mode," Ross said. "Now all the big box companies are starting earlier and earlier. So, we're trying to keep up with that trend. We've tried to stagger the amount of bulk items we order from our major companies."
On Small Business Saturday, Ross said The Toy Company will sell all Melissa and Doug items at 25 percent off.
Ross said the store's best-selling item is Gravitrax, which allows users to set up a course for marbles. Last year, he said they ran out of those games and don't want to come up short again.
Ross said they allow customers to get a demonstration of the toy, which he hopes will be a major factor in sales.
"We want people to experience the toy rather than just click on a photo and hope it works out," Ross said.