DOWAGIAC — A new era in nursing education was launched Wednesday with the opening of Southwestern Michigan College's expanded nursing building. The revamped facility allows nursing students to enhance their education through the use of new simulation and skills labs.
SMC nursing student Derrick Goodrich of Niles certainly feels that way. He is halfway through the two-year nursing program. "We can actually be a lot more interactive with the SimMan and communicate with it," he said. "I'm super excited to be able to interact with the mannequins. It gives us a better experience."
Goodrich plans to go on to get his bachelor and master's degrees to become a surgical nurse practitioner.
Amber Villwock is the Sim Lab coordinator. She said that while nursing students will still be doing clinical rotations at area hospitals, the Sim Lab gives students the chance to see greater variety. "We can simulate different situations and give students that experience," she said.
"This allows us to put out better educated students," said Debra Green, chairwoman of the school's nursing department. "They will be ready to hit the ground running. … With the Sim Lab, students can practice in a safe environment and we can recreate different situations where if they were in the hospital, the nursing student might be pushed to the side."
Green said studies have shown that students who have the chance to get practical experience in a Sim Lab are more knowledgeable than those students who just do their clinicals in a hospital. "The Sim Lab gives them that experience plus a chance to debrief and talk about what they were thinking and what they could do better."
Work on the $9.6 million project began in August 2017 and finished up last week. The expanded building is located off of the Briegel administration building in the center of the Dowagiac campus. Funding came from state and local sources, with the state contributing $4 million, the college $4.5 million and other contributors $1.1 million.
Wednesday's open house featured remarks by SMC President David Mathews, SMC Foundation Vice President Carole Schmidt and guest speaker Pamela Jeffries. She is the dean of the School of Nursing at George Washington University and is an expert in simulated and online nursing education.
Mathews touted the upgraded facilities. "The goal of this project has been to create a facility which matches the quality of the program we already have," Mathews said. "We're planning for growth and looking at programs like occupational therapy, physical therapy and respiratory therapy assistants."
Jeffries congratulated SMC for getting it right with the new facility.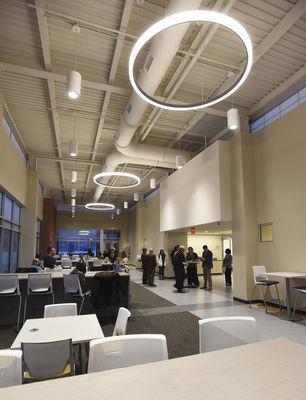 "This is an amazing space," she said. "The simulation area is state of the art. You guys have arrived. You built it correctly and you're doing it right. … This replicates real clinical practices where they can practice being an RN before going out into the work world. That is priceless."
Visitors got the chance to tour the renovated facility and talk with students and staff. The expansion more than doubles the size of the nursing building, from 12,000 to more than 29,000 square feet, and adds four simulation labs and two eight-bed skills labs. The program will eventually expand and accept up to 120 students a year, up from 80.
Editor's note: The original version of this story included an incorrect title for Debra Green, who chairs SMC's nursing department.