ST. JOSEPH — Take more than 500 strangers, from diverse backgrounds and viewpoints, and put them in one place to debate some of the most contentious issues of society.
What would happen? A lot of talking, obviously, but also a lot of listening, according to a St. Joseph resident who took part in the "America in One Room" project last month.
"You can talk to people, I can understand your opinion and you can understand my opinion, instead of berating the crap out of one another," James Munro offered about his experience as one of 523 randomly selected registered voters. "That's the biggest takeaway – you listen to me, I listen to you."
The event was organized by Helena, a nonpartisan problem-solving institution, By the People Productions and the Center for Deliberative Democracy at Stanford University, and participants were recruited by NORC at the University of Chicago.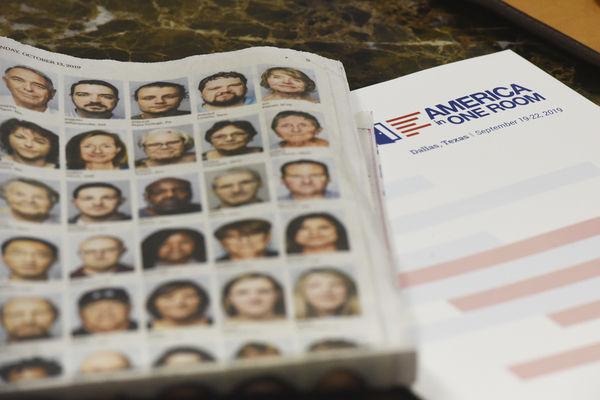 It was reported by the New York Times, where Munro's photo and first name appeared Oct. 13 with the other attendees who spent an all-expense-paid weekend in a Dallas resort discussing the economy and taxes, health care, the environment, immigration and foreign policy.
Munro is a native of Niles, and worked in the banking and insurance industries before opening a bed and breakfast in Suttons Bay, Mich. He retired about a year and a half ago and he and his wife, Linda, relocated to St. Joseph.
He said he began responding to online surveys through the University of Chicago's AmeriSpeak, which started coming on a regular basis. In July, he was informed that he had been selected as a delegate to "America in One Room."
His first reaction was, "Is this real?" Once he decided it was, he became an eager participant. He was one of 14 Michigan residents to take part.
Once in Dallas, he found "a good cross-section" had gathered. "It was a nice blend of America."
They were divided into 40 groups of around 14 each, and spent the entire weekend together, along with a moderator.
Munro's group included a retired Air Force hospital administrator, a man in the shipping business in New Orleans, and a woman in the real estate business. One woman came from Mississippi and didn't say a word all weekend, Munro recalled.
"She must have really needed the money," he said of the $400 stipend provided to participants.
A briefing book outlined different proposals in the issues categories, along with arguments for and against. The participants heard experts in various fields, a former White House chief of staff, and presidential candidates including Democrat Julian Castro and Republicans Bill Weld, Joe Walsh and Mark Sanford.
The New York Times noted that President Donald Trump's name rarely came up in debates.
"It was not really a political discussion, 99 percent of the time," said Munro, who described his own politics as "leaning to the right." He served on the city commission and planning commission while in Suttons Bay.
One of the times he pushed back was when a Bernie Sanders supporter talked about the Medicaid for All proposal, and Munro used his knowledge of the insurance industry to set the record straight.
Munro said he was "pretty vocal, but I didn't want to dominate. I wanted to hear what other people were saying."
He said the discussions were "very educational and not confrontational. People were very courteous."
Did Munro see any of his opinions shift? On one or two topics, he said. He said he learned a lot on immigration and the environment, but in the areas of his expertise, health care and insurance, he walked away thinking "Eh?"
The organizers did see a big swing in viewpoints, with opinions on both sides moving to the center. After the event, the percentage saying the system of American democracy was "working well" doubled to 60 percent, from 30 percent.
Among Republicans, the percentage that supported forcing immigrants to return to their home countries while applying to enter the U.S. dropped from 79 to 40 percent, and the percentage who supported the DACA program jumped from 36 to 61 percent.
With Democrats, the percentage that supported raising the federal minimum wage to $15 fell from 83 to 59 percent, and the percentage who opposed $1,000 monthly cash grants to all Americans spiked from 51 to 72 percent.
Munro said he felt he came away a better listener.
He's not sure such an experiment could be replicated here. "It would be tough to re-create."
He did find it to be a valuable experience.
"If they did another one, I'd go in a minute," Munro said. "I felt fortunate to be invited."