ST. JOSEPH — There are all kinds of ways to serve during wartime, and different kinds of risks besides combat.
For Arthur Lockwitz, of St. Joseph, who will soon turn 97, his time during and after World War II was in the Navy, including time as a pharmacist's mate aboard the USS Consolation, a hospital ship that spent time at Okinawa and Tokyo Bay, picking up American prisoners of war.
Lockwitz, who grew up on a farm near Stevensville, enlisted in 1944. His older brother, Edgar, was already serving in the Air Corps, and was wounded in action.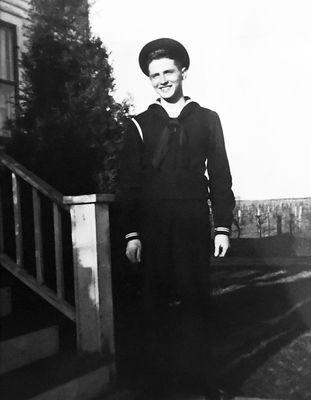 He went through boot camp at the Great Lakes Naval Base in Chicago, and one Sunday he spied a pretty young lady wearing a fur coat in the reception area. He didn't get to talk to her, but she would figure prominently in his future.
Lockwitz's ship reached Tokyo, dodging mines in the harbor. After anchoring, a typhoon hit. Their ship weathered the storm, but other craft didn't fare so well.
"The next morning the banks were littered with boats," Lockwitz recalled.
Some of the POWs who came on board were in good shape, while others had injuries and showed signs of malnutrition, Lockwitz said. They didn't say much about the conditions in the camps, and were probably told not to talk about it, he said.
Lockwitz was at Okinawa when the end of the war with Japan was announced. His ship had been designated as part of an invasion fleet, before the surrender. The occasion rated a beer party, he remembered, and a priest on board insisted on opening every can, getting soaked with suds in the process.
On the way back to the U.S., the ship hit another storm that had the propeller sticking up in the air, and then the bow standing straight up. Back stateside, Lockwitz was assigned to another ship.
(The Consolation went on to have a distinguished career. During the Korean War it was the first ship to have a helicopter landing pad for bringing in wounded, and received 10 battle stars. It transported French soldiers from Vietnam in 1951 before being decommissioned in 1955. In 1960 it was chartered to the People to People Health Foundation and renamed SS Hope, going to underdeveloped areas of the world until 1974.)
After Lockwitz boarded the dry-docked ship in Seattle, the coast was hit by an earthquake. Again, the ship survived but a lot of damage was done on the ground.
Lockwitz's ship escorted a German craft that, for some reason, had come through the Panama Canal and ended up in San Francisco. They took the boat to Norfolk, where Lockwitz was mustered out.
Back home, he enrolled in business school in Benton Harbor. There he encountered a familiar face – the young woman he had seen during boot camp.
"To this day, I think it was her, the looks and face and everything," Lockwitz said of his future wife, Doris, whom he married in 1948. "I stared a lot that day."
They were married for 68 years, until Mrs. Lockwitz passed away in 2016. They raised three sons, Dan, Todd and Keith.
After business school, Lockwitz was hired by Whirlpool Corp. in its planning division, responsible for getting parts and materials into the plant. He worked there for 36 years and 11 months, rising to a position as a manager, retiring in 1984.
He recently took part in an Honor Flight for veterans to Washington, D.C., sponsored by the Detroit Lions and accompanied by nine former players. He carried with him photographs of other WWII veterans in the family, including his brother-in-law, Walter, and daughter-in-law Sara's father, Frank LaGambina.
Accompanied by his son Dan, they were cheered by crowds lining the road to the Kalamazoo airport, and were treated like the heroes they are in the nation's capital. Their police escort was pre-empted by a parade for the World Series champion Washington Nationals.
Her father-in-law was so excited when he got home that he stayed up talking about it until 2 a.m., Sara Lockwitz said.
The tradition of serving the country continues with his grandson, a career Navy man who flies cargo planes.
Her father and father-in-law's generation stands out, Sara Lockwitz said.
"There's so much more to the Greatest Generation" than just their war service, she said. "You showed us how to do it."