Cannabidiol (CBD) is quickly taking root on U.S. store shelves nationwide following the legalization of hemp.
Southwest Michigan is proving to be no exception.
The market for CBD (sometimes called cannabis oil) products with nearly non-detectable levels of THC has exploded of late and is expected to exceed $22 billion by 2022.
Products have popped up online, in medical marijuana dispensaries, health food stores and at farmers markets.
With the passage of the U.S. farm bill in December 2018, which legalized industrial hemp, many experts expect CBD products to soon begin showing up on the shelves of mass retailers like Walmart and Target.
Until then, it has found a spot at a diverse number of smaller businesses.
Mel's Cafe and Deli, a coffee and sandwich shop along M-139 in Royalton Township, has been selling CBD products since December.
Owner Darlene Kuhens stores the products behind a glass display at the cafe. She refers to that side of the business as Southwest Michigan CBD.
"I started it as a separate business because it may turn into a separate thing," she said. "But for now, it's kind of incorporated there."
The products she sells include soft gels, gummies, salves and drops, among others.
Kuhens teamed up with a Grand Rapids company and began selling their CBD products through her store in December. She felt compelled to do so after a close friend began researching different treatments for multiple sclerosis.
"The doctors were cutting her off medication she was on because they're getting nervous (about opioids). We didn't know what to do for the pain," Kuhens said. "She doesn't take any opioids any more. (CBD) helped her come off of that."
Through their research, they learned how CBD edibles and oil worked when it came to eliminating inflammation.
In forms ranging from tinctures, creams, candy, dog treats and even water, CBD is touted by proponents as an ingredient that will do everything from providing pain and anxiety relief to making one's skin smooth.
"I think it should be available to everyone," Kuhens said. "I want people to educate themselves on CBD before they go buy it. They need to make sure they're using a safe product. But it's working for people."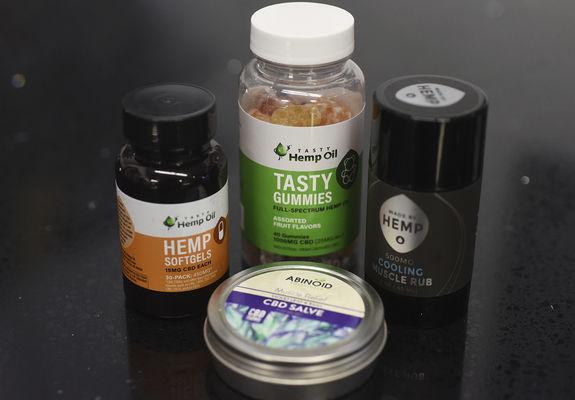 The newest fad
CBD isn't just showing up on area shelves. BC Hemp Co. has a combined 50 acres of land dedicated to production of CBD in Eau Claire. Twenty of those acres have raised beds and are fully irrigated.
Joel Mbungu, co-owner and chief financial officer for BC Hemp, said they have five employees to tend to the property. However, they add seasonal workers when it is harvest time.
"Just like all businesses, nothing has gone according to plan," Mbungu joked. "Everything you anticipate to take a week has taken three months. We've been able to make some great progress, but we've barely scratched the surface of the industry."
Their first year in operation has been dedicated to research and development.
Mbungu said they've learned that CBD oils are the most popular options. To a lesser extent, gummy bears and skin care rubs are also big sellers.
At the moment, Mbungu said they are only selling CBD massage oils and dog treats, but plan on adding several more items in the next few weeks.
"Part of its popularity is that it's become a fad. Outside of the beneficial properties, everyone is looking for the new and hottest thing," Mbungu said. "It picks up steam if the newest fad is actually good for you. Also with this world trying to be more eco-friendly, here comes along this plant that can be used for many things."
CBD can be extracted from the flowers and buds of marijuana or hemp plants.
Hemp and marijuana are both cannabis plants, but hemp has much lower concentrations of tetrahydrocannabinol, or THC, the component in cannabis that provides the high for users.
Since 1970, all cannabis has been categorized as a controlled substance and considered illegal by the federal government. But then came a break for hemp growers in December when the president signed the 2018 Farm Bill.
According to the bill, all CBD products are 100 percent legal throughout the United States. By law, CBD oil has to contain 0.3 percent THC or lower.
That percentage of THC means a lot for companies selling CBD.
With guidance from the state's licensing department, CBD products are no longer regulated like marijuana – no matter whether the products are sourced from hemp or marijuana plants – as long as the THC concentration is below 0.3 percent.
Any product with a THC level above 0.3 percent will continue to be regulated as marijuana.
"The biggest misconception is that all CBD is weed," Mbungu said. "CBD is one of the compounds found in a regular marijuana plant. The plants we're growing are under the 0.3 percent mark."
With Kuhens being so close to Berrien Springs and the surrounding Seventh-day Adventist community, she said she's had to address a lot of misconceptions about CBD.
Kuhens said the best advice she gives is to ask questions and educate yourself.
"I get questions like, 'Will this get me high? What's this going to do to me long-term? Is this bad?'" she said. "It's the older generation that's scared to use it, but that's the generation that honestly needs it."
Kuhens didn't know a lot about CBD until she went about learning the ins and outs of the products for herself.
"I'm happy to use it," Kuhens said. "I don't have aches and pains. I train a lot and do triathlons. So, if it keeps the inflammation out of my body and helps me get a good night's sleep, I'm all for it."
She said the fact that CBD has been discussed in the news has also contributed to its rise in popularity.
As it becomes more socially acceptable, Kuhens believes it will become more mainstream.
"I think (CBD) will be bigger than marijuana," she said. "It's going to go farther because a lot of people want the effects of this, but don't want to get high."
Does it actually work?
CBD aficionados see CBD as a natural alternative to prescription medications, a sort of magic bullet that eases not just anxiety, but also pain, insomnia, seizures and struggles with addiction and eating disorders.
"We are very much self-centering creatures, and we always want to believe that there are these solutions for everything," said Dr. Nora Volkow, director for the National Institute on Drug Abuse, a federal government research organization in the U.S. Department of Health and Human Services.
Some of its medicinal claims are legitimate, she said. Some are hype.
Research indicates that CBD may help reduce seizures, anxiety and some types of pain, Volkow said. CBD appears to be safe to use, but high doses of it could be harmful to the liver, she said. The biggest danger from CBD is that patients will use it instead of other treatments that are proven to be beneficial.
Dr. Vinita Singh, who treats chronic pain patients at the Emory Pain Center in Georgia, often fields questions about CBD from people interested in trying it. She calls CBD, "a big gray" area.
"We don't have much data on how well it works, at what dose, how frequently to use it, and about the long-term side effects," she said.
Singh urged caution for patients intent on trying CBD, saying she can't recommend it until it is more regulated.
The U.S. Food and Drug Administration has approved one CBD-based drug, Epidiolex, for patients with Dravet syndrome and Lennox-Gastaut syndrome, which both cause severe seizures.
Only drugs that have been approved by the FDA can be advertised as effective in treating or preventing medical conditions. Many CBD producers try to get around that by using vague language about promoting general health and wellness.
The bottom line: It will require a lot more research to truly understand the therapeutic potential of CBD, Volkow said.
CBD in Michigan
Two weeks ago, Brightfield Group released a report that predicts Michigan and Illinois will deliver stronger CBD sales numbers than states with more established recreational programs.
The U.S. cannabis market is heading for massive growth, with sales expected to reach $22.7 billion by 2023, including $16.8 billion in recreational sales, according to the report produced by the Chicago-based cannabis research firm.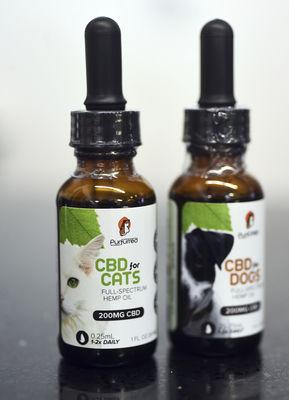 At the same time, political support is growing around legalization efforts and medical programs are expanding across the country.
"It's great to see it everywhere because it gets the conversation going," Mbungu said. "There's no way for us to change the future if there's no conversation happening."
Currently, the top five markets are west of the Mississippi, with Colorado, Oregon and Washington making up 42 percent of total U.S. cannabis sales.
According to the Brightfield report, sales in Illinois, Massachusetts, Michigan, New Jersey and New York collectively make up 11 percent.
By 2023, those market shares are expected to flip, Brightfield predicts, with the eastern states making up 34 percent of the market.
California is expected to remain on top, with one-fifth of total demand. But Illinois and Michigan are expected to rival Colorado and Nevada.
With Michigan expected to be among the nation's leaders, Mbungu anticipates Southwest Michigan holding its own on sales.
"In our region, I believe this area is primed to be one of the leaders in the Michigan hemp scene," he said. "There are several factors. We're close to Indiana and the Chicago market and have access to the rest of the state."
'Just about anywhere'
Businesses that sell ice cream and rent movies seem to realize the shift that's taking hold with regard to CBD.
Ben and Jerry's announced plans to launch a CBD-ice cream fusion on Thursday, which is pending FDA approval.
Right now, the FDA doesn't allow CBD in food and drinks. 
But a public hearing on its legalization was held in late May as Ben and Jerry's submitted a comment to be considered.
"We're doing this for our fans," CEO Matthew McCarthy said in a news release. "We've listened and brought them everything from non-dairy indulgences to on-the-go portions with our pint slices. We aspire to love our fans more than they love us and we want to give them what they're looking for in a fun, Ben and Jerry's way." 
The largest brewery in Michigan is also testing out the idea of cannabidiol beer.
Founders Brewing Co. in Grand Rapids decided to start a CBD beer pilot program earlier this year.
"It's really exciting," Founders Vice President of Brewing Operations Alec Mull said in an interview with Wood TV 8 in March. "We are all talking about this right now. All brewers are talking about it."
While he couldn't disclose who, Mbungu said BC Hemp has been in talks with a Southwest Michigan winery about a possible CBD drink.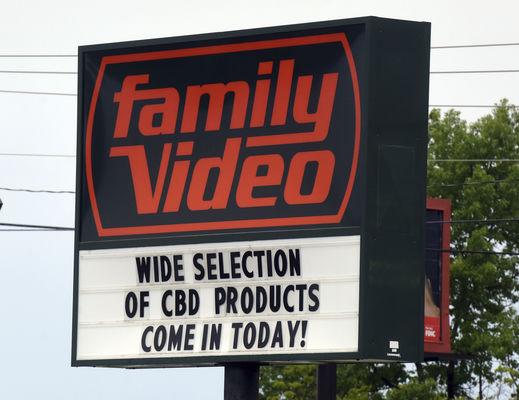 "It seems like you can find CBD products just about anywhere now," Mbungu said. "It's no longer limited to your smoke shops."
Family Video, a video store chain that sells movies and video games, also now offers CBD. This includes the location in St. Joseph at the corner of Hilltop and Cleveland.
Products now sold at Family Video include gummies, water, oils, sprays and lip balm, through the CBD manufacturing company Natural Native. 
The owner of Family Video, Keith Hoogland, discovered CBD while suffering from tennis elbow, and decided to sell the product at his stores. 
"Southwest Michigan is ready for this," Mbungu said. "There are a ton of men and women who are diving into this full force."
Tribune News Service contributed to this story.