BENTON HARBOR — "No more guns, no more guns," almost 200 Benton Harbor youth chanted Friday in front of city hall.
Leading the chant was the Rev. Maurice McAfee of New Bethel Baptist Church in Sodus Township.
He said life is not like a video game where if someone is shot dead, they get back up again.
"No. It's done deal. It's a wrap," he said. "And once you fire a bullet, a knife, a gun, anything, you can never, ever take that back. ... No super power is going to bring you back. ... I've buried enough people from gun violence and other violence in this city to know what it does to families, what it does to parents."
McAfee and the youth were taking part in the second annual Peace Walk Against Gun Violence sponsored by the Youth Campus of the Benton Harbor Boys & Girls Club and the Benton Harbor Department of Public Safety.
After marching from the youth campus to city hall, participants walked to Hall Park for a barbecue and fun activities, such as a mini talent show, sack races and a basketball game against public safety officers.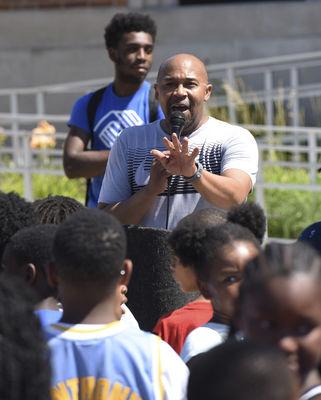 During the rally at city hall, McAfee said some people in Benton Harbor say that hearing gunfire is normal.
"I don't want you to ever get to the place where if you hear gunshots, it's just OK. It's not," he said. "It is not OK for you to wake up and bullets are flying everywhere. That's not normal."
Plus, all those bullets being shot end up somewhere.
"It makes it hard for you guys to be outside and play and play safe because when bullets are shot, they don't have names – they just travel," he said. "... Nobody's going to make me say that's normal now because we're black and we should just accept that."
In addition, he said fighting every day is also not normal.
"That's not the real world," he said. "We have to learn how to solve our problems by talking, getting along, playing together and all of these different things. I know that that sounds corny because that's not what we're accustomed to hearing, but that's the only way we're going to get back to where we were and better."
Fighting doesn't solve anything.
"When you're done fighting, we still got the same problem," he said. "We have to be able to learn how to sit down and work together."
He told the youth that they need to make smart choices.
"Some folks you just can't hang out with," he said. "When you know somebody is going to do something that is not correct, you've got to leave them. And it's OK to be called 'square.' I'd rather be called 'square' than to be in jail for 12 years."
He had the youth make pacts with each other to solve problems through words instead of fighting.
Director Dan McGinnis of the Benton Harbor Department of Public Safety said he plans to hold the peace walk again next year.
"It's part of our outreach that we're doing with the community," he said. "The kids are fantastic. There's great leadership at the Boys & Girls Club and we've got great support from the community, so we're very happy."