DOWAGIAC — It's been nearly 30 years since the Berlin Wall came down on Nov. 9, 1989, and a Michigan professor said Thursday she plans to help keep the memory of the wall alive for new generations, as well as remind people what led to it being built in the first place.
Elisabeth Thoburn grew up in Dresden, East Germany, before marrying an American and emigrating to the United States in 1985. She is now a professor at Washtenaw Community College. Thoburn was at Southwestern Michigan College on Thursday as part of the college's Academic Speaker Series.
Thoburn noted that Nov. 9 wasn't always a day of celebration for the German people. Before the wall came down, Nov. 9 was known as Kristallnacht (Crystal Night), for the bloody crackdown on Jewish businesses, homes and synagogues that occurred Nov. 9, 1938.
"Nov. 9 was a shameful day in German history and not a day anyone wanted to celebrate," she said. "With the Berlin Wall coming down also on Nov. 9, it's like yin and yang. We will remember forever the most shameful and joyful days."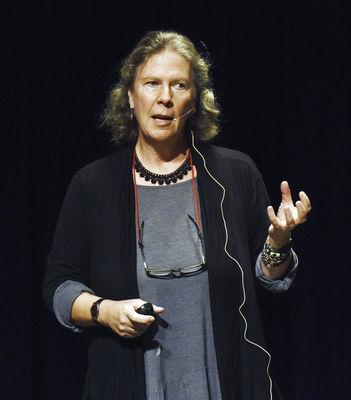 Thoburn said she was just 2 years old when the barrier between East and West Berlin was created in one night, on Aug. 13, 1961. The construction of the wall was the East German government's response to a loss of population, as many people were fleeing to the western side of the city every day.
"Before, people would move back and forth between the sectors and then overnight there was the wall built around the part of the city," she said. "When people realized what was happening, they jumped off buildings and tried to escape. People feared the Soviets and communism. … It was 150 miles long and was not about keeping people out but keeping people in."
Thoburn related how she got expelled from school when she was in the eighth grade because she referred to it as the "wall" instead of the government ordained term of "anti-fascist protection rampart."
She reported that people did everything they could think of to escape East Germany, from making tunnels to putting up zip lines between buildings. There were 136 recorded deaths from people trying to escape between 1961 and 1989. Also, some 75,000 people were arrested and imprisoned, and there were 5,000 successful escapes.
She acknowledged that her family's experience was different than most. Her father was a well-known church music director and was able to defy authorities, even though they were under constant surveillance. Her family's defiance included being part of the less than 1 percent not voting in elections, and not having their children belong to young communist organizations.
One of her own rebellions was refusing to say she would take up arms to defend her country when she was 14. Years later, she would again question similar language when she became a United States citizen. "I said I was a pacifist and would defend the country with words in my classroom," she said. "It was a long process but I was finally allowed not to swear to that."
Her family's resistance to the government led to her and her three younger brothers being denied entrance to the university, even though they were top students. She noted that her brothers refused to enter the draft and endured "18 months of hell" when they were sentenced to hard labor.
Thoburn ended up in Michigan after meeting an American when she was traveling through Poland in 1979. They married in 1985 and moved to Michigan. She ended up getting her bachelor's and master's degrees in art history from the University of Michigan. She now teaches at Washtenaw.
She described life in East Germany as a "schizophrenic world" where people were taught between the images they saw on western television and the world they lived in. "You never knew who your friends or informants were," she said.
She said a number of forces led to the fall of the wall, including the rise of Mikhail Gorbachev in the Soviet Union, the statements of Ronald Reagan calling on Gorbachev to "tear down this wall," and local church leaders in Dresden and elsewhere starting weekly protests.
"When the wall came down it was sudden and unexpected," she said. "It was a joyful moment but many didn't recover. Everything had been taken care of by the government before and some people killed themselves. … After a joyful November night, things got real, ugly and difficult. There's been resentment for those in my generation, but it's been smoother for my son's and grandchildren's generations."
An exhibition of photos regarding the fall of the Berlin Wall, from Thoburn's collection, is on display through Oct. 24 in the Lyons Building at SMC's Dowagiac campus.