BENTON HARBOR — Chef Roshara Sanders understands that a home is where a family comes together.
The celebrity chef held a cooking demonstration Wednesday at Whirlpool Corp.'s global headquarters for this very reason, and to celebrate a collaborative milestone.
Through Sanders' direction, Habitat for Humanity and Whirlpool launched the campaign "Home Cooking with Love," which marks a 20-year partnership between the home appliance maker and the well-known nonprofit home builder.
Over two decades, Whirlpool has donated more than $107 million and 275,000 appliances to new Habitat homes worldwide.
Having served in the U.S. Army for six years with stints in Iraq and Afghanistan, Sanders grew up in a Habitat home in Bridgeport, Conn.
Sanders credited her love of cooking to her early childhood, where she cooked her first meals as a child on a Whirlpool stove. She said her mother has lived in that Habitat home for more than 15 years.
"I wouldn't be here today without that," Sanders said. "After I was able to have a platform, I chose to use it to show that Habitat has had a huge part in rehabilitating people."
Sanders rose to prominence when she won the "Chopped: Military Vets" edition of the popular television show in 2015.
The Culinary Institute of America graduate now spends her time talking with other veterans about how cooking helped to cure her PTSD.
"I want all the chefs in the country to build," Sanders said. "I think every (Habitat) site should have a chef because you should have good food, right?"
Since Whirlpool was celebrating National Inclusion Week, Sanders kicked off Wednesday with soul food dishes in the form of macaroni and cheese and collard greens.
About four dozen Whirlpool employees watched her cooking demo and sampled her plates afterward.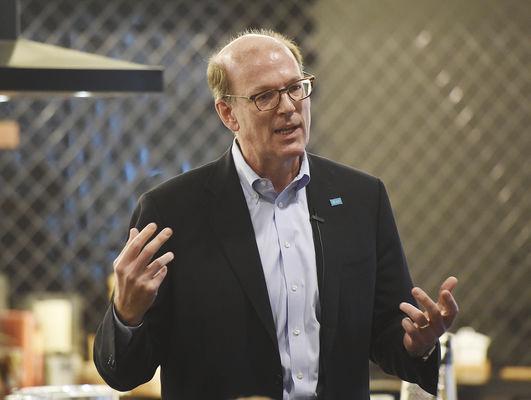 Sanders was joined by Habitat for Humanity CEO Jonathan Reckford, who spoke highly of the 20-year-old pact. Reckford was there to celebrate the local and global impact that Habitat's partnership has had with the Benton Harbor company.
Shortly after being named CEO of the nonprofit in 2005, Reckford recalled taking part in a Habitat build right away and working alongside Whirlpool employees from a Tennessee plant.
"Since then, I have literally built around the world with Whirlpool folks," he said. "For us, Whirlpool is different than just a donor relationship. It's been a partnership."
In 2010, Benton Harbor's Habitat for Humanity organization celebrated the construction of their 100th home built in the city. Former U.S. President Jimmy Carter led a "blitz build" in Benton Harbor that drew thousands of volunteers, which translated to the construction of 22 homes in one week.
Harbor Habitat has built 116 homes in the Twin Cities region and has plans to complete another four houses next year.
Jeff Noel, vice president of communications and public affairs at Whirlpool, said they are constantly trying to improve life in the home – whether that be through appliances or employees building the homes themselves.
"The home is the nest in which families can come together. For us, the Habitat movement fits our values as well," Noel said. "…It all begins in the home. You can not effectuate change in a community unless you realize it's done one home, one street, one neighborhood at a time."