When I reflect on the special events that have fallen victim to the COVID-19 pandemic, it would be easy to become melancholy or, let's be honest, downright depressed.
But then I think of two of my favorite people, and how they made lemonade from lemons. Their shining example will stay with me for the rest of my life, in good times and bad.
A wedding is a big day, especially for a bride.
Possibly the biggest day of her life.
My son and his bride-to-be, now his wife, spent a year planning their perfect day, which was set for April 4, 2020.
The venue was chosen and reserved. The reception caterer was hired, and deposit paid. The 160 guests had been invited.
Then COVID-19 hit, and with it restrictions on gatherings.
As their big day approached, things began to implode.
First, the guest list was limited to 50.
Then, further restrictions set the number of people allowed to gather at 10. Then, the stay-at-home order hit, with the exception of outings that were "essential."
Needless to say, for the bride and groom's parents, this outing was essential.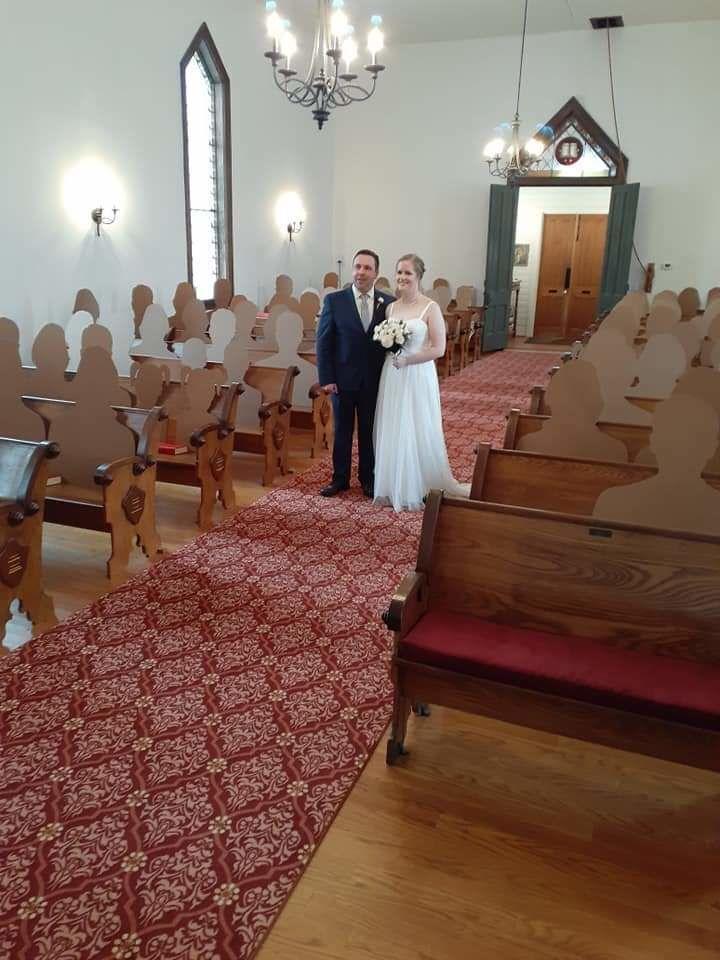 So the marriage ceremony would include half of the wedding party, the minister, and parents. That's it.
The large, catered reception, eventually canceled entirely, was re-scheduled to October, and dinner after the marriage ceremony would be a home-cooked meal at the newly married couple's house. I got to know the bride's parents better while washing and drying dishes.
As the big day approached, I was so sad for this loving couple, who had already conquered and navigated through seemingly insurmountable obstacles to arrive at their destination.
My son was sad for his sweet bride-to-be. She told him "If you're sad, you're going to make me more sad."
I was sad.
They told me, "You're more upset about this than we are." Their gentle way of telling me, "Suck it up, mom."
But my son watched his bride-to-be fight back tears as the big day approached. He could not stand the thought of his lovely bride taking a lonely walk down the aisle of an empty church.
So he approached Menasha Packaging Co. in Coloma, and asked if they could sell him enough cardboard to make 100 "guests" to fill the church pews.
Menasha went above and beyond. They brought in a designer and crew who would fashion, and donate, the 100 guests in a day. My son envisioned some cardboard ovals.
But the cardboard guests who filled the church were men, women, girls and boys. My sisters were "there." My daughter-in-law's grandmother was "there." The couple's friends were "there."
The ceremony was beautiful beyond compare. As I watched these two young people, a police officer and a school teacher, look into each other's eyes and exchange vows, I knew without a doubt, these two will survive anything, and will create a great life together.
Their story was picked up by local media, then The Associated Press, and eventually made its way across the country and internationally. Jimmy Fallon made fun of the wedding seen around the world during his "Tonight Show" monologue.
"If anyone objects to this union, raise your hand," Fallon said, waving a cardboard hand in the air.
Thank you Dan and Amy, for your strength, resilience, a bit of levity, and a promise that the future of our family, and our world, are in good hands.