BENTON HARBOR — A lot has changed for singer-songwriter Ernie Hendrickson.
There's the addition to his name. The one-time solo artist has been playing under the billing of Ernie Hendrickson & Citizens of Love, a trio led by the Chicago-based multi-instrumentalist that typically includes drummer Devin Ulery and bass player Pete Muschong.
There's the addition to his family. He and wife, Quinn, have a now 18-month-old daughter, Tansey.
Then there is time. Hendrickson recently turned 40, the age where mind and body welcome you to the joys of mid-life, crises and all.
What hasn't changed, however, is Hendrickson's commitment to his craft. Born in Wisconsin and raised in Rockford, Ill., Hendrickson grew up on a deep well of American roots music, which he continues to draw inspiration from.
After moving to Chicago in 2003, the Americana troubadour produced his solo debut "Down the Road" in 2007. His 2010 follow-up, "Walking with Angels," earned a spot in the Top 20 on Roots Music Report's Folk Album Chart for more than six months. And his latest album, "One for the Dreamers" (2013), was recorded with producer-drummer Chad Cromwell at Lamplight Studios in rural Primm Springs, Tenn.
When he's not on tour or reveling in the realizations of fatherhood, Hendrickson can be found at The Harvest Room, a farm-to-table concept restaurant in Palos Heights, Ill., where he's had a weekly Monday residency for nearly four years, called "Mondays with Ernie."
Speaking by phone recently from his home in Illinois, Hendrickson, who performs Saturday at The Livery, shares how life has changed and what's stayed the same.
Q What's been happening with you and the band lately, and what can we expect to hear when you come back to town?
A Well, this show in particular, my drummer in this configuration, which we've been calling Citizens of Love, who is actually my sister-in-law, Devin Ulery, has a health issue that I don't want to go into, but she won't be playing this show. I'm not sure at this point if I will have a drummer or not. If not it is going to be just me and my old pedal-steel-guitar-playing friend Brian Wilkie. Brian has been playing off and on with me. He recorded on my first album, "Down the Road," and my second one, "Walking with Angels," but not the most recent one. But he knows my whole back catalog, and when we play together, it becomes more of a play what we know kind of show. I do have a lot of new material and I am overdue to get something out, but everything is coming at a slow crawl. I have been writing, and I feel good about what I've been writing, I just need time to bring it to the table.
Q Let's talk about some of that new music. Has anything been popping up in the set, or is it something you haven't been road testing?
A When I play on my own, like at my weekly gig here at The Harvest Room, I try the stuff out all the time. As far as the songs, it depends on what day you ask me. There's one I've been working on lately that's dealing with some of the craziness that our world has had to endure more and more frequently. I'm struggling with this sense that the world is going mad, and we are in this state where nothing is making much sense, and we are starting to get away from ourselves a little bit. There's some of those things and then just being a dad. There are certainly some songs that have been born out of that. Just little odes to fatherhood and how that's changed me and some songs for my daughter.
I also turned 40 in October so it was like a one-two punch and the adult switch got flipped on, so I have been taking my writing more seriously. I will write a song and a week later rewrite it, and a week later rewrite it again. And it gets better each time, but I never used to do that. There are songs on "One for the Dreamers," which is my last record, that I have rewritten since I recorded it and I think they are better now. It's usually just taking stuff out and getting more concise with the words. I feel like I am becoming a better editor of my own stuff. That gives me some confidence going into the new record because I think the songs are going to be really strong.
Q It's been a couple of years since "One for the Dreamers," so are we going to get a new Ernie Hendrickson album in 2018?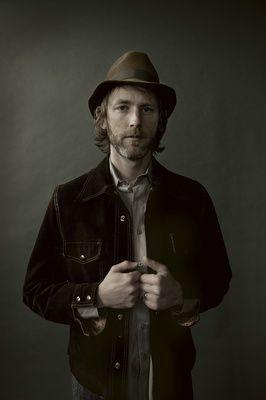 A I need to do it. I just need to do it. I've always looked at recording as an opportunity to meet and work with some of the best people in the industry. A lot of people who made careers and names for themselves in playing and writing tend to end up in the studios later in life and there's a wealth of experience there that I like to tap into. That was why working with Bo Ramsey or working with Chad Cromwell was appealing to me. I enjoy it. I feel like I grow every time I do it. There's a couple of people I have in mind but I'm still reaching out to people and seeing what takes shape. But I mean, if I don't get a record out in 2018 I might as well hang it up (laughing).
Q You mentioned your daughter and finding inspiration. How has fatherhood changed you, and how have you noticed that coming out in your work?
A The gift of being a dad is something you can't really get until you are a dad or a parent I think. When people on the outside look at it, they see you never have a minute to yourself and you are always working and breaking your back. Of course, the songs that end up happening about being a dad are never the ones about how hard it is. That's because the gift of it is when you see this person come out and this whole new life emerge and you have a hand in shaping it. The joy of that ends up going into the songs. It's not about how hard it is because, well, nobody wants to hear about that (laughing). So, I've written a few songs about that type of love that I know I couldn't have written before becoming a dad.
Q You've been playing your weekly gig for awhile now. How do you use that not only as a way to test your own material but as a way to keep music fresh, because people don't want to hear the same songs week after week, right?
A You're absolutely right. I've probably learned 500 songs since I've had that gig. One of the best things about it for me really is knowing that some of the same people are going to be there week after week, and you can't go in and play the same three Bob Dylan songs. You have to play three new Bob Dylan songs (laughing). I really enjoy it for that fact. I've got to dig deeper into the material I like and in some ways that's helping my own writing, too. I'll learn a new Todd Snider song or a couple of new Motown tunes and it keeps me learning. But it is also a good springboard to try things that I have written. It's a unique format and low pressure and I can try anything I want. So it's been great.