BERRIEN SPRINGS — Jamie Grace Harper was at a crossroads in her own music career when she attended an August 2016 concert by Adele at The Staples Center in Los Angeles.
Although Harper was nominated for a Grammy for best contemporary Christian song in 2012 for "Hold Me," won the Dove Award for new artist of the year and was nominated for top Christian song for the 2012 Billboard Music Awards, she had parted with her label and her career had stalled.
"I was in a really interesting place in my life," Harper says. "I was ready to give up music because I had so many things that were not panning out the way I wanted them to. I was at this concert and Adele was walking around saying hi to people and being really cool. I've always been known for talking to everybody way too much all the time. I just looked at her and mouthed, 'Do you want to sing together?' and somehow she understood what I was saying and said 'Yeah,' and brought me up on stage."
Harper sang part of "Remedy" and "I Can't Help Falling in Love With You" in front of an amazed Adele, who was unaware of the Christian singer's background when inviting the artist onstage.
"It was amazing," Harper says. "One element I wasn't expecting is that God was using that moment to show me that it wasn't the end for me and that I still have a voice. That maybe I can still sing, and that's why I am here. It really was that, and I walked off stage overwhelmed."
Harper, who goes by the stage name Jamie Grace, released her new record, "'91," in September. On Sunday, she makes a tour stop at Andrews University's Howard Performing Arts Center.
"This is my first independent project since I was a teenager," the 26-year-old says. "I was really excited about it because I got to be an executive producer on it. So, from a production standpoint, it was fun to choose the guitars and the sounds and play some of the guitar parts and some of the banjo parts. It was an incredible and exciting process."
The 14-track album, like her previous studio releases 2011's "One Song at a Time" and 2014's "Ready To Fly" combines elements of hip-hop, folk and pop into her own distinct sound.
"I wrote every song on the record, including three or four cowrites with my sister and my mom as well," Harper says. "It's so cool that this is what I get to do for a living. I get to write albums and make music that tells my story and stories of people who have inspired me. It's such a privilege, and I don't take it lightly."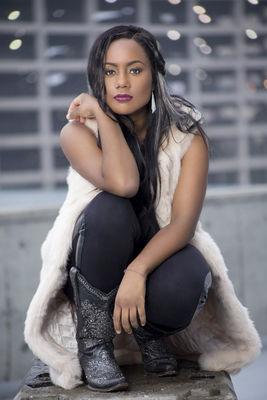 Harper's story begins in Los Angeles, where she was born and now lives, and Atlanta, where she spent the bulk of her childhood.
"My dad's a pastor, so we moved from Los Angeles to Atlanta, my mom's hometown, when I was just 1 to start a church," she says. "I grew up singing in church and loved it. I think some people feel like they had to sing in church because their parents made them. But I wanted to sing with my mom when I was 4 or 5 years old. My mom has always been encouraging about my voice."
When she was 11 years old, Harper was diagnosed with the neurological disorder, Tourette syndrome, as well as obsessive-compulsive disorder. She credits music for helping her combat her condition.
"I went through a few years of pretty heavy depression and pretty heavy sickness not knowing how to combat my condition, but when I was 13 or 14 years old it was music that brought me back," Harper says. "Maybe music doesn't change your day, but maybe it can change your perspective of your day. That simple discovery changed the whole trajectory of my life."
At 14, she started her own YouTube channel to share her passion for music, and three years later became a cast member on TBN's "iShine," a Disney-esque Christian sitcom, and began touring with "iShine Live."
Her YouTube channel also caught the attention of Toby McKeehan better known by his stage name TobyMac, the Christian hip-hop recording artist and music producer who signed her to his Gotee Records label. After releasing two albums, Harper announced her departure from the label in 2016, and her interest in returning to her independent roots.
Her album, "'91," is a reflection of that.
"I ended up calling the album ''91' because that's the year I was born, and every song in some way seems to represent either my childhood or a part of growing up," Harper says. "It felt like I was going back to the basics of the music that inspired me, and the message that inspired me. It did become a journey of my life."
Among the album's highlights is the song, "Here," which features her sister, fellow singer-songwriter Morgan Harper Nichols.
"Obviously, 2016 was just a difficult year for my whole family, and one of the things we were going through was our mom's health," Harper says. "We weren't sure what the future was looking like, so it was special to write and record 'Here' together. It's a song that sort of sits in the fact that no matter where we feel God is or isn't that he is always right here for us."
Harper is also fond of the song, "Bella," which adds some international flavor to her already eclectic mix.
"Bella is one of my favorites because I love that I got to sing in Spanish," she says. "It is one of the things I wanted to do for a long time. It speaks to what it means to be God's child. It was cool to honor different cultures and languages. It's not the last time I'm going to do something international on a record, because I had so much fun with it and I'm a huge culture nerd."
On the heels of that record, Harper also has launched a new project called "91 Anthems." For 91 days she is sharing a song written specifically to – and occasionally dedicated specifically to – a story submitted through 91anthems.com.
"As much as ''91' was my story, everyone's story matters and deserves to be heard," Harper says. "I wanted to find a way to give back to my fans. ... Just like my shows, I love to start off with some high energy. I love to be excited. I love the show to start off fun and exciting, but I also want to really connect with people. If it gets emotional, it gets emotional."