When it comes to music, Kinobe Herbert has always had one leg grounded in the culture and tradition of his native Uganda, while the other tip-toed through different parts of the world.
Now, this unofficial ambassador for Ugandan music seems to be passing the torch to a new generation of young performers from M-Lisada Children's Home, an orphanage in Kampala, which has reclaimed more than 400 children from the streets. The organization, founded by Segawa Bosco, currently houses 50 children with another 80 children who come in from the streets every day, for showers, food, counseling, music lessons and a safe place to play.
"When I see them, I see a reflection of my own life, because the story they share is the story I told 25 years ago when I was a young man in Africa," Kinobe says.
Which is why he has partnered with M-Lisada to create "Dance of Hope," a touring ensemble of young musicians and dancers ages 11-17 who are currently touring the United States to perform and share their story through a series or workshops.
This week, "Dance of Hope" has been the artists in residence with Foundry Hall in South Haven, where they have been holding workshops with South Haven Public Schools, St. Basil's School, Fennville Public Schools and Covert Public Schools. The group also will perform a community concert Friday at South Haven High School's Listiak Auditorium, then on Saturday will hold a workshop and performance at The Oak Room at The Citadel in Benton Harbor.
"It's really a dream come true for me," Kinobe says. "Traveling around the world doing educational work in schools, I realized that a lot of young people in America don't really have a direct connection with children in other countries. The only available information comes from mainstream media and organizations, which doesn't really give a true perspective of Africa and what is really happening. I wanted to create a pathway for young people in different countries to connect."
Kinobe (pronounced chi-NO-bee) knows first hand the impact this could have on the young musicians. He grew up near Lake Victoria listening to Buganda court musicians and playing Christian music at school in the Ugandan capital of Kampala. An ear for melody drew him to the endongo, a type of lyre, and the adungu, a nine-string bow-harp.
When he was 10 years old, Kinobe traveled to the Netherlands with a group of musicians for his first international performance. He credits that trip with opening his ears to new sounds, and launching a life-changing interest in world music – particularly on his native continent.
"The style of music I grew up playing was mostly traditional music from Uganda, which is based on traditional stories, legends and myths," Kinobe says. "After that trip to Europe, I began traveling and met musicians from other parts of Africa that inspired me a lot to learn other instruments from different countries in Africa."
Kinobe now plays an array of instruments from across Africa, including the kora, a 21-stringed harp-lute most associated with the West African country of Mali, the kalengo, or "talking" drum; and the kalimba, or thumb piano, all of which have very different tones that support Kinobe's melodies with lyrics sung in Luganda, English and Swahili.
"In Africa, I spent my life working with children who were victims of war or victims of violence or orphans living on the streets," Kinobe says. "Children who come from very difficult backgrounds. The idea was to help them develop life skills they can have and bring hope for themselves to become self reliable. 'Dance of Hope' gives them the dream of becoming independent global citizens. They develop life skills of music and dance, and travel around the world to perform, to teach and to share their stories. They are sharing their culture and inspiring children from here and throughout the world."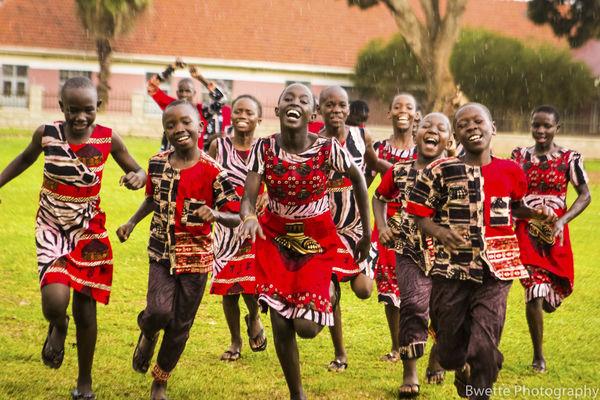 "Dance of Hope's" colorful costuming, original choreography and indigenous instruments, handmade by the troupe, are featured in their performances. The music is described as a "fusion of traditional African rhythms from East, North, South and West Africa, along with original songs and harmonies."
"The dances tell African stories and parables," Kinobe says. "African history is told through music and dance. The different with 'Dance of Hope' is that we always inspire them to create original music and allow them to write songs that tell their own story. I also perform with them and some of the songs are on my solo album, 'The Voice Within.' The album is inspired by children around the world who have voices but aren't encouraged to share those voices."
Throughout the performances, members of the young ensemble share how music and dance gave them hope and resilience to survive. The children who make up the ensemble are Abbey Shadrak, Shafique Abudallah, Treasure Mwanje, Jafalan Katoko, Slyvia Nakyejjwe, Jamilah Nambozo, Bosco Okema, Hagar Nansamba, Esther Namulondo, Eric Musinguzi, Erick Ngabezaaya, Damalie Nabisubi, Apio Lima Natako, David Mulondo and Jasmine Nagawa.
"It's an educational tour," Kinobe says. "We are going into classrooms and having discussions about life, about culture, about music. We are going to visit 40 schools here in the U.S., so about 10,000 children in this tour. When you see children from Dance of Hope teaching children in America, it is such an unforgettable experience. They are really inspiring and very impactful."
The education tour, however, doesn't stop when the children return to Africa where they will share what they learned about America.
"And that experience won't be what people in Africa think of America because what they think of America is Hollywood," Kinobe says. "We will talk about living with American families, teaching and sharing what American kids think and how they perform. So the cultural bridge is not only on one side."