Alyson Snyder hasn't been home for the holidays since 2015.
"I haven't even been on land for Christmas because I've been on cruise ships so long," the 2011 Lakeshore High School graduate says by phone from her home in New York City. "I got an amazing opportunity to work for Norwegian Cruise Line with three separate contracts. I did a few variety shows and my own cabaret, and then I was in the musical 'Priscilla, Queen of the Desert,' which was insane."
Snyder, an actor and singer who has been working professionally since graduating in 2016 from Wright State University with a bachelor's degree in acting and musical theater, returns home this week not just to spend time with family, but to perform as part of the "The 10th Annual Paul Mow & Friends Holiday Concert."
Mow, the Benton Harbor-based operatic tenor, vocal coach, Lake Michigan College theater coordinator and artistic director for The GhostLight Theater, will once again assemble a mix of his most accomplished students, former students and colleagues for an evening of holiday magic Saturday during the 10th edition of this popular concert at The Livery.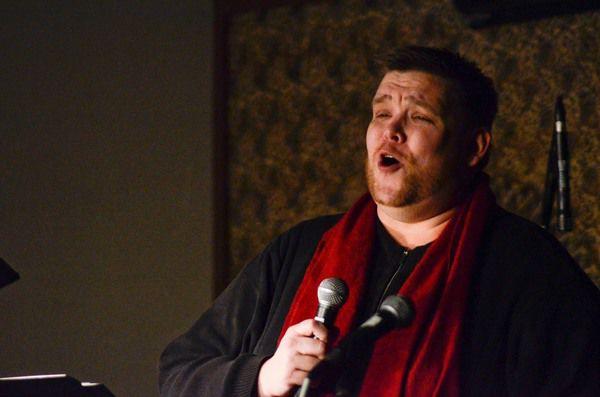 In many ways, the showcase has become part homecoming for those returning for the holiday season, a final hurrah for those preparing to leave for college or career, as well as an opportunity for new students and community members.
"I don't do proper recitals for my voice studio, so sometimes it is a chance for students to perform who have just been honing their technique," Mow says. "We've got kids coming in from Wisconsin, Ohio, New York, Miami. They all come home to see their families, but they also can't wait to come say, 'I've learned this,' and I think there's a healthy spirit of competition for their own self satisfaction and their own art. It becomes a joyful display of that talent."
This year's holiday concert will again split into two back-to-back shows. But unlike last year, both shows will features the same performers and the same songs.
Mow will be singing his renditions of "The Christmas Song (Chestnuts Roasting On An Open Fire)" and "O Holy Night." He also will sing a few duets and group numbers, but is quick to point out the spotlight really belongs to the "& Friends" portion of the bill.
"I think I would be drawn and quartered if I didn't sing 'O Holy Night' every year," Mow says. "I'll do three or four songs. It does have my name on the title, so I should sing a couple. ... But I always joke that I've become this pied-piper of vocalists in the area, but honestly I've worked with so many talented people who love to perform at a high level, and those are the people I kind of obsessively hold onto and ask to come back year after year."
Snyder, one of those former students who is returning to the show for the first time since 2015, will be singing Frank Loesser's 1947 love song, "What Are You Doing New Year's Eve?" as well as a duet of "The First Noel."
"I can't tell you how good it feels to be able to fly home to Michigan for Christmas and to sing in this concert again," Snyder says. "This became my holiday tradition. It was my go-to every year. It was family time for me. It feels like a family reunion getting back together with Paul and my dear friends, who I consider brothers and sisters."
Joining Mow and Snyder this year are vocalists Aiden Ankli, Meredith Best George, Leo Carmody, Grace Dockerty, Cameron Hampton, Kacie Colleen Mercer, Nathanael Mitchell, Kortney Moore, Rosetta Moore, Abby Murray Vachon, Mariah Rifenberg, Maddie Schrock, Nikki Gauthier, Meagan Francis, Ray Wallsten, Jada Willis, Paige Mulick and Bella Alimenti.
Those singers will be backed by a band made up of Joshua Goines and Marty Hesse on keyboard, Adam Jones on drums, Christopher Keech on saxophone and Dustin Lowe on guitar.
"Since most of us have studied private voice lessons with Paul, this is a good excuse to just grab a microphone and sing," Snyder says. "... Performing is such a rarity, which I'm learning now as a professional in the industry. It's a privilege to perform. We are doing it because we love to sing, and we love each other, and it's a nice excuse to make art. I think the universe needs more nights like that."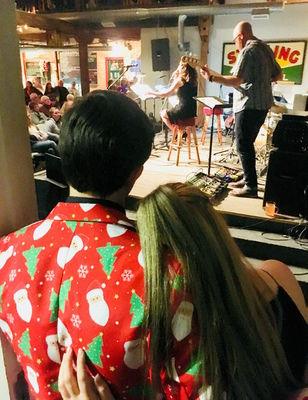 Schrock, who also is coming in from New York City, where she is a sophomore at Mannes School of Music, will sing Pietro Yon's Italian Christmas carol, "Gesù Bambino." Carmody returns from the University of Cincinnati College Conservatory of Music to sing "Winter Wonderland," among others. And Ankli is coming home from Ithaca, N.Y., to perform "I'll Be Home For Christmas." Ankli performed in the inaugural show when she was 11 years old.
"The first show we did was just Patrick Ross, Carrie VanDenburgh and Aiden and I," Mow says. "We did five shows all over the county. The last show was The Livery show, and it was a total blizzard. It was insane. We thought no one was going to show up, but there were like 170 people there in a driving blizzard. It was so special, we couldn't wait to do it again, and we've done different iterations of this show over and over."
Among the show's other highlights are Wallsten's "Please Come Home For Christmas" by the Eagles; Gauthier's "Breath of Heaven" by Amy Grant; and Mercer's "I Could Be Jewish For You."
"I always dig through random singers' Christmas albums to find something new, something fresh," says Mercer, who is performing in her fifth holiday concert with Mow. "This year I went on YouTube, and this club in New York does this Christmas cabaret, and they did this musical theater song called 'I Could Be Jewish For You.' It's different and new and funny."
Mercer also will be singing "Mary, Did You Know?" with one of Mow's younger students, Alimenti, who is 12 years old.
"This is her first concert," Mercer says. "I love working with people who are new to things because it is fun to experience it from their point of view."
George, meanwhile, will sing Kay Star's "The Man With The Bag."
"I'm pretty excited about that one," she says. "It's a little more uptempo. In the past, I've done more slow, jazzy Christmas tunes. That one will be a lot of fun."
Other songs on the program include "White Christmas," "Let It Snow," "I Want a Hippopotamus for Christmas," "Silver Bells," "Please Come Home for Christmas," "My Favorite Things," "In The Bleak Midwinter," "Someday at Christmas," "There's Still My Joy," "Merry Christmas, Baby," "Go Tell It on the Mountain" and a few other surprises.
"It's such a beautiful community gathering for people to come and support," Mow says. "It's my wife's favorite concert and night of the year. I have a very small family, and we don't have kids, so to me, these people are part of my family. This is my Christmas. And I wouldn't want it any other way."